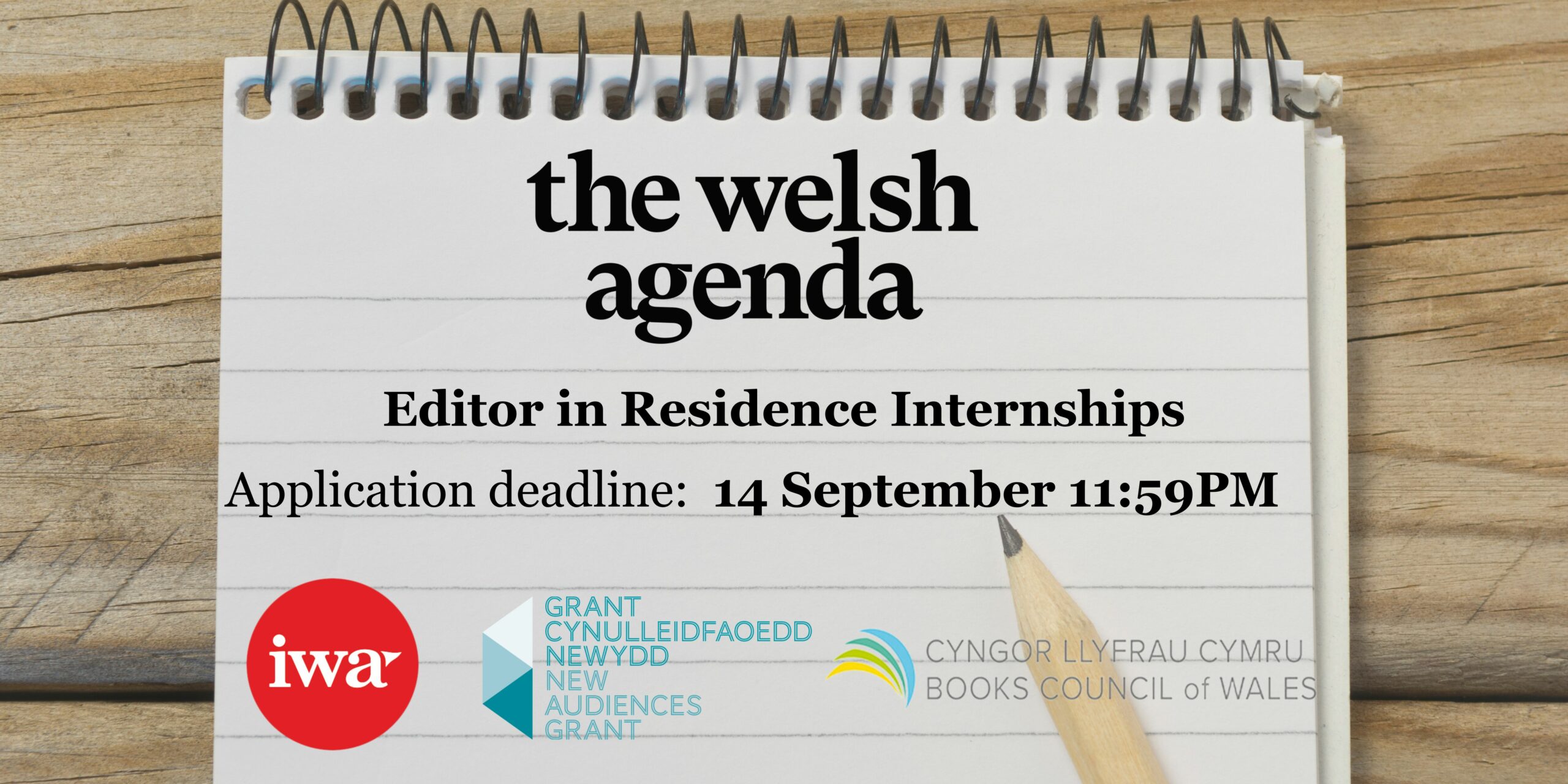 Our editorial internships are back this autumn.
Join the welsh agenda team to gain writing, editorial and digital publishing experience in an organisation working close to Wales' political institutions. 
Our placements are a professional and mentoring opportunity intended to train and upskill editors and journalists at the beginning of their careers and increase the representation of journalists and editors from marginalised backgrounds and identities in the industry. There is no need for specific qualifications, and anyone over 18 can apply. See further information below.
Our  journalistic platform the welsh agenda is one of Wales' most respected current affairs publications, hosting robust debate on all aspects of Welsh political, cultural and civic life.
Our contributors include politicians, award-winning journalists, activists, academics and budding talent from all walks of life, and our readers are from all around Wales. Our online magazine publishes articles on a rolling basis, while our bi-yearly print publication funded by the Books Council of Wales is released in May and October. For the second year, we are proud to be the recipients of the Books Council of Wales and Creative Wales' New Audiences Grant, which aims to diminish the barriers to access the publishing industry. 
We are recruiting two interns to join the welsh agenda editorial team for a duration of eight weeks each. Working closely with the IWA's Communications, Media and Engagement Officer and collaborating with the team as required, interns will gain valuable experience in writing, editing, commissioning, and digital communications.
You will also acquire a greater understanding of the publishing industry and of the role of magazines within Wales' media ecosystem. Interns will have the opportunity to contribute to strategic discussions about the future of the magazine, as we continue to reflect on our content, develop our offer to be as representative as possible of all of Welsh life and culture, and grow our audience.
What former interns have said
'I have really appreciated the openness and flexibility of the team and how they have accommodated my mental health needs.'
'I think that the challenge of thinking of article ideas that connect to Wales challenged me and added to the success of my internship.'
We are advertising two roles for a duration of eight weeks each, one in October – December 2023 and one in January – March 2024. You will need to be available to work full-time for the duration of your placement.
Our internships are funded by the New Audiences Grant, which seeks to create opportunities for people from marginalised backgrounds and identities. As a result, we welcome applications from people based in Wales who identify as:
A Black, Asian or Ethnic minority person

A disabled person

A person from the LGBTQ+ community

A person from a low socio-economic background

A combination of any of those identities
Although the welsh agenda is written, edited and published in English, we are also particularly keen to hear from Welsh speakers.
This role would suit a variety of profiles, and we are more interested in experience or demonstrable ability to write and edit well and to come up with fresh practical ideas than we are in qualifications.
You will be curious, motivated and have a demonstrable interest in journalism and/or publishing and editing. 
You will be passionate about promoting and supporting your own career in journalism or publishing, and that of other writers, including through editing and peer support (proofreading, feedback). 
You will have excellent communication skills and be capable of working independently to set deadlines within a dynamic team environment. You will be digitally savvy, or willing to learn.
You will show an interest in new forms of storytelling and journalism.
This role is intended as a professional and mentoring opportunity. Over the course of 8 weeks, you will receive tailored training and support in the following areas:
Writing op-eds, features, interviews and profiles

Editing, proofreading and commissioning

WordPress, Canva, SEO and social media for professional use

PR and career development

Stakeholder management

Introduction to the work of a think tank

Introduction to budget reporting and invoicing
You will learn about our ways of working, and find out more about the magazine publishing industry. 
You will be allocated a budget to commission and pay up and coming independent writers. In discussion with the editorial team, you will receive mentorship to define your interests as an editor and find compelling stories and writers.
You will also be encouraged to develop one event directed at writers and editors in Wales with an aim to increase the reach of the welsh agenda. You will also be expected to be proactive in seeking out further training and upskilling opportunities for yourself, including publishing opportunities as they arise.
Essential
Interest in and understanding of the journalism/publishing sector in Wales

Interest in journalistic writing, storytelling (written/digital), or in using video, graphic design or photography for storytelling

Excellent writing and editing skills

Proven ability to communicate at all levels

Experience of digital technology and social media

Strong interpersonal skills, particularly when giving/receiving feedback

A commitment to principles of equality and diversity
Desirable
Fluent in the Welsh language

Experience of WordPress or similar content management system

Experience of writing for a public audience

Experience of contributing to social media on behalf of an organisation 

Interest in and understanding of the publication process, either as a contributor or editor

Understanding of the commercial and/or legal context of publishing
This is a full-time internship (37.5 hours per week) for a fixed period of 8 weeks. We are a Living Wage employer and interns will be paid the real living wage. We are also a supportive and flexible employer because we care about our team. You will be expected to sign our internship agreement. 
The IWA is based in Cardiff.  However, we're happy to discuss the possibility of working remotely for much of the time so long as you are available for some office-based meetings to be agreed at the start of your placement.
To apply, please complete this online form by Thursday 14 September 2023 at 11:59pm. We regret we cannot assess applications in Welsh.
To answer any questions about the placements, we will be holding three online Q&As open to everyone on Wednesday 30 August at 6pm, Monday 4 September at 5.30 pm and Thursday 7 September at 12pm. You can sign up here.
If you are unable to attend those times, please email [email protected] with any questions and we will do our best to respond.
Applicants are invited to submit their application in written, audio or video format. Send your audio or video file to [email protected].
Please also complete our Equality and Diversity Monitoring form when you apply, which can be found here. This is voluntary and anonymous, but helps us to ensure that we are being inclusive in our recruitment, as part of our commitment to the Zero Racism Wales pledge.
Interviews will be held in the week commencing 25 September 2023.
The Institute of Welsh Affairs (IWA) is an independent think tank working to make Wales better. Our vision is to help create a Wales where everyone can flourish. We are politically independent and do not represent any particular sector, trade or interest group. We're also a charity, funded by our members, charitable trusts and foundations, and our own commercial activity. We act as a catalyst for change. We stimulate challenging debate and work with our members and others to spark practical, new ideas that can shape Wales' future. Through our policy projects, we develop and secure commitment to practical ideas that can transform Wales.
Any questions? Please get in touch at [email protected]