Rhys John Edwards speaks to Welsh singer songwriter Eädyth Crawford about the persisting misconceptions surrounding HIV in Wales.
Eädyth's latest single 'All These Dreams' is aiming to challenge perceptions of HIV in Wales.
The single is a collaborative effort, shared between Eädyth, award-winning activist Mercy Shibemba and opera singer Aliyah Wiggins, and is set to be performed as part of this weekend's Pride Cymru celebrations in Cardiff.
Mercy is an advocate for children and young people with HIV who was born with the condition, and it was her story that served as the main inspiration for the track.
Aliyah Wiggins contributed additional vocals to the song and also helped to write the lyrics, an opportunity which stemmed from her internship with Welsh National Opera. As WNO's Vocal Intern, Aliyah has been working closely with WNO on its Three Letters Songbook, a programme designed with Fast Track Cardiff, to create songs that raise public awareness of the contemporary realities of HIV. 
 I caught up with Eädyth to learn more about the creative process behind the single and also to find out how the team approached the intimidating responsibility of accurately reflecting its subject matter through music. 
Initially turning to R&B, Hip Hop and Pop as sources of inspiration, Eädyth says that the trio started out by listening to specific artists that they all admire. The aim was to capture the essence of empowerment prevalent in their songs.  
This is a song which is about taking your fears and creating power
'I think Lizzo and Beyoncé really inspired all of us in the early stages. But I was also personally influenced by artists like Alfa Mist and Robert Glasper, particularly when devising the piano chords.'
Eädyth was also keen to ensure the song had a sense of style that would be appropriate for the piece. 'I was definitely conscious of giving the production the right kind of feel, whilst balancing this with bringing to it something completely fresh.'
 She is clearly passionate about reflecting challenging subjects through music and is aware of the lasting influence it can have on the listener.
'I think it's incredibly important for people to be able to use their voice for a positive reason. Music is one of the many forms of expression, and I think this piece had an amazing outcome.' 
As a solo artist, she has been part of both the BBC Horizons and Forté Project talent development schemes and has received airtime from KISS FM and BBC Radio 1. But Eädyth is no stranger to collaboration. 
 She has worked with numerous artists throughout her career, most notably Cardiff's all female MOBO collective, Ladies of Rage on all-black female album 'Harddwch Du', and is a regular collaborator with theatre director Izzy Rabey, having recently produced Wales' first RnB/ Hip Hop/ Soul bilingual EP 'Mas o Ma'.
Syniadau uchelgeisiol, awdurdodol a mentrus.
Ymunwch â ni i gyfrannu at wneud Cymru gwell.
'I think working collaboratively always brings different creative approaches to the songwriting process and I really love that.' 
'Having the time to work with Mercy and Aliyah on the production beforehand I think was vital for the piece to reflect the emotion behind the song.'  
Mercy has been involved with Three Letters from its inception. 'All These Dreams' is the second song to be produced as part of the project, following 'We Learn, We Know, We Understand' – a product of workshops she held with Year 10 students from Cardiff West Community High School.
'Mercy was a good leader, particularly when it came to the lyrics.' Eädyth says. 'She really had a definitive vision for what she wanted the song to say.'
'This is a song which is about taking your fears and creating power, breaking through the barriers, learning from your mistakes and using your voice to empower and help others.'
Eädyth credits Aliyah with giving the song its poetic resonance, interpreting Mercy's real-life experience and transposing it to create lyrics that could be universally relatable.
 'Aliyah and I helped tie metaphors and powerful words into the piece, and then we collaboratively built the overall structure throughout each session.'
The culmination of this was a performance of the song by Eädyth and Aliyah at the Senedd to mark World AIDS Day (on the 1st December), an experience Eädyth describes as a 'massive staple' in her career so far.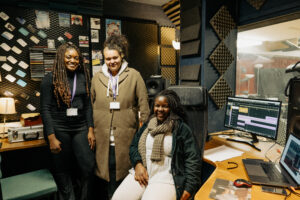 Producing a song which has the power to both portray real life experiences and also challenge long-held misconceptions about HIV is an intimidating prospect for an artist to undertake. But Eädyth looks back on the experience as a privilege:
'Being able to work with two really powerful people in a safe environment was really influential and I definitely bring home new techniques and perspectives for my own productions in the future.'
She hopes that the song can reach both those who personally relate to its themes, but also to those who may be encouraged to learn more about the contemporary realities of living with HIV. She herself says that she has learned a lot since working with Mercy, whose own experiences of prejudice highlighted just how much still needs to change. 
'I feel I have learnt so much from being involved in this project. I now know just how much we need to tackle the stigma around HIV. People should be able to speak freely about the subject in a respected and non-judgmental environment.'
'We need to have safe spaces for people, so they can use their voice and tell their story, then maybe others can learn, and the next generation can aspire to be better.'
'All These Dreams' is now available via all music streaming platforms, including Spotify, Apple and Amazon Music. The song will be performed live by Eädyth and Aliyah as part of the upcoming Pride Cymru celebrations across Saturday 17 and Sunday 18 June.
---
All articles published on the welsh agenda are subject to IWA's disclaimer. If you want to support our work tackling Wales' key challenges, consider becoming a member.