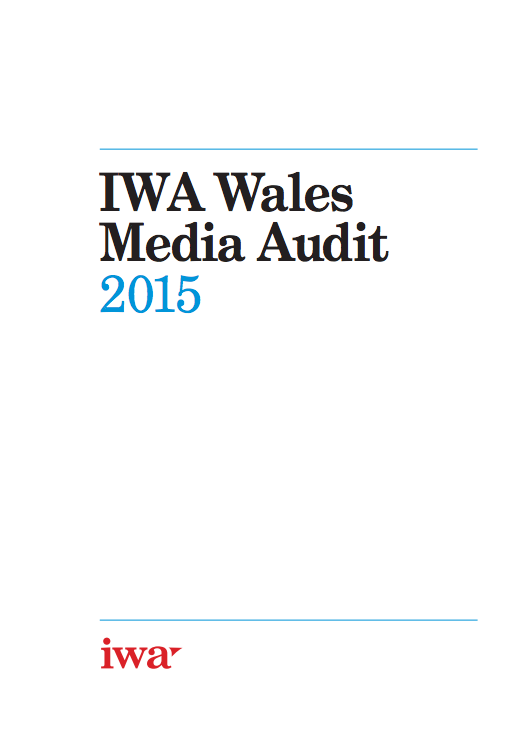 Autumn 2015
The Wales Media Audit 2015, carried out by a group of media experts and academics on behalf of the Institute of Welsh Affairs, has examined in detail the range and output of TV, radio, online and press, and sets out 37 recommendations for change.
The detailed study has found that although availability of media has greatly improved, there are major concerns about the amount of content about Wales.
Since the independent think-tank's last review of the Welsh media in 2008 the supply of content about Wales available to people in Wales has been subject to multiple pressures:
The amount of money spent by the BBC on programmes for Wales in English has fallen by 22.4% in the last decade, as has the number of hours of television it produces.
ITV Wales has seen its programming obligation to Wales cut by 40% following the agreement with OFCOM in 2009 and now only produces 90 minutes of English language television a week on top of its four hours of news output.
S4C suffered a 24% cut in its central funding.
Circulation of Welsh newspapers has fallen dramatically – from a 60% fall in the South Wales Echo circulation, to a 33% drop in sales of the Daily Post. The Western Mail now sells just 17,815 copies a day.
The combined reach of the newspaper online sites in Wales each day, probably already exceeds the total daily readership figures for indigenous Welsh newspapers in the pre-digital world. In that sense the digital world has delivered a dividend. However, the number of journalists employed has dropped dramatically and the scope of reporting may be contracting. Further, newspapers continue to make up 90% of the income for news organisations raising concerns about the future viability of news provision.
*Corrections* 
On page 06 of the audit we refer to a reduction in the 2014/15 spend of 25%. That figure of 25% is incorrect. It ought to be 22.4%. This figure is later referred to on page 24 of the audit and should also be 22.4%. Again on page 06 of the audit BBC Wales' spend on English language television was £20.8m not £20.2m. The same two corrections apply to point (ii) on page 6 of the Executive Summary and Recommendations.
A comparison made in point (ii) page 6 of the Executive Summary and Recommendations between non-news output from ITV Wales and STV is misleading. While we say "in sharp contrast to the independently-owned ITV service in Scotland (STV) which has actually increased its output", this is in fact only true for Edinburgh and Glasgow, and not Scotland as a whole.