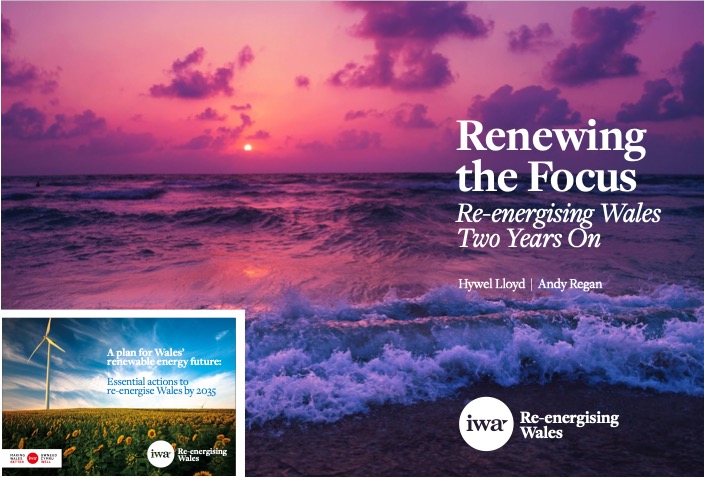 Two years on from our landmark project on renewable energy, Re-energising Wales, the IWA calls for renewed ambition on energy in Wales with a report that revisits some of our key targets for Net Zero.
In 2019, the three year Re-energising Wales project, supported by the Hodge Foundation, the Friends Provident Charitable Foundation and the Polden-Puckham Charitable Foundation, set out a practical plan for Wales to move to 100% renewable energy by 2035.
At the time this was felt to be an overly ambitious goal, but in 2021 both Welsh and UK Governments committed to decarbonising electricity generation by 2035.
Our new report, Renewing the Focus: Re-energising Wales Two Years On, assesses progress against our 2019 recommendations. Co-authored by Hywel Lloyd and  Andy Regan, it argues that the Welsh Government should focus its energy policy on driving economic success for Wales' key renewable sectors: marine, bioenergy and housing.
While Covid-19 has proven a considerable roadblock on the way to decarbonising, it is now time to move forward with a delivery plan that will simultaneously decarbonise and develop Wales' economy. Only in this way will we achieve a transition to a future we want to live in.
The IWA argues that Wales should set a new renewable energy mission, and explore the option of channelling its natural resource wealth into a long term strategic wealth fund, along the model of Norway's sovereign wealth fund. 
Some of the report's main recommendations are:
Identifying Wales' unique selling points: the Welsh Government should identify and invest in areas likely to attract economic benefits for Wales.

Investing in the infrastructure, capacity, and capability to deliver: future-proof our grid and decarbonising transport are some of the key points that will enable Wales to move towards 100% renewable.

Future-proofing Wales' green skills and supply chains
Auriol Miller, IWA Director, said:
'We hope the Welsh Government's future work on energy, including the forthcoming Net Zero plan for Wales will reflect the ambition shown in our original report.
Wales has a choice to make between economically advantageous ways of addressing climate change, and ways that will either deliver no benefit or at worst see money leaving the Welsh economy. 
We shouldn't just be planning our energy system, then leaving it to firms from outside Wales to come and build it. We should be asking where Wales can make the greatest contribution to global decarbonisation – manufacturing and exporting things the world will need, and becoming more prosperous in the process.'
Read our full report here.
Watch a Q&A about the report held during COP Cymru's Climate Week on 23 November 2021 here.