It's time for the Welsh Government to match England's efforts and for us to embrace creative solutions to our towns, writes Joshua Miles
Towns are the cornerstone of life in Wales. 
40% of the Welsh population lives in towns of 20,000 people or less. Towns in Wales are where things are made, bought and sold, and where we go to consume our leisure and consumer activities. 
However, Welsh towns face more complicated and entrenched issues than they ever have done. Online shopping, increased business rates, out-of-town developments and the rise in empty shops have all been cited by Federation of Small Business (FSB) Wales members as issues that have changed the nature of our towns and high streets. 
But towns are also about far more than retail. They're where public services are often provided, where community groups meet and where we go to school or work. The role of Wales' towns has been changing over time, with cities becoming an ever larger part of economic life.
So how do towns answer the questions being asked of them? The honest answer is not all towns do answer these questions. Which inevitably requires us to have new thinking around the future of our Welsh towns.
That's why FSB Wales undertook our engagement campaign with The Means on The Future of Towns in Wales – our initiative on how to enable communities to come up with innovative ideas to bolster and improve their local towns and high streets.
Mega Trends
As part of our research, we looked closely at four Welsh towns, as well as interviewing 80 businesses and stakeholders from across the country.
In doing so, we identified three "mega trends" which affected towns across the country. They were:
1. Social and demographic change
There has been an exodus of young adults from towns, and data suggests that there will be a rise in those aged 65 and over living in our Welsh towns. This demographic change has ramifications for how our towns function, and what their offer should be.
2. Urbanisation to cities and clustering
Economic policy has shifted towards 'agglomeration effects' which essentially means bigger places are more productive. Towns will always struggle to compete with cities in this context, so how do we shape policy in areas where populations are unlikely to grow massively? 
3. Technological breakthroughs and changes in consumption patterns
Technological breakthroughs have affected almost every area of working and social life. The increase in working remotely should provide more opportunities for those seeking to live outside cities in our Welsh towns but still do similar work for a comparable salary.
The internet is changing consumption patterns in the UK, and has huge ramifications for how the high street continues to operate.
Ensuring that our towns have a viable future is an economic imperative for all of us in the coming years.
Despite the unarguable decline of Wales' town centres, 92% of those that were surveyed by FSB Wales stated that towns still have an important social and economic role in their local areas. 
People also remain optimistic for the future of our towns – two thirds of people do expect to see improvements in the future. However, these improvements will not happen on their own. We must take action at this crucial time for business to ensure that Small and Medium Enterprises are able to thrive.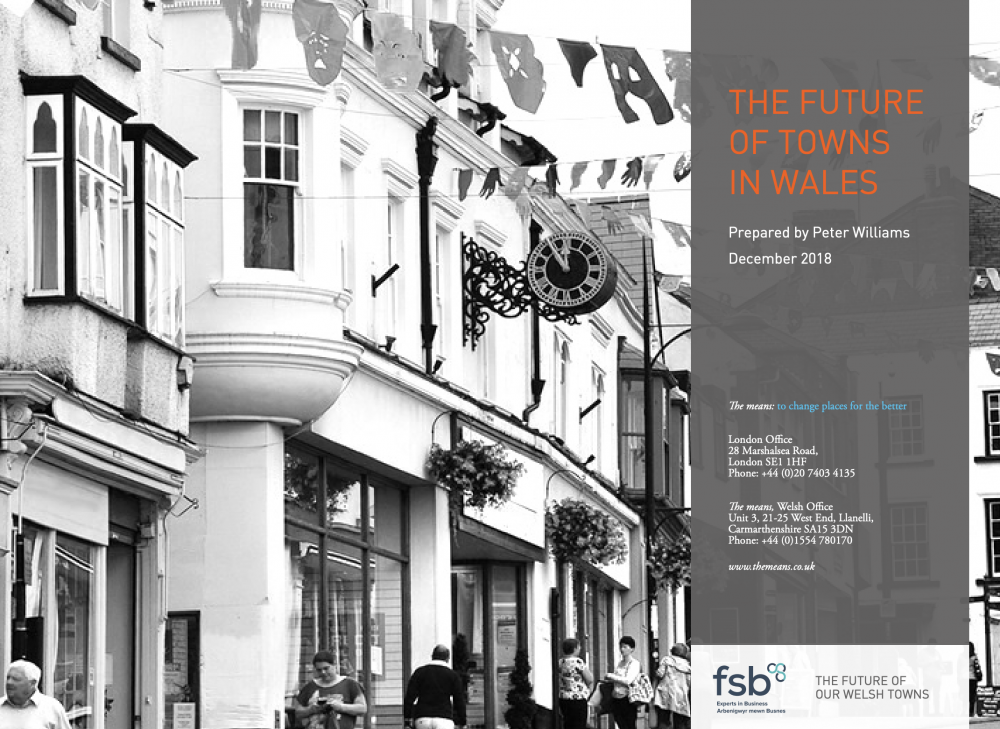 What needs to happen
We made a number of key recommendations off the back of our research, such as suggesting that towns explore employing a Digital Town Centre Manager – this post would help town centre businesses to have an effective and up to date presence on social media and on their website. This would collate the efforts of individual businesses into one town offer, and ensure that it remains regularly updated.
At FSB, we have also called on the Welsh Government to implement a Future of Towns Fund. This fund would enable communities to bid for funding to answer the specific issues facing their town. 
Currently, the Welsh Government has fallen short of committing to this, despite receiving Barnett consequential funding following the 2018 UK Government Budget which announced a High Streets Fund for England.
Crucially, funding of this sort would allow individual towns to take their destiny into their own hands, and come up with their own strategies to deal with the megatrends we identified. 
And this is where the new website Understanding Welsh Places comes into its own. 
Understanding Welsh Places provides us with the opportunity to get under the skin of our diverse Welsh towns. For towns to really benefit from new initiatives, they must be designed with a proper understanding of that town in mind.
It's also clear that when towns are able to draw in all of those with an interest, such as business, charities and the public sector, they can better shape their future. 
The new data analysis gives us a unique window into our Welsh towns – how they differ across the country and what their individual needs and identities are. This will be an important tool as we continue to answer the difficult questions about how to ensure our Welsh towns have a sustainable and vibrant future ahead of them. 
But more importantly, it's a tool that's available to everyone to use and not just reserved to civil servants or policy practitioners. That is what makes it potentially empowering, giving communities themselves access to the information which can help them radically shape their own places. 
The key for FSB Wales is that we provoke a new conversation around our Welsh towns. Understanding our towns will be a crucial step to revitalising them, but we also need concerted action and focus from the Welsh Government, or we will continue to see our towns wither away. 
Photo by Krisztina Papp on Unsplash
Understanding Welsh Places is a project funded by Carnegie UK Trust and the Welsh Government and managed by the Institute of Welsh Affairs.
All articles published on Click on Wales are subject to IWA's disclaimer.