Spring 2012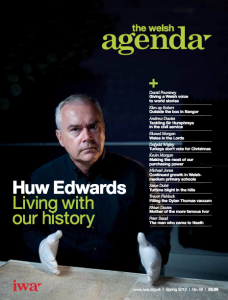 To download this issue for free please click here.
Editorial
A Welsh brand to die for
Essay
When borders are crossed
Daniel G. Williams discusses two new editions of Raymond Williams' work which chart the long revolution through which we continue to live.
Outlook
Cultural Entrepreneurs
David Pountney
Elen ap Robert
David Anderson
Lleucu Siencyn
Andy Eagle
Politics
Tackling Wales' Sir Humphreys
Andrew Davies calls for radical reform
Lords Special:
Wales in the House of Lords
Eluned Morgan casts an eye across the red benches of the other place
Turkeys don't vote for Christmas
Dafydd Wigley examines proposals to reform the Lords and judges that the UK is heading for a constitutional quagmire
Steretyopes in the Rhondda
Chris Williams looks back on a century of history in Labour's archetypal heartland
Boxing clever in the land of the pulled punch
Geraint Talfan Davies reviews 25 years of the IWA
Economy
A few pearls amidst much wishful thinking
Rhys David examines the work of the Welsh Government's economic sector panels
Public Procurement Special:
Vales for money
Kevin Morgan says we should give a nudge to a sleeping giant in the Welsh public purse
Education
Hands on higher education
Chris O'Malley argues that a new university for southeast Wales should be more of a teaching hospital than a traditional academic institution
On target for seven-year-old Welsh speakers reaching 25% by 2015
Michael Jones reports on progress with implementing the Welsh medium education strategy
Social Policy
Prenatal and early years intervention top priority
Stephen Palmer says we need to capture a sense of urgency about our lifestyle deficiencies.
New strategies for dealing with self-harm
Mariel Jones and Catrin James examine how acute emotional and psychological problems among adolescents can be overcome
Progress is hitting the Welsh housing standard
Tamsin Stirling assesses how far we have come in improving the quality of local authority and housing homes in Wales
Environment
Turbine blight
Steve Dube challenges the image and the sound of wind power stations window dressing in the Welsh hills
Future of One Planet Wales
Morgan Parry applauds efforts to create a national environment service for Wales
Heritage
Architectural spirit of Wales' second city
Richard Porch celebrates the innovative design of some of Swansea's 21st Century buildings
Oh to be a pilgrim
Andrew Dugmore explains why a trek is being undertaken this summer along a medieval route across southern Wales to St Davids
Culture
Fishlock's File
An ideal Welsh poet
Trevor Fishlock meets one of the 1960s writers who 'filled a certain hole in the air after Dylan Thomas'
Living with our history
Gethin Matthews explores the dilemmas of a nation's past invading the present
A musical world force
Rhian Davies celebrates the life of the mother of the more famous Ivor
From the Cape to Cwmdu
Peter Finch follows the epic journeys of borders writer Horatio Care
Reviews
The man who came to Neath
Peter Stead
The antagonisms between Labour and Plaid Cymru
John Osmond
Autodidact who discovered Wales
Harri Pritchard Jones
A party well served by its historians
J. Graham jones
Last word
Miraculous Grand Slam lessons for Wales
Peter Stead