Summer 2009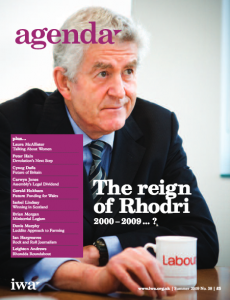 To download this issue for free please click here.
Opinion
Page 6 – Time to talk about women again
Laura McAllister says women should dare to be different in tackling the more subtle discriminations in Welsh public life.
Outlook
Page 12 – Opting Out
In the wake of the Euro elections how can we promote political engagement?
Politics and Policy
Page 18 – Rhodri's Reign
Peter Stead reflects on the First Minister's contribution to the birth of the new Wales.
Page 20 – Devolution's Next Step
Peter Hain urges caution in pressing ahead with a referendum on more power for the Assembly.
Page 22 – Assembly's Legal Dividend
Carwyn Jones says a debate is needed on creating a separate jurisdiction for Wales.
Page 24 – Wales and the Matter of Britain
Cynog Dafis admires the way a Welsh Conservative is seizing the constitutional initiative.
Page 26 – Adventures in Democracy
Geraint Talfan Davies examines an account of a reconstruction underway behind the facade of the British state.
Page 27 – Winning in Scotland
Isobel Lindsay assesses the record of the SNP minority government.
The Economy
Page 30
Ministerial logjam frustrates economic dynamism
Brian Morgan argues that if the economy is not improving by 2012 we will need to bring back the WDA.
Page 33
An ethical alternative to the Casino Economy
Kevin Morgan and Jenny O'Hara Jakeway say mutualism is an idea whose time has come once more.
Page 36
Tax Powers under the microscope
Gerald Holtham unravels the debate over funding the National Assembly and the Scottish Parliament.
Page 38
Welsh Budget Squeeze
Eurfyl ap Gwilym explains how Wales has lost out in public spending over the last decade.
Page 41
For Whom the Bridge Tolls
Nick Morris investigates obstacles to removing charges on crossing the Severn Bridge.
International Affairs
Page 44
Making Wales a World Nation
Elin Royles explores the Assembly Government's approach to paradiplomacy.
Page 46
In place of fear
Richard Bowen argues we should think creatively about placing Wales at the heart of the international search for peace and security.
Page 48
Cuba's Green Food revolution
Steve Garrett reports on Havana's experimentation with urban agriculture.
Science
Page 51
A Luddite approach to farming
Denis Murphy questions the Assembly Government's opposition to GM crops.
Page 54
Applying the Precautionary Principle
Nic Lampkin says organic farming should not be evaluated in terms of the GM debate.
Environment
Page 57
Save money and the planet
Simon Nurse on how being environmentally friendly makes sound business sense.
Page 59
Fog in the Severn
Madoc Batcup examines the UK government's options for generating tidal power off the Welsh coast.
Page 61
Turbine threat
Mike Evans reveals the impact a barrage would have on the Severn Estuary's fish population.
Page 62
Tidal reef
Peter Jones suggests a greener way forward.
Social Policy
Page 64
Jane Hutt asserts her authority
Owen John Thomas welcomes the government's national strategy for Welsh-medium education.
Page 66
Self assessment versus Name and Shame
Steve Martin reports on contrasting local government performance regimes in Wales, Scotland and England.
Page 68
Rescuing derelict homes
Joanie Speers examines how abandoned properties can help with the rural housing crisis.
Culture and Communication
Page 70
Rock and Roll journalism
Ian Hargreaves makes the case for an on-line networked news service to compete with BBC Wales.
Page 72
Our place in the online world
Andrew Green reports on an ambitious project to put Wales on the Web.
Page 74
Rhondda Roundabout
Leighton Andrews celebrates the role of culture in regenerating his Valleys constituency.
Page 77
Opening Doors
Polly Hamilton explores new ways of utilising the arts for regeneration.
The Last Word
Page 80
Wired for Colonialism
Peter Stead says we need a few good men (and women).