In the first in a series of three blogs, Richard Edwards considers some options for future land-management in Wales
The authors of a recently published report in the journal Science, suggested that avoiding meat and dairy is the 'single biggest way' to reduce your impact on Earth.  
The response from the farming unions in the UK to articles that accuse them (the stewards of the countryside) of environmental destruction usually deflects blame to sustain the current business as usual model.  Recently, however, that entrenched position appears to be softening. Severe weather patterns over recent years have created enough concern within the UK farming industry for the National Farmers' Union (NFU) to suggest that farmers are 'up for radical thought' following bad harvests due to extreme weather.  
That radical thought could provide a positive response to the recent call from the IPCC for unprecedented change in all aspects of society to tackle climate-breakdown: perhaps this is the moment for farmers to save the world?  
Agriculture in Wales 
In 2015,

Welsh agriculture

accounted for 4.07% of regional employment in Wales and a total gross value added (GVA) of 0.71%.  
O

f the 61,500 tonnes of sheep-meat produced in Wales each year only

3,200 tonnes

is consumed here.
Without subsidies, farmers in Wales, on average, generate £458 per hectare of land per year.  
One of many conclusions that could be drawn from these figures is that farmers need to be generating more revenue from their land.  The conundrum is how they achieve that while being encouraged to reduce their environmental impact?
In order to challenge climate-breakdown we need to set new precedents for land-use. To bolster the effort being made to reduce the levels of energy produced by fossil-fuels we need to be making a greater effort to sequester more Carbon dioxide (CO2) from the atmosphere; it is here where alternative land-management systems can carry the greatest impact.  At the same time, we must begin to disrupt the supply-chains that sustain the damaging levels of CO2 emissions that are associated with the way that we provide consumers with both food and power. There is a genuine opportunity here to crack two nuts with one stone!
Emissions from agriculture, land-clearance to provide animal feed, poor resource management and a distinct lack of urgency within governments to provide progressive leadership and policy-change leave us with no option but to force change via simple demand and supply principles.
We can achieve the desired change with one simple caveat: to convert the agricultural land in Wales to a landscape that benefits the economy, ecology and, of course, our farmers, will require the full support of consumers.  It is quite simple to create a new landscape, but that will fail if we all maintain the weekly visit to the supermarket to buy imported food!
Carbon farming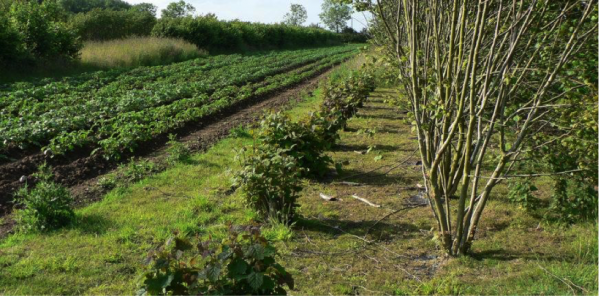 The Welsh Government currently operates a grant scheme to enable the creation of new native woodland in Wales.  Within this scheme is a category that encourages the creation of 'Native Woodland – Carbon', which pays £4,500 per hectare in establishment costs and a further annual payment (up to 12 years) of £410 per hectare if the scheme registers with the UK Woodland Carbon Code.  
When I tell my farming neighbours that they could increase their income by planting trees the usual response is "my grandfather spent his lifetime getting rid of them."   
Asking a farmer to give up livestock in order to watch trees growing is not going to produce any real benefits to the farmer! Asking a farmer to produce livestock within a landscape that is predominantly producing energy can be rewarding.  The greater need is to develop a landscape where energy is being grown alongside livestock in a management system that sequesters greater volumes of CO2.
Trees in the landscape
Most people believe that planting trees is 'good for the environment' because trees capture CO2 via photosynthesis.  It is true that trees are extremely good at processing CO2 but, as the image here shows, trees are productive at storing carbon in their early years, but as they continue to grow this process becomes less efficient.  This anomaly can be rectified with proper management, which ensures that trees maintain their optimum condition for carbon capture.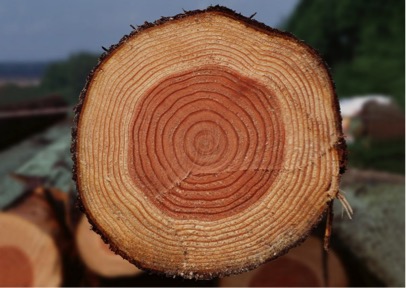 "The UK's newer woods mostly planted thirty to fifty years ago, are now just past their peak at sequestering carbon.  The 2005 figure was about 16milion tonnes of CO2. In 2010, that figure had fallen to about 10million tonnes, and by 2020 the figure could be as low as 5million tonnes, which is less than 1% of annual UK emissions."
Chris Goodall – Carbon Commentary
The support being offered through the Welsh Government to promote tree planting should obviously be welcomed but falls a long way short of enabling progressive advances in land-management.  Planting trees to simply sequester CO2, as the late Professor Oliver Rackham suggests 'is like telling people to drink more water to hold down rising sea levels'.  
The challenge now is to adopt progressive carbon and restorative farming methods which are scientifically proven to carry greater benefits than the process of planting a few trees to provide cattle and sheep with shade in summer or to hold back the increasing levels of rain in the uplands to prevent flooding downstream!  
All articles published on Click on Wales are subject to IWA's disclaimer.