Dylan Moore praises Circle of Fifths, a brand new production from the National Theatre of Wales exploring our experiences of loss and grief.
In our current work on Wales' media and democracy, we are urging Welsh Government to make Creative Wales 'the home of an ambitious strategy to allow stories of Welsh life in all its diversity to be told'. We could add, though it is hardly necessary, that achieving this depends on telling those stories in a myriad of ways, across a range of art forms, and with a wide variety of performers.
And to be fair to our national theatre company in the English language, this is something NTW have been doing – albeit intermittently, due to the pandemic among other factors – for more than ten years now. The company has always claimed 'the nation of Wales is our stage', making good on that claim by putting on shows in miners institutes and village halls and aircraft hangars and on beaches and military firing ranges and with communities from Prestatyn to Milford Haven and Port Talbot to Llanddwyn.
But Circle of Fifths, the company's latest production is so much more than the kind of tick-box programming exercise that has occasionally become the target of satire in the past.
By allowing members of the Cardiff docks community to speak for themselves about their experiences of grief and loss, Gavin Porter's 'live documentary' travels far beyond the cliche of 'diverse' Welsh life in Tiger Bay. Instead, Circle of Fifths taps into the universality of human emotions around death, and in particular the ceremonies we make to deal with them.
It is a funeral in five acts: each suffused with raw stories of grief taken from the performers' real lives
A funeral is its own kind of theatre. Together with the sensitivity of the subject matter – for who among us has not lost somebody we love? – this makes the creation of funeral-based art both a little easier and far more difficult.
Although the central prop is a coffin gaudily decorated in tiger motifs and dominoes – a nod to the game most beloved of Cardiff docks' merchant seamen and their descendants – it is left empty to allow each of the cast members, and the audience, to project their own experiences of loss and grief.  Meanwhile, stories from some present-day residents of Butetown are projected on screens and mirrors around a room at Dance House, carpeted with wet turf that transmutes the whole scene into a dream landscape somehow suspended between the realms of life and death.
And although it combines elements of theatre, film and dance, by far the most important artform in Circle of Fifths is music: not just a vehicle for the expression of emotion or even for connection between performers and audience, it is the production's muse.
Gofod i drafod, dadlau, ac ymchwilio.
Cefnogwch brif felin drafod annibynnol Cymru.
Its title refers to music theory. The twelve chromatic pitches are illustrated in a circle divided into 'perfect fifths' in a clockwise progression. Some of the jazz standards played adhere to the principles of the circle of fifths, but there is also an analogy here with the stages of a funeral – each of which, it is subtly posited, is vital for the harmonisation of our collective goodbyes, our coming to terms with loss and grief.
At the end of a powerful hour and a half during which each member of the audience is surely drawn into their own introspective reflections on the people we have loved and lost, we reach The Celebration. Beer, soft drinks, Welsh cakes and samosas are served, evoking the atmosphere of a real life wake. A display of multicoloured metallic balloons dedicates the production: 'To the Elders of Cardiff Docks, Butetown and Tiger Bay / Those Who Came Before Us and Paved the Way'.
But before we reach this moving finale, during which cast and audience members greet and hug and cry real tears, we are invited to participate in The Gathering, The Procession, The Service and The Burial. 
It is a funeral in five acts: each suffused with raw stories of grief taken from the performers' real lives; each underscored by the redemptive, healing power of music. 
There is an eclectic mix of styles, as you would expect from a community long celebrated as one of Britain's oldest and richest multicultural districts. Kiddus, of Caribbean/Indian/Filipino/Welsh heritage and raised Rastafari, describes his own musical stylings as 'splicing R&B, punk, afrobeat, indie-pop and drill into something starkly unique'. And he is just one of seven seemingly endlessly talented performers. 
Circle of Fifths is a genre-bending, risk-taking piece of Wales-rooted theatre.
Between enlivening the performance as a multi-instumentalist, Francesca Dimech, from a Maltese/Italian family, relays the story of her late grandmother, who despite the drama of her youth – dancing on a table with Mussolini, and pushing a Nazi soldier down a staircase – is touchingly remembered best for her famously unwashed Christmas jumper.
Maureen Blades is a real life local funeral arranger. Wella is the definition of a local character, admitting: 'I haven't always walked the good path in life, and those who know me, know I've turned my life around.' Their performances are extraordinary.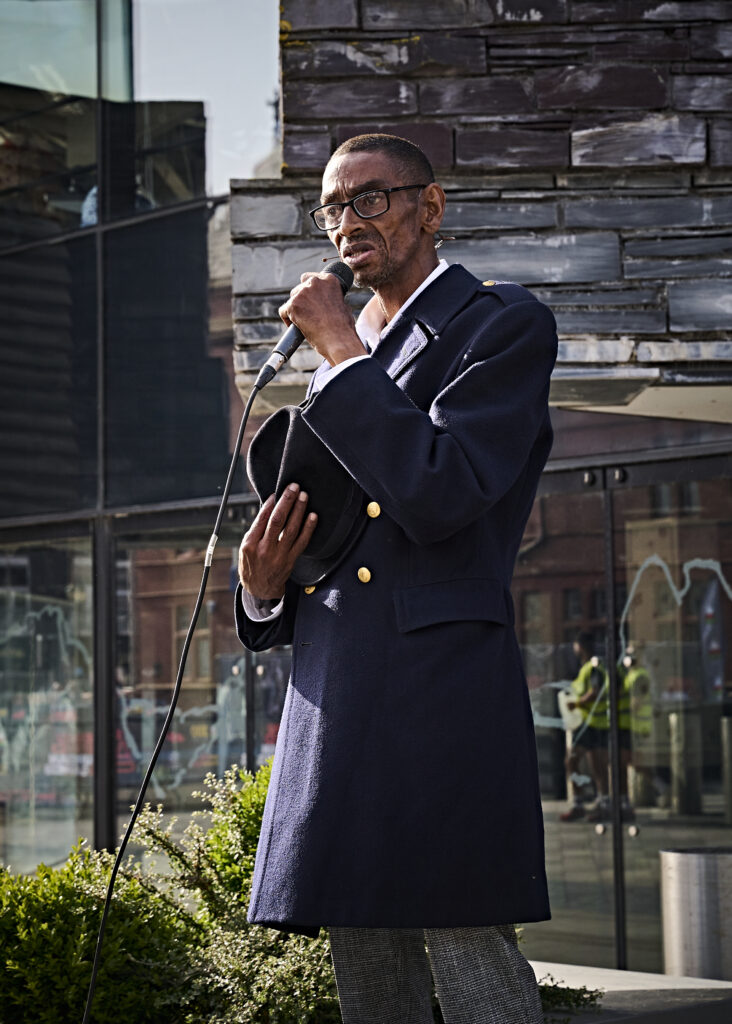 The fact that the artists who comprise the cast for Circle of Fifths are not from what we usually call a 'theatre background' is perhaps crucial to the show's spectacular success. Director Gavin Porter explains in the programme notes that: 'They're just being themselves. Everything is a creative decision but at the same time, a lot of it is their truth.' 
Drumtan – musician, composer and bandleader – calls it 'God's magic': song, music and dance as primeval forms of human expression that invoke the soul, helping bridge the painful gap between the living and the dead. 
In common with the best of NTW's output over the years, Circle of Fifths is a genre-bending, risk-taking piece of Wales-rooted theatre. But its most striking aspect lies perhaps in a simpler, deeper description: a group of talented local people getting together to work something out. Life in all its diversity; death in all its universality. 
One of the play's most surprising musical moments is a few bars of 'Tender' by Blur, hauntingly rendered by Rose Beecraft Music. 'Love's the greatest thing that we have,' wrote Damon Albarn back in 1999, a sentiment echoed in 2022 by Tiger Bay's own musical chameleon Drumtan: 'The greatest thing we'll ever learn is to love and be loved in return'. It's a lesson worth experiencing Circle of Fifths to remember in all its beauty and truth.
---
All articles published on the welsh agenda are subject to IWA's disclaimer.