Jasmine Donahaye, the IWA's writer in residence at the 2022 Eisteddfod, praises the bog of Cors Caron where the event is located.
This year, the site of the Eisteddfod near Tregaron seems particularly symbolic.
This vibrant, bustling, bright and busy temporary village, with its stands and stages, its flags and banners and pavilions, and the surrounding fan of caravan sites and campgrounds and car parks, has set up home between the town itself and what is possibly Tregaron's most precious and least appreciated asset: its bog, Cors Caron. 
The word bog, of course, is burdened with negative meanings. A hazard and an inconvenience, and low-value land, a bog has none of the Romantic associations that a mountainscape or a wildflower meadow enjoys. Even though we might now begin to value a peat bog as a carbon sink, its riches aren't immediately apparent. In literature it is almost always a metaphor for danger and murk, for the uncanny, or for ugliness and waste. At best it is a metaphor for getting stuck; at worst it is a toilet.
Even though Cors Caron itself is one of the most important peatbogs in Britain, and is designated a Wetland of International Importance, many people report finding it eerie and unpleasant (which, to be fair, may have more to do with baseless prejudice about Tregaron than it has to do with bogs). 
Perhaps not surprisingly, Wales has quite a few wetlands of international importance: seven of its own, and another three shared with England. Such areas are, according to the Convention on Wetlands, 'among the most diverse and productive ecosystems', and in 1992 Cors Caron was added to its so-called 'Ramsar List', named after the city in Iran where the Convention on Wetlands was held in 1971. 
A national nature reserve since the 1950s, Cors Caron is a modest place, unassuming and undramatic, with none of the Romantic grandeur of conventionally beautiful wild land.
That wasn't the first listing for Cors Caron, however. Some eighty years earlier, it was included in a group of sites identified by the Society for the Promotion of Nature Reserves, which had been set up by Charles Rothschild. Rothschild, an Anglo-Jewish entomologist, was one of the first English naturalists to look at the preservation of environments rather than individual species, and in 1912 he publicised his new Society in the broadsheet press, with an invitation to members of the public to submit suggestions of areas that might be included. 
A vicar in Llandovery submitted a survey form proposing Cors Caron. Named 'The Tregaron Bog' and marked with a red cross on an accompanying map, it was one of the 284 pieces 'of typical primeval country' that were considered 'worthy of permanent preservation' which Rothschild included in the society's final list in 1915. Was there any potential availability of local financial support 'should it be considered desirable to acquire the area'? asked the survey form. 'Doubtful,' Reverend Owen wrote. Was it 'locally popular as a pleasure resort?' It was not, he replied.
Now it is a pleasure resort of a kind, because ideas of conservation have changed since those early attempts at shut-off preservation. A national nature reserve since the 1950s, Cors Caron is a modest place, unassuming and undramatic, with none of the Romantic grandeur of conventionally beautiful wild land. Even so, despite being bounded by farms and roads, it is beautifully wild. Its black peaty soil, exposed after long periods of drought, returns quickly to lush growth after rain. You have to move slowly, or stop and look closely to see the rich diversity of its plant and insect and birdlife, and for the signs of its less obvious mammal life – an otter footprint, or some scat on a pathway that isn't from a dog. In among the numerous species of grass and heather, tiny sundews trap passing flies. In the spring there are spikes of pale spotted orchids and deeper purple marsh orchids; now, at the beginning of August, there are swathes of cream-coloured meadowsweet. 
Innovative. Informed. Independent.
Your support can help us make Wales better.
When I moved here twenty years ago, a hen harrier was an uncommon sight, but these days you see them every winter quartering the bog – the brown barred females, and silver-grey males. Twenty years ago a visit from the continent by a great white egret would have brought hordes of birdwatchers. Now, with climate change, they are unremarkable, though just as elegant and striking, stalking or standing tall and gleaming, like large white herons. 
I once sat on the boardwalk across the bog and watched a hobby eating a dragonfly on the wing. It was so close that I could see its red trousers as it went over. From the same place, now, looking towards Tregaron, I can just see the colourful tips of banners and pavilions on the Maes. From the Maes itself, the bog is not visible, but you can feel its open expanse beyond the hedge-line. The first two days have been wet – a soft welcome rain for the lowered water level in the old peat-cuttings, reduced in July's weeks of heat, but less welcome for people attending the Eisteddfod. Not wet enough yet to get bogged down, but it's promising to get wet enough over the week for a muddy exit at the end.
The Eisteddfod too is like a great bog: a rich, diverse cultural repository, a sponge holding a huge volume of language
Cors Caron isn't only a rich, complex repository of biodiversity, and a pleasure resort for those seeking a quiet stroll or ride or run up the closed railway line that borders it, or an exploration of its boardwalks and hides. It also holds a huge volume of water after heavy rain, when the floodplain of the Teifi fills and spreads in a wide sheet of water towards the fields where the Eisteddfod now has its temporary home. 
The regular and increasingly catastrophic flooding from the Teifi downstream could be far worse without this bog acting as an enormous saturated sponge. It often seems counter-intuitive to think that sustainable and effective flood prevention involves slowing water down and letting it spread out, instead of increasing its speed in deeper and straighter channels, but the bog and its larger environment acts in exactly this way.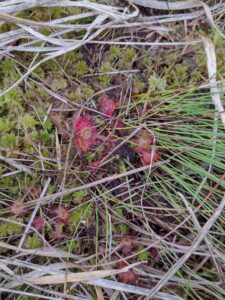 Perhaps in this respect Tregaron is therefore a particularly fitting site for the Eisteddfod, because the Eisteddfod too is like a great bog: a rich, diverse cultural repository, a sponge holding a huge volume of language (though by extension the metaphor of effective management of floodwater might not stand up to scrutiny).
It's easy from the outside to see the Eisteddfod as monolithic and exclusive, but over the twenty years that I have been walking around the edges of this cultural wetland (because of my limited, tenuous Welsh skills), it seems ever more linguistically inclusive. Not so many years ago, simultaneous translation and bilingual guidance would have been unthinkable to some. Now there are great efforts to make the experience accessible for Welsh learners and those who don't speak Welsh.
That state of tension between preservation and change, between protection and access, is at the heart of the conservation of wild places, too. Some of those changes at the Eisteddfod are welcome adaptations; some attempts at inclusiveness have a long way still to go, and some changes entail loss. But there are also unforeseen gains from change, even from the devastation of climate change – such as the great white egrets at Cors Caron. After all, conservation no longer means shutting something off to preserve it in a state of stasis: it means guardianship for the future. Besides, stasis for a language, as for the natural world, would be its end.
---
Jasmine Donahaye is the IWA's writer in residence at the Eisteddfod, and this article is first in a series of reflections on the event.
All articles published on the welsh agenda are subject to IWA's disclaimer.