Rowan Campbell argues that co-production is a powerful tool when tackling the negative effects of in-work poverty
Early evidence from The National Lottery Community Fund indicates that co-production approaches in the third sector can help individuals and alleviate some of the effects of in-work poverty, which is becoming a bigger problem in Wales. 
In 2017, the National Lottery Community Fund's Helping Working Families programme was developed to tackle and alleviate in-work poverty. As the programme comes to an end in 2022-2023, the learning from it has become even more pertinent in the wake of the cost of living crisis, which has seen people in lower-income households more likely to cut back on essential items. Funded projects have been working in this landscape since 2018, navigating the impacts of the Covid-19 pandemic and now the current crisis. 
The cost of living crisis has extended the prospect of in-work poverty to greater numbers of households across Wales, as essential costs have risen rapidly in 2022 while wages have been stagnant since 2010.
The National Lottery Community Fund use the term 'in-work poverty' to mean when a household's 'resources are not enough to meet their basic needs, including the need for social participation' even though someone in the household is in employment. There are a range of factors that can contribute to in-work poverty, which is not simply being in low-paid work, although low pay and underemployment play a part. Single-parent families and families with three or more children are over-represented in the demographic suffering in-work poverty, and other groups who are more vulnerable to in-work poverty include: families without full-time workers; families with disabled children; households headed by someone of non-white ethnicity (particularly those of Pakistani, Bangladeshi or Black ethnicity); and workers in sectors such as accommodation and food services.
The cost of living crisis has extended the prospect of in-work poverty to greater numbers of households across Wales, as essential costs have risen rapidly in 2022 while wages have been stagnant since 2010. Out of all the countries in the UK, Wales has the highest proportion of people in poverty at 23%, with child poverty at 31%. It used to be the case that the majority of people affected by poverty were unemployed, and government policy was thus focused on supporting people into work as a 'route out of poverty'. However, the number of people who are both in work and in poverty has grown since the mid-1990s, outstripping the levels of poverty in workless households in 2012. The proportion of children in poverty living in a working family rose from 54% in 2009/10 to 73% in the 2019-2020 financial year and Audit Wales notes that poverty is 'the single major challenge' facing government today.
In the latter half of 2022, the National Lottery Community Fund undertook an in-depth review of the Helping Working Families programme to capture learning and insights. The key outcome areas across the programme dovetail well with the Wales Centre for Public Policy's (WCPP) recent research into poverty and social exclusion. WCPP's research set out four evidence-based focus areas for a 'prioritising framework' to address poverty:
Reducing costs and maximising income (reducing demands on household budget and maximising income so basic needs are met)

'Pathways' out of poverty (access to (higher quality/better paid) work, flexible and affordable childcare, and wider socioeconomic participation)

An enabling environment (tackling barriers such as lack of quality housing, appropriate infrastructure, and green spaces to improve quality of life)

Mental load and mental health (addressing the emotional and psychological burden carried by people living in poverty and social exclusion)
Programme outcomes as found in our review can be mapped onto three of these four categories, with 'access to advice and support' cutting across all of them. Projects and initiatives like community pantries, uniform exchanges, lending libraries and training for DIY skills helped families to reduce their spending on essentials like food costs and children's uniforms, and enabled them to do work on their homes with considerable savings. You can read about some of these in more detail in our recent impact case study on Llanelli-based organisation Foothold Cymru.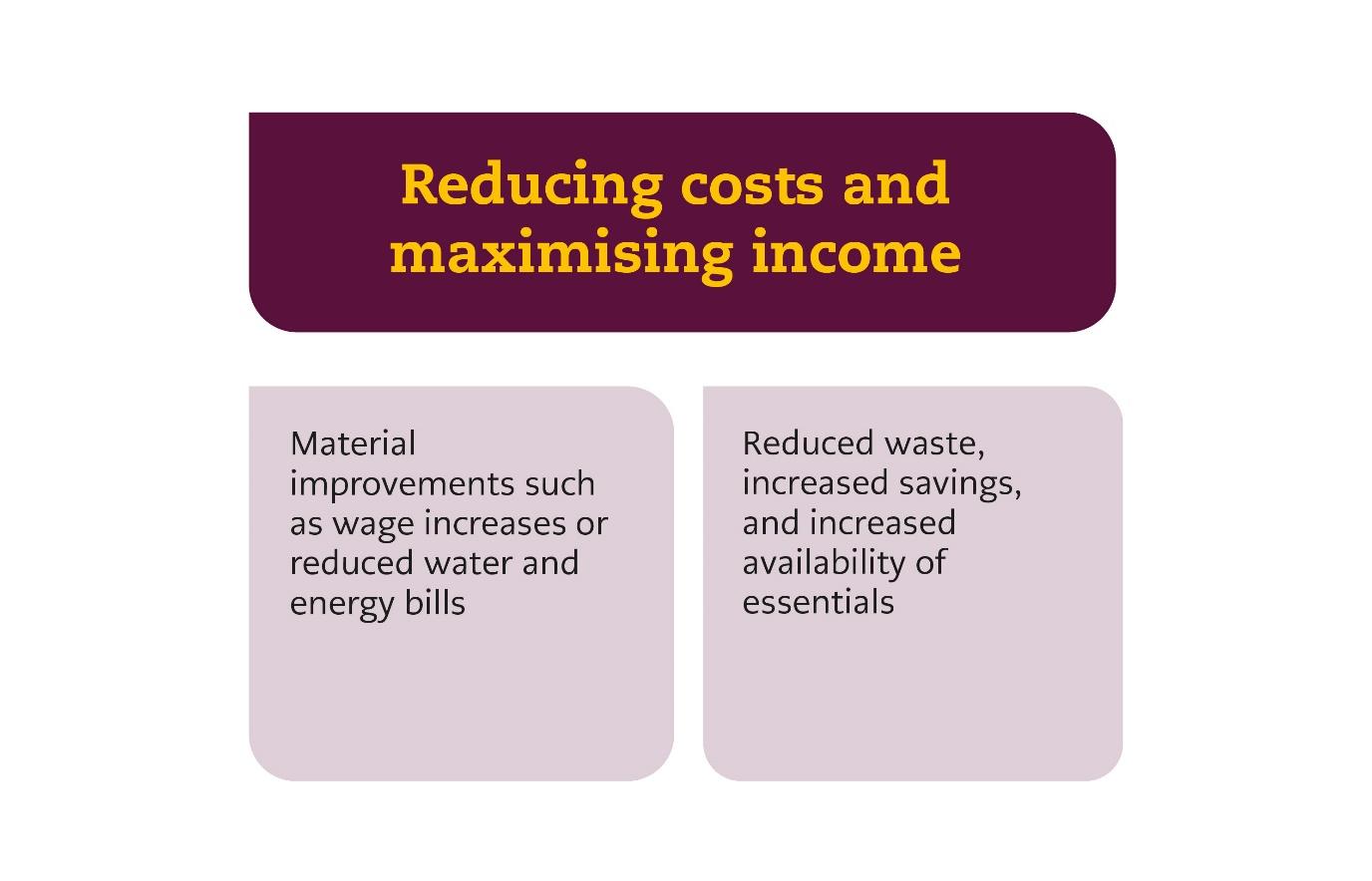 Syniadau uchelgeisiol, awdurdodol a mentrus.
Ymunwch â ni i gyfrannu at wneud Cymru gwell.
Many projects provided training courses and access to accredited qualifications that can allow participants to access better paid work. An impactful structural change was the Living Wage for Social Care campaign that grew from Citizens Cymru's project to support and train community leaders. The Welsh Government commenced the roll-out to uplift the wages of social care workers in September 2022. Another positive change given the high representation of ethnic minorities in low-paid work was the success of South Riverside Community Development Centre's project in breaking down barriers to employment for people with English as a second language. Advocacy included support for individuals to claim what they were entitled to (e.g. Swansea Carer's Centre), as well as self-advocacy such as participants contributing their research and lived experience to strategic consultations and inquiries.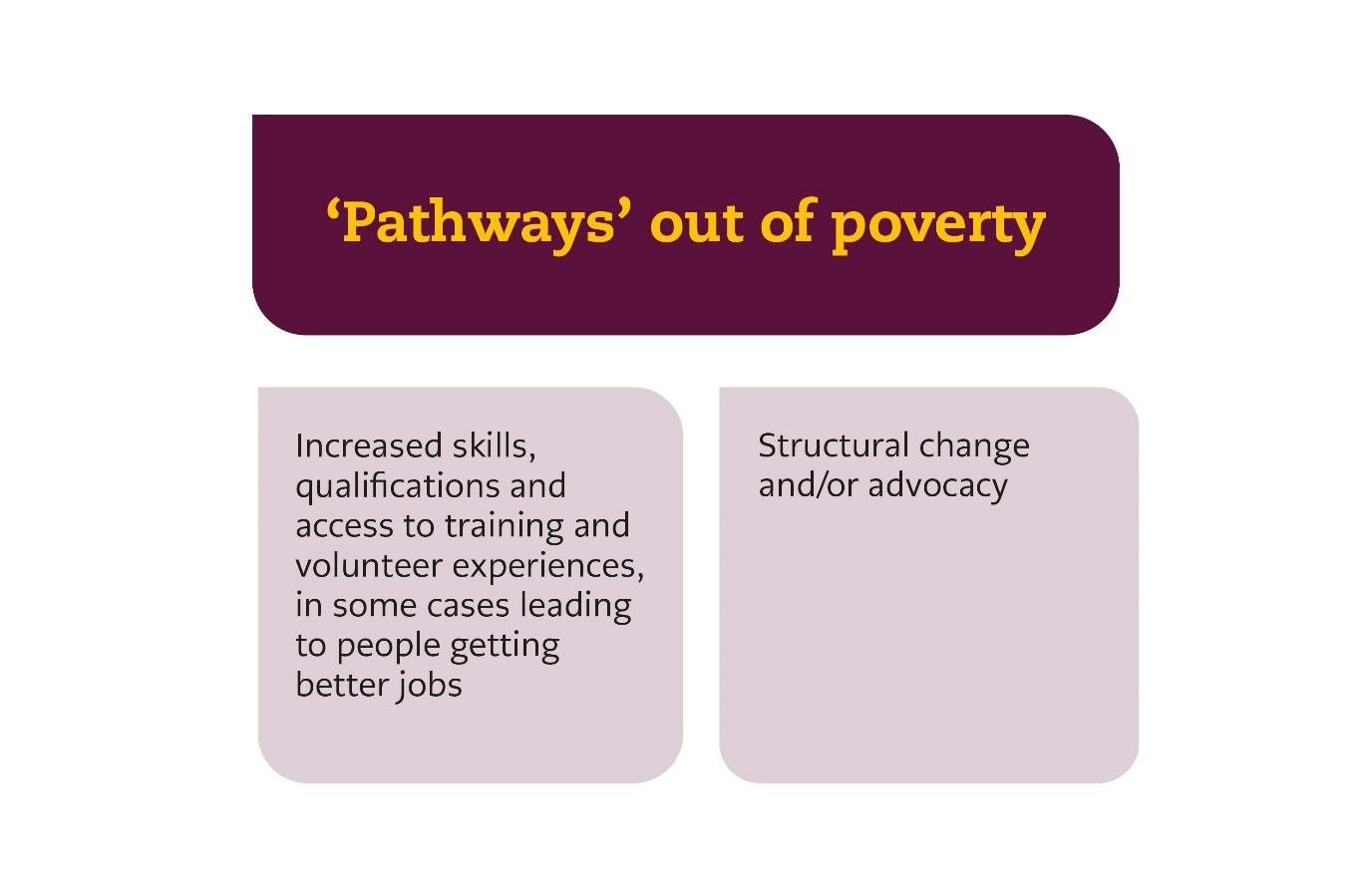 While the third priority, an enabling environment, has not been explicitly addressed by the projects funded through this programme, other funding from the National Lottery Community Fund showcases how communities can achieve this. For example, funding awarded to We Are Plas Madoc, a community group in a geographically isolated area of Wrexham, has allowed them to provide a green community transport service that increases accessibility. Other programmes such as Create Your Space have given power to communities to decide how to conserve and/or improve their local natural environment.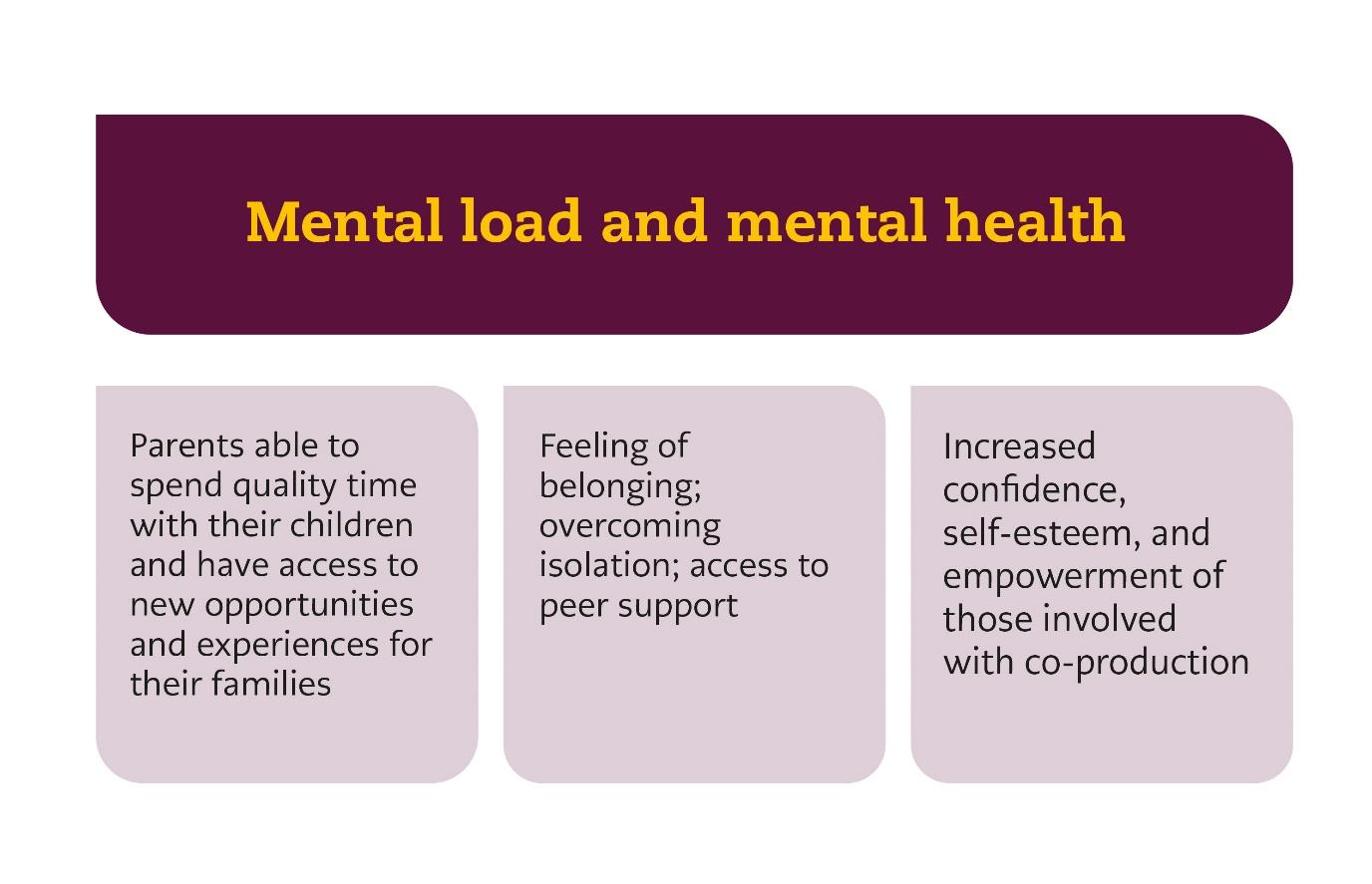 The impact of empowerment through co-production spreads out like ripples in a pond, creating positive change in other spheres of public life
WCPP note an evidence gap with regards to the fourth priority, mental health. While we cannot claim to provide evidence as robust as that included in their evidence review, our findings point to ways forward in addressing this area. Many of the projects resourced and organised trips and activities, or community events, that allowed families to spend quality time together – and importantly, have access to experiences that they would not otherwise have been able to afford. The mental health benefits of this cannot be overstated, as WCPP highlight the social exclusion that often occurs alongside poverty.
"The project allowed me and my children to take part in amazing activities that I could not afford or justify as a one income household." Felinfoel Family Centre beneficiary
Another important mental health outcome of the programme was the reduced social isolation and increased connection that participants had. Sometimes this was in the form of peer support groups, such as Home-Start Cymru's 'Dads Group' for fathers across Wales or CCHA's 'Love Yourself' group for women in Butetown. For others, the regular connection through having a chat in line at the community pantry, or seeing their community come together for summer events bolstered feelings of belonging. 
"Before attending the Home-Start group, I felt so lonely. Just me and my baby at home. I plucked up the courage to attend and the dark cloud over my head started to disappear. I felt so welcomed and looked forward to every week!"
In cases where participants were more deeply involved in the projects and services, they found opportunities to develop and discover new skills, and challenge themselves in new ways. The co-production approach taken by the programme allowed for different 'levels' of engagement for participants, and at its most powerful, increased the confidence and self-esteem of those involved, enabling them to make changes in their lives and in their communities. Many of the projects had stories of participants who started out as 'service users' who were shy or anxious but over time became volunteers and took on leadership roles. Testimonials reveal that people felt able to 'turn their life around' and get through difficult periods thanks to the support and increased confidence from taking part in a Helping Working Families project.
"Sarah is an example of someone who's really kind of grown and developed in an amazing way throughout the project. She really found her place in the pantry team and built skills, her confidence improved so much. She's taken a leadership role with the project; she went on a trip to London to look at other project models; and she's gone on to present to the Local Pantry conference in Manchester." Action in Caerau and Ely
Stories such as Sarah's show the importance of 're-humanising' services, as suggested in the WCPP's 'Way Forward'. The longer-term funding and co-production approach provided time, space and support for people who were struggling with the increasing demands of life to grow and develop, and find their own voice and agency. 
"It has taught me how to talk to people in a position of power and how you can let your voice be heard by them. It has made me more confident as a person and made me look at matters in a distinct perspective." South Riverside Community Development Centre
The impact of empowerment through co-production spreads out like ripples in a pond, creating positive change in other spheres of public life – one participant gained the confidence to become a governor at her children's primary school where she now advocates for more inclusive and consultative approaches with pupils and parents. The insights from the Helping Working Families programme thus provide further support for holistic, flexible, person-centred services that consider the importance of mental health when tackling poverty.
If you would like to learn more about the programme and the report, please join us on 10 March 2023 for our launch event. More details and registration here.
---
All articles published on the welsh agenda are subject to IWA's disclaimer.