Spring 2013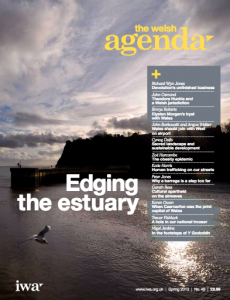 To download this issue for free please click here.
Editorial
The Welsh connectivity challenge
Essay
Where minorities meet in the heart of Europe
Andy Bevan describes an Alpine journey in search of hidden cultures
News
Outlook: A Metro for the Cardiff City region
Mark Barry
Jonathan Adams
Calvin Jones
James Brown
Henk Broekema
Changing Union
Welsh devolution's unfinished business
Richard Wyn Jones gives an overview of the Changing Union project's evidence to the Silk Commission
Theodore Huckle's case for a Welsh jurisdiction
John Osmond meets a gradualist occupying the forward trenches in the battle for devolution
Politics
Making Wales open for business
Geraint Talfan Davies reports on an IWA seminar that questioned the Welsh prediliction for public sector solutions
Economic opportunity rather than rights critical for language survival
Howard CArter and John Aitchison find there are now more Welsh speakers in Cardiff than in the whole of Ceredigion, Gwynedd and Ynys Mon
Nationalist politics in the 1960s
Elystan Morgan's tryst with Wales
Emrys Roberts engages with the memoirs of a key figure in 20th Century Welsh politics
The real story behind Tryweryn and the Investiture
J. Graham Jones praises an account of physical-force Welsh nationalism
Economy
Wales and West should join forces on airport
John Borkowski and Angus Walker suggest a radical solution to the Welsh air connectivity deficit
Sacred landscape and sustainable Development
Cynog Dafis argues that a circle can be squared on green growth
Capital Focus
Putting Cardiff at the heart of the Welsh economy
Chris Sutton explains why the centre of the Welsh Capital warrants the creation of an Enterprise Zone
The other side of the tracks
Tony Grist believes the future redevelopment of Cardiff Central Station could be used to unite a divided city
Education
Heads of the Valleys education education poverty gap
Lizzie Swaffield, David Egan and Danny Saundersreport on an initiative to improve school attainment in Merthyr and Blaenau Gwent
All we need is English n'est-ce pas?
Ceri James reveals that Wales has the shortest period of compulsory foreign language learning in Europe
Health
The obesity epidemic
Zoe Harcombe asks how many more people will become overweight before we cut back on processed carbohydrate foods high on fructose
Lifestyle change versus medication
Judy Hutchings says behaviour change should be a goal for all professionals working with patterns of behaviour that contribute to illness
Social Policy
Slavery still current in 21st Century Wales
Katie Harries investigates the extent of human trafficking on our streets
Environment
Food co-ops tick all the right boxes
Richard Reast on a down-to-earth scheme helping to put One-Planet Wales on the map
Why a barrage is a step too far for the Severn
Peter Jones advocates exploring renewable projects compatible with the protection of wildlife in the estuary
Communications
Cultural apartheid on the airwaves
Gareth Rees says Radio Wales smacks more of a British regional than a Welsh national channel
When Caernarfon was the print capital of Wales
Karen Owen celebrates the mid 19th Century print and news revolution
Culture
Fishlocks File: Word slingers who can make a corgi laugh
Trevor Fishlock says a hole in our national trouser needs mending
Edging the Estuary
Peter Finch reports from a place where there is enough water to drown us all
In the footsteps of Y Gododdin
Nigel Jenkins looks back at the life of poet, translator and literary critic Tony Conran
Reviews
A man of superior parts
Peter Stead
How yr Wyddfa enters the soul
Bethan Gwanas
Stuck in Splott
Peter Finch
What Wales can do for a poet
Angela Graham
Last Word: 
Who can pass the toga test?
Peter Stead