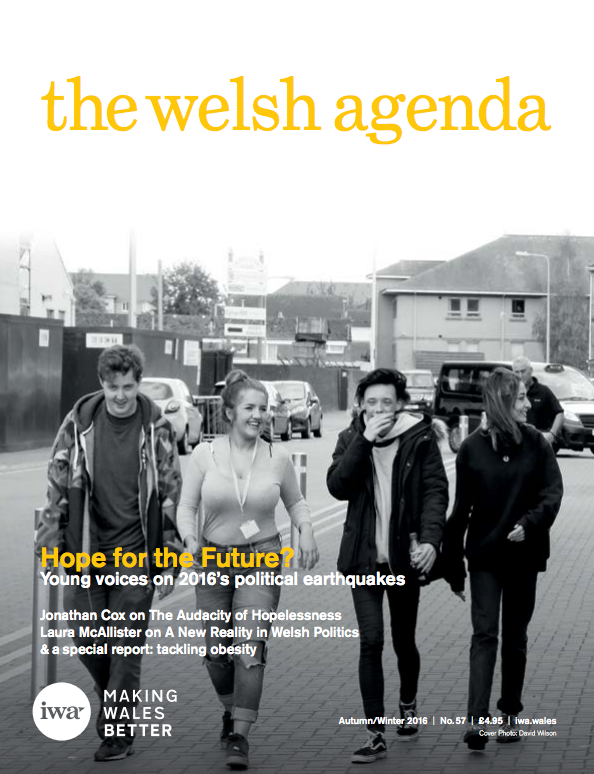 To download this issue for free please click here.
Contents
Taking the IWA into its 30th year
Sion Barry discusses the future of the IWA with its incoming Director, Auriol Miller, and Chair, Helen Molyneux.
The audacity of hopelessness
Jonathan Cox maps out a route from hopelessness to hope – through the recovery of Wales' tradition of community organising.
'An absolute garbage pile of a year'
Politics students Nikkita Harris, Victoria Rendell and Ben Filer discuss the implications of Brexit, and learning to live with decisions imposed on them by older generations.
Escaping the exam factory: why teachers are leaving
Dylan Moore fears that much-needed curriculum overhaul will be overshadowed by a data culture that distorts the purpose of education and demoralises students and teachers alike.
The Welsh Agenda special report: Tackling obesity
Clare Critchley outlines the stark details of Wales' huge obesity epidemic; Paul Thomas calls for ambition, understanding and common sense in our approaches to encouraging active lifestyles; and Katie Palmer emphasises the importance of educating communities about food choices.
A major public crisis
Clare Critchley
A team sport
Paul Thomas
Making healthy food fun
Katie Palmer
Aberfan: Not History Yet
Geraint Talfan Davies recalls the horror of Aberfan, fifty years on, and considers the legacy of the disaster – and how it may have been reported differently today.
Wales United?
Adam Price calls for a government of national unity to negotiate the 'serious, but not hopeless' challenges for post-Brexit Wales.
Assembly No. 5 special: A new reality
Laura McAllister looks back on the high drama of the fifth Assembly's first hundred days and argues that a pluralist approach will be key to regaining citizens' interest and engagement in politics in Wales.
Coming home
Huw Irranca-Davies makes the shift from MP to AM.
Why we're here
Mark Reckless is pleasantly surprised by his new working environment but unimpressed by the Cardiff Bay establishment.
Industrial Policy Rules
In the wake of the 'steel crisis', James Foreman-Peck runs the rule over industrial policy options and warns against company-specific state intervention.
Breaking barriers, rebuilding families
Corin Morgan-Armstrong celebrates the successes of Invisible Walls Wales, a radical and innovative approach to supporting prisoners' families – and calls for its wider roll-out.
Poor Wales
Christine Chapman calls for a continued focus on eradicating poverty, as flagship Welsh Government programmes begin to slip from view.
Are we caring for our children?
Karen Graham and David Dallimore argue that childcare provision is about far more than getting parents into work.
Wales leading the way: reviewing Diamond
Hannah Pudner welcomes Sir Ian Diamond's progressive plan for the future of higher education in Wales.
A Welsh community health and social care service
Lyndon Miles calls for renewed strategic direction to streamline health and social care services in Wales.
Early steps on the path to NHS sustainability
Toby Watt sets out a detailed case for ensuring the NHS in Wales has its current funding pressures eased and works toward long-term financial security.
Profile: Barry Morgan, Archbishop of Wales
Greg Walker considers the ministry and legacy of Archbishop Barry Morgan, who will retire on January 31st 2017.
Re-Energising Wales: Thinking differently about the Welsh economy
Shea Jones outlines a new project from the IWA looking at the potential of renewable energy for Wales.
Understanding Mametz
Peter Stead revisits the many and varied commemorations of an iconic battle.
Reviews:
Pigeon & Pijin
The Eisteddfod
Ritual, 1969
Crossings: A Journey Through Borders
The Immigration Handbook
Asylum
Tryweryn: A Nation Awakes – The Story of a Welsh Freedom Fighter
The Greasy Poll
Our Changing Land: Revisiting Gender, Class and Identity in Contemporary Wales
Last Word:
Mat Mathias