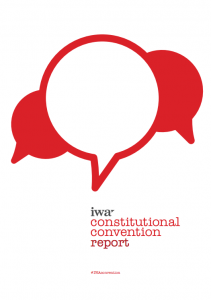 Running from January to March 2015, the IWA's Constitutional Convention asked 12,000 people across the country about Wales' future.
Using innovative crowdsourcing technology the convention looked at the role of the UK, the potential devolution of welfare and the economy
The project found:
Thought around the future of the UK has been ad hoc and reactive. There should be a UK-wide Constitutional Convention to consider the union as a whole.
People were generally supportive of further powers for Wales, but there's a feeling that performance and implementation of existing powers were of greater importance, particularly in education and the economy.
We need to be more ambitious. We need a bold economic strategy which identifies new areas in which Wales can excel such as green growth and the digital sector.
We need to consider the impact that welfare devolution in other parts of the UK will impact Wales. There is support for exploring different policies however there's a nervousness about how these will be funded.