Winter 2014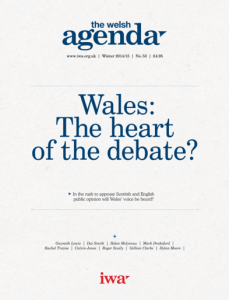 To download this issue for free please click here.
Lessons from Scotland
Roger Scully draws some conclusions following the Scottish Referendum.
Did Scotland say no, or just not yet?
 Eberhard Bort says change for the union must be forthcoming or the No vote on the 18th September will be nothing more than a reprieve.
England Awakens
Michael Kenny says English Votes for English Laws doesn't just pose problems for Labour
How can Wales be at the heart of the debate?
Lee Waters says empty reassurances put Wales at risk of being left behind again.
Gender equality debate: 50/50
Joy Kent and Helen Molyneux debate the drive for gender equality among decision makers in Wales.
It's time to wake up and smell the coffee
Professor Calvin Jones argues that no place develops within a vacuum.
Getting graduates to Teach First
 Jennifer Owen-Adams looks at the potential impact of Teach First in Wales.
Arts in an age of endless austerity
Geraint Talfan Davies looks at the state of the arts in Wales in a challenging financial climate.
Those in greatest need at the front of the queue.
 Lee Waters and Mark Drakeford sit down to discuss prudent healthcare
Debate: e-cigarettes
 Jamie Insole and Dr Julie Bishop debate policy around e-cigarettes
Senedd papers briefing
We look at the first two Senedd Papers.
Devolving to English Cities
 David Waite examins decentralisation across England and its implications for Wales.
North Wales, a region without a City?
 David B Jones asks where a City Region agenda for South Wales leaves North Wales.
Deabte: SEN reform
Mike O'Neill and Nathan Davies debate whether the SEN reforms will work for Wales.
English Nationalism- Friend or foe?
 Simon Brooks' Eisteddfod lecture.
Crisis? What Crisis?
 Professor Gareth Rees questions the perception that the Welsh education system is under-performing.
Culture
Velvet Coalmine
Rhian E. Jones revisits Blackwood for a festival of literature and music rooted in history, politics and the resurgence of Manic Street Preachers.
Dragons, tigers and football-playing vampires
Penny Thomas outlines the early success of a series that brings fun to the heart of the National Literacy Strategy.
Reviews
Dai Smith reviews Revolution to devolution by Kenneth O Morgan
Phil Morris reviews In the Chair by Andrew Green
Kathryn Gray reviews Advantages of the Older Man by Gwyneth Lewis
Rachel Trezise reviews Significance by Jo Mazelis
Linda Christmas reviews A Welsh Dawn by Gareth Thomas
Aled Eurig reviews Cofiant Jim Griffiths by D. Ben Rees
Rajvi Glasbrook-Griffiths reviews Ministering to Education by Leighton Andrews
Nick Powell reviews the IWA series on a Fascist Party in Wales
Books Roundup
New Culture Editor Dylan looks at some of the latest Welsh book releases.
Man of Words 
 Gerald Holtham looks back at Geraint Talfan Davies' contribution as Chair of the IWA.
Letters that shrank the century
 Trevor Fishlock tells of the letters written by his Grandfather on the western front.
Peter Stead's Last Word: Floundering