Mari Ellis Dunning reflects on being shortlisted for this year's prize
As a first time nominee with only a single debut poetry collection under my belt, I was floored to have been shortlisted for Wales Book of the Year this year. I could never have anticipated it, particularly in what was such a stellar year for poetry. It was made all the more poignant to be listed alongside Jonathan Edwards (My Family and Other Superheroes, Gen) and Ailbhe D'Arcy (Imaginary Menagerie, Insistence), two prolific poets. Jonathan won the Costa Book Prize in 2015, and Ailbhe was shortlisted for the T.S. Eliot Prize last year. In all honesty, I didn't feel I deserved to be there, and frankly I'm still baffled by the whole thing!
The ceremony itself was wonderful, if a little overwhelming! This year, for the first time ever, it was held in Aberystwyth, where I'm based, and where first drafts of a lot of the poems in the collection were written. It was nice to see such a high-profile ceremony held on the fringes of the country, rather than in a capital city. Meeting the other shortlisted writers across all three categories (poetry, fiction and creative non-fiction) in both languages (English and Welsh) was a real pleasure, as was viewing the short readings of each piece created by Cwmni Da projected on a big screen. The videos feature actors Rhodri Siôn and Catrin Mara reading from each of the shortlisted titles in both languages, and are stunning renditions of poetry and prose. You can still see these on the Literature Wales and Llenyddiaeth Cymru websites.
The awards illustrate the significance of Wales to a global readership. Wales Book of the Year is a crucial celebration of writing in Wales, rewarding writers with recognition regardless of whether they're seasoned professionals (poet Robert Minhinnick has won three times!) or debut authors. It also boosts sales of the books, for a while at least, which is always a bonus.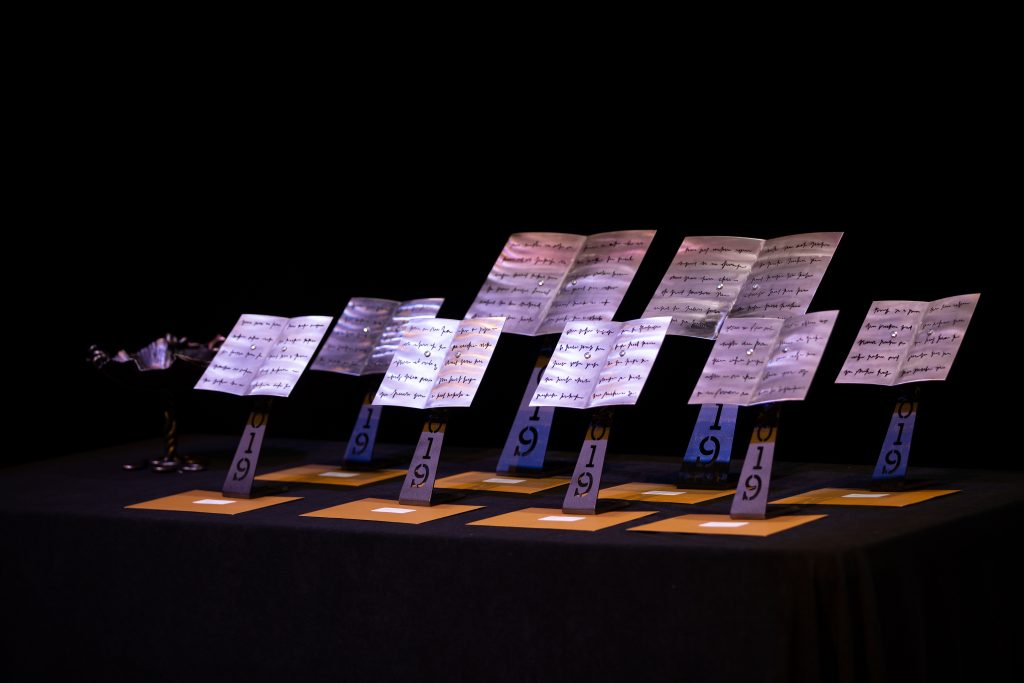 The awards cover writers born or living in Wales, as well as books about Wales or with a Welsh theme, so there's always a real variety of writers and titles involved, including big publishing houses like Bloodaxe Books. Seeing Parthian and Seren on the shortlists this year was a boost for the smaller, independent publishing houses, aligning independent Welsh publishers with bigger, perhaps better-known, brands. Similarly, it's rare that Welsh-language writing and publishing gets much promotion across English-language channels, so the publicity attached to Wales Book of the Year, and simultaneous clout stemming from Literature Wales, is hugely important – it's an annual opportunity for Welsh-language literature to be championed and recognised for its beauty and precision.
The peer-support, well wishes and feedback regarding Salacia that poured in after the shortlisting announcements were made, as well as after the award ceremony, meant the world to me. It's scary putting a book out there, especially a first book, and not knowing how people will respond to it. To know it's been understood and appreciated, and received such a prestigious form of recognition, is humbling. The most rewarding aspect of my career so far has been the occasions in which my poetry readings have opened a discussion or conversation around mental health. I hope the Wales Book of the Year shortlisting will help my poetry to reach more people who would benefit from its themes of mental health, coming of age and mythology. Poetry has consistently been a way for me to process experiences and navigate life events, so it's lovely to think my poetry could touch others in the same way.
Of course it was a little disappointing not to win, but Ailbhe's collection is phenomenal and timely, centring on the birth of her son in a critical time of climate change, rendered in robust, stark language. I'd encourage anyone to pick up a copy, and copies of the other shortlisted titles too. I'm pleased a poetry collection won the overall prize in the English language category – it's a celebration of how vital poetry is, and how much of an impact it can have.
The Wales Book Of The Year award is presented annually to the best work in the fields of creative writing and literary criticism in the following three categories: poetry, fiction and creative non-fiction, in both English and Welsh. To be eligible, the works must demonstrate clear relevance to Wales and Welsh culture, either in being written by a Welsh-born writer, a writer currently resident in Wales, or in discussing themes within a Welsh discourse.
All articles published on Click on Wales are subject to IWA's disclaimer.