The Welsh food system needs more prominence on the political agenda, writes Shea Buckland-Jones.
Food is one of the few sectors that can have such a multifaceted positive impact on so many areas that affect the day-to-day life of people living and working in Wales. It has considerable potential to address pressing concerns relating to health, the economy, the environment and equality. 
Food – from what we grow, produce and catch to what we put on our plates – is our strongest link to nature. This is why ensuring the food system enables people and planet to thrive is a priority for WWF Cymru.
How to deliver healthy, nutritious food for all in the face of shrinking resources and a growing population, while addressing climate change and biodiversity loss, is a major challenge globally, including in Wales. 
Looking at the food system through a Welsh lens, it is clear to us that whilst the food system is a vital component of our economic, environmental, social and cultural well-being, there are systemic problems within the food system that need addressing urgently too. 
160,000 children in Wales live in households for whom a healthy diet is increasingly unaffordable. Recourse to food banks is rising and rising rates of obesity cost the Welsh NHS more than £73 million per year. 
Unsustainable agricultural management is the single largest driver of biodiversity decline across the UK. Meanwhile, many working in the food industry receive low pay and many farmers are highly dependent upon current EU subsidies. 
To add to all this, the uncertainty of post-Brexit payment support and the potential impacts of Brexit on UK export markets make this a deeply concerning time for many in the food industry. All of this hinders our ability to prosper as a nation both now and in the future. 
Innovative. Informed. Independent.
Your support can help us make Wales better.
In light of the above, WWF Cymru commissioned the Sustainable Places Research Institute at Cardiff University to produce a report on what a Welsh food system fit for future generations would look like, and what is needed to get us there. 
The Sustainable Places Research Institute conclude in the report that the Well-being of Future Generations Act provides the vision and levers needed to achieve a significant transformation in Wales' food system. 
To deliver a food system fit for future generations, the report recommends that the Welsh Government needs to develop a food system strategy for Wales. This strategy would facilitate closer join up between different parts of the food system, all the way from food production through to food consumption, which in turn could help drive a more integrated food system. 
It is acknowledged that taking an integrated food systems approach is challenging, but the Act mandates the five ways of working and an integrated approach to food could contribute to each of the seven goals of the Act as highlighted in an infographic from the report.
In developing this food system strategy, the report recommends a new co-created food vision for Wales should be developed, centred around re-localising the food system, restoring environmental, social and human capital to strengthen food security and capture more value locally. 
Reconnecting people with food is essential if we want to change the food system and build a future of healthy people and a healthy planet.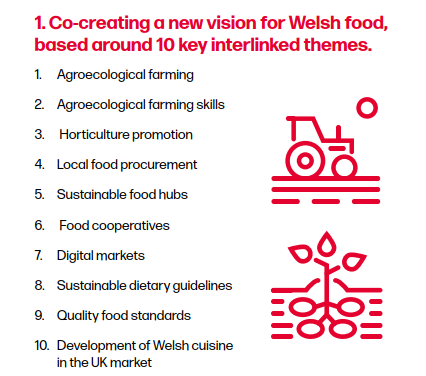 The report goes onto recommend that this vision would need to be backed up by rebuilding food infrastructures to link food producers to consumers in more diverse ways. This means more sites for food markets, community retailers and food processors, investment in food cooperatives and the development of a network of food hubs that aggregate and distribute local food.
To realise the new food vision for Wales and build the necessary food infrastructure, an integrated set of policies and funding mechanisms need to be developed. 
The report also recommends that a new Wales Food Commission should be established to oversee the delivery of the food system strategy, comprising the Future Generations Commissioner, Area Statement leads, education and public health boards, Welsh Government leads on food policy (including agriculture, procurement, health and social care) and food practitioners (including community-based organisations and environmental NGOs).
 It also recommends creating a National Universal Food Framework to ensure all Welsh people have the right to access healthy food.
We have begun to reflect on the report findings, and we are now keen to explore those findings further with stakeholders to identify areas of common ground and explore differences. Despite agreement on the important contribution food makes to Wales' future prosperity and sustainability, there are currently divergent opinions on which interventions to pursue. 
What is clear is that we need to raise the food system up the political agenda. There is a clear role for the Future Generations Commission in helping to facilitate integration in the food sector and to champion the opportunity for Wales to become a nation with a just and sustainable food system.
 The Act provides a platform for the design of an exemplary food system for Wales that cuts across silos, facilitating actions that will influence the health of people and planet at the local, national and global level. The Welsh Government have declared a climate and nature emergency and we believe the food system could be central to addressing this. We have an opportunity in Wales to design a food system that works hand-in-hand with nature and truly delivers well-being for future generations. 
The 'A Welsh Food System Fit For Future Generations' report is produced by the Sustainable Places Research Institute at Cardiff University, commissioned by WWF Cymru and was launched in Ty Hywel on March 11th at an event sponsored by Huw Irranca-Davies AM.
Photo by Ambitious Creative Co. – Rick Barrett on Unsplash
All articles published on Click on Wales are subject to IWA's disclaimer.