In a new collaborative project and book, Dr Charlotte Hammond calls attention to the colonial history of the Welsh woollen industry.
Webs, Welsh plains, Welsh cottons, or "Negro Cloth", the name most often used by plantation owners and colonial merchants, was a durable 'plain' woollen cloth, woven in mid-Wales between 1650-1850.
Wool, alongside (and eventually overtaken by) cotton, became the global textile industry of the eighteenth century. British merchants used the cloth to purchase and trade in African captives, kidnapped to work on plantations in the Americas in the transatlantic slave trade. Plantation owners in the Caribbean and US South used the hand woven woollen textile to clothe enslaved labourers. 
In the eighteenth and early nineteenth century, Welsh plains became a popular textile for the jackets, waistcoats, smocks, petticoats and breaches worn by enslaved men, women and children in the Americas. In 1823, the South Carolina planter, Robert Maxwell, wrote that local manufacturers had tried to imitate Welsh Plains but found its qualities to be inferior. Maxwell preferred to buy cloth that had been 'made by the farmers of Wales', that arrived in bales of folded pieces 90-100 yards each; he deemed it 'superior to anything made in England for Negro clothing' (Hazard papers, 1823). 
The de-colonial work of interrogating this past and its enduring legacies is an ongoing process that requires long-term commitment across multiple sectors. 
If Welsh-made woollens were such a popular export item in the Atlantic slave trade, why has the history of this fabric's global significance been overlooked? Our project and forthcoming book of the same name, Woven Histories of Welsh Wool and Slavery, aims to improve public knowledge of the ways local histories of woollen production in Wales are implicated in broader global histories of Atlantic slavery and empire. The project is a collaboration between Cardiff University, Liz Millman of Learning Links International, Marcia Dunkley of Black Heritage Walks Network, Coleg Menai in Bangor and is supported by HEFCW Research Wales Innovation Funding.
The Woven Histories book is structured around the artwork of participating student artists from Coleg Menai. The students explored traces of this historical narrative that links the exploitation of weavers in rural Wales with the racial injustices of Atlantic slavery, and its reliance on the circulation of Welsh-made textiles. Through their research, these emerging artists and designers have developed visual responses to this history. They visualise and assemble fragments: from the ruins of pandy fulling mills in Dolgellau, Meirionnydd, via the packhorse trails that transported Welsh Plains cloth to England. There, it was dyed and finished in Shrewsbury, sent to London and Liverpool to be traded and then exported to the Americas. The students follow the cloth's colonial connections to the Caribbean and southern states of the US, where Welsh Plains were used to clothe enslaved field workers who toiled on the plantations.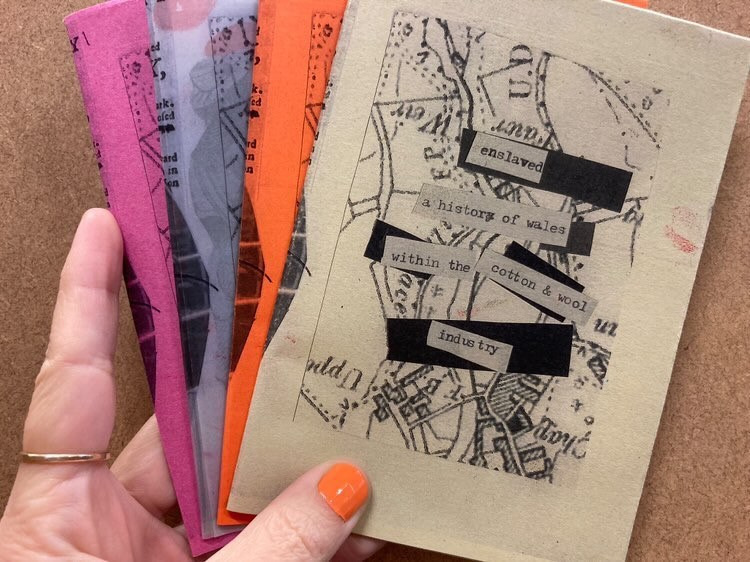 Student work has also been exhibited at Cardiff University in relation to these themes. In a one-day workshop for the ESRC Festival of Social Science in November 2022, and in partnership with Elin Angharad of Llyfrgell Zine Cymru, a group of Art and Design Foundation students each created their own small zine to explore this history. The zines they produced reclaim diverse printed material from the archives to reframe the dominant narrative of mill or plantation scenes authored by European travellers. Using the theme of zine-making as marronage – the act of escaping the plantation – the students used creative research methods – drawing, cutting, collaging images and text and assembling new narratives – as a form of alternative knowledge production regarding this silenced history. 
In Wales, the process of addressing the structural absences of Black history from public history is still ongoing. Professor Charlotte Williams reminds us in the welsh agenda's Education Special that Wales' unique identity has been shaped by a violent history of conquest and domination. England has been the oppressor and Wales, the underdog, whose language and identity has been oppressed. How then do we confront Wales' undeniable complicity with British imperial exploitation? As Chris Evans demonstrates in Slave Wales, Wales and Welsh products including wool, copper, and coal, played an integral role in Britain's imperial past.
In Wales, the process of addressing the structural absences of Black history from public history is still ongoing
Recent research, such as  the 2019 'Sheep to Sugar' project and Woven Histories, is only scratching the surface of knowledge about this woollen textile. For Marcia Dunkley, Historian and Educator, this is just 1% of the picture. We need, as Dunkley argues during our interview featured in the book, to connect the story to the Caribbean and continue to explore the memory of Welsh Plains from an Atlantic perspective if we are to address what she calls an "incomplete history". This is slow work that needs to be enacted across multiple platforms, via the new Curriculum for Wales, and within cultural and heritage institutions. The de-colonial work of interrogating this past and its enduring legacies is an ongoing process that requires long-term commitment across multiple sectors. 
Woven Histories of Welsh Wool and Slavery is forthcoming with Common Threads Press in 2023. This collection of artwork, interviews and essays will provide an introduction to this history that implicates each and every person living in Wales and Britain today.
---
All articles published on the welsh agenda are subject to IWA's disclaimer.
This article was commissioned and edited by Maisie Allen thanks to the Books Council of Wales' New Audiences Fund.