Autumn/Winter 2020 #65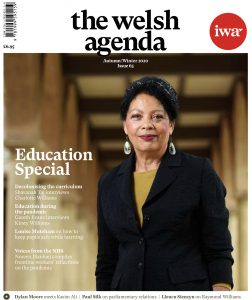 Download a free digital copy of this issue.
If you would like to join the IWA, and receive the most recent copy of the welsh agenda and all copies published during your membership, please join us here.
This edition is also available in bookshops.
Previous editions of the welsh agenda are available for free download and to buy here.
---
Highlights
In their own words: working through the pandemic Noreen Blanluet hears personal reflections from people working in health and social care across Wales
'When we say black history, what we mean is racial justice' Shavanah Taj interviews Charlotte Williams
How can English-medium schools help create a bilingual Wales? Alex Lovell says the new curriculum is an opportunity for a radical, holistic approach
Don't we control Wales as well? Adrian Masters searches for positives in the wreckage of the 'four-nation approach' to the lockdown
Recovery and restructuring Wyn Morris runs the rule over the rural economy
Opera in the time of pandemic Merlin Gable talks to Aidan Lang about the Welsh National Opera, the crisis in the arts and Black Lives Matter
Articles
How to run an education system in the middle of a global pandemic Gareth Evans talks politics, PISA, progress and pandemic with Education Minister Kirsty Williams
On top of her brief Poppy Stowell-Evans provides her thoughts on Kirsty Williams's responses
How do we keep Wales learning while keeping pupils safe? With the new term now well underway, teacher Louise Muteham reflects on a changed landscape
A decisive moment can't go unnoticed There's more to be done on votes at 16, argues Jess Blair
Missing links Paul Silk welcomes a new IWA report on inter-parliamentary relations in the UK
'A rewarding, fascinating, wonderful, frustrating job' Shazia Awan-Scully continues her investigation into the backrooms of Senedd politics, meeting Matt Greenough
Profile: Kasim Ali Dylan Moore talks doing business, geopolitics and the hospitality sector
Coronavirus: the great magnifier? Michael Woods argues that the coronavirus pandemic has highlighted pre-existing rural–urban disparities
A perfect storm: farming, Covid-19 and Brexit Even the iconic Welsh mountain sheep are affected by the pandemic, says Edward Thomas Jones
What's Welsh for 'economic policy'? The time has come for Wales to grasp the economic policy nettle, says Jack Watkins
The cost of tourism Rhys ap Gwilym gives a personal perspective from Llanberis
Beauty for all Justin Albert commemorates the 125th anniversary of the National Trust
What future for research and innovation? In part two of a series, Adam Fletcher explains the British Heart Foundation's response to the coronavirus pandemic
Culture
Marxism, literature and other keywords Lleucu Siencyn recalls discovering Welsh writer and thinker Raymond Williams
Redefining resilience in Wales' literary scene Sadia Pineda Hameed and Beau W Beakhouse survey the world of young Welsh creatives
Just So You Know Shaheen Sutton celebrates a new collection of essays by diverse writers
The Estate Agent's Daughter Rhian Elizabeth enjoys Rhian Edwards' second poetry collection
The Crossing Rachel Trezise appreciates the craft of Dai Smith's latest novel
Welsh Niallism; or, the importance of being earnest Merlin Gable finds Niall Griffiths' latest novel lacking in the current political climate
Q&A Jude Thoburn Price describes Us Here Now, a photographic project on life in east Cardiff