Summer 2007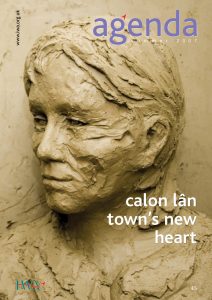 To download this issue for free please click here.
Opinion
Page 4 – Opinion
Connecting with the consumer by Rhys David.
News
Page 8 – News
Politics and Policy
Page 10 – Mixed Messages
Denis Balsom looks beneath the surface of the Assembly's third term election.
Page 13 – Damaging for devolution
A vigorous debate on Welsh issues is impossible when fewer than a third of the Welsh population read or tune in to Welsh news, says Lee Waters.
Page 15 – Law Focus I) Scrutiny under examination
Aled Eirug highlights the need for reform of the Assembly's committeee system to ensure good scrutiny and effective use of members' time.
Page 18 – Law Focus – II) Switching circuits
The breaking of the courts' link with Chester has created a Wales-only judiciary for the first time since 1831, says Keith Bush.
Page 21 – Law Focus – III) Llyfrau Da
Wales should celebrate the return of law-making powers by putting the books of Hywel Dda on display at the Senedd, suggests John H Davies.
The Economy
Page 23 – Growing pains
The impact of Objective 1 funding is difficult to measure, says Eurfyl ap Gwilym, who proposes a roadmap for further economic growth in Wales.
Page 28 – Promising Futures
Martin Rhisiart identifies the benefits of futures studies.
Page 30 – An innovative solution
Jonathan Kestenbaum challenges the lack of innovation in Wales.
Page 32 – Cover story – Time for Communities
Communities across South Wales are re-casting social interactions, says Nick Morris.
Page 35 – Gastro Economy
Research into 'gastro pubs' shows great satisfaction, good food and strong business potential, say Jonathan Deacon and Jackie Harris.
Environment
Page 37 – A home in the country
Rural Wales must be allowed to benefit from an expanded network of enablers, argues Amanda Oliver.
Page 39 – Remaking Rhyl
The resurgence of a popular seaside resort is described by Derek Jones.
Page 43 – Blank Slate
Richard Porch celebrates the opportunities offered by the Swansea development.
Page 46 – Hydrogen future
Dennis Hawkes explores a new energy source where the potential for Wales is great.
Page 48 – Building a sustainable future
Phil Horton describes the construction and future operation of a building that shows climate change can be countered.
Page 50 – Something in the water
David Baldacchino presents the case for improving the waterways of Wales.
Page 53 – Access all areas
More needs to be done to ensure present and future generations can enjoy our natural heritage, says Beverley Penney.
Science
Page 55 – The future of science
Careers in science can be inspired at an early age according to Wendy Sadler, who has taken science to thousands of young people.
Social Policy
Page 57 – My health, whose responsibility?
Marcus Longley considers a novel application of jury service.
Page 59 – Jobs for life
Occupational health presents the opportunity to ensure healthy and long-lasting work habits, according to Sue Eynon.
Page 61 – Optimal benefits
Wales needs a strategy for health that measures medicines by patient outcomes as well as costs, says Richard Greville.
Page 64 – Facing flu
The feared influenza pandemic has not occurred but, as Ian Hosein explains, society must still ensure it remains well-prepared.
Page 67 – Winter 2007
Mark Richardson addresses critics of fair trade and shows that everyone can help reduce poverty.
Culture and Communication
Page 70 – A revolution in learning
The Welsh Baccalaureate is a valuable complement to existing qualifications, says Steve Marshall.
Page 73 – Basic improvements
Peter McGowan says 'barriers between academic and vocational education must be broken down'.
Page 75 – Foreign adventure
Wales should be leading the UK in encouraging the learning and use of other languages, says Alwena Lamping.
Page 77 – Fine air, mountains, streams and fish
Rhian Davies reveals the strong connections between a very English composer and Wales.
The Last Word
Page 80 – The Last Word
Leaders Galore by Peter Stead