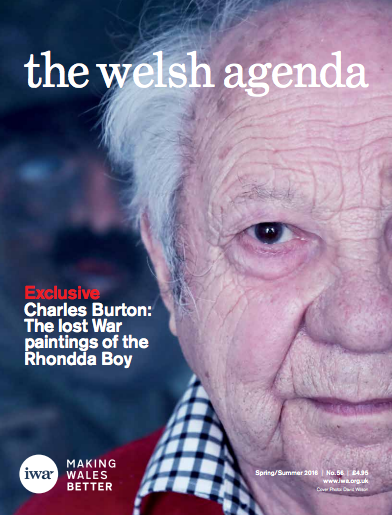 To download this issue for free please click here.
Contents
A love Letter to Wales
John McGrath was the inaugural Artistic Director of National Theatre Wales. After leaving to become AD of the Manchester International Festival, McGrath sends a letter "home."
Europe- In or Out? 
David TC Davies & Byron Davies
Why can't we be honest about healthcare choices?
Marcus Longley advocates honesty, clarity and choice in the "marvellous, frustrating" Welsh NHS.
Which Welsh Muslims are we listening to? 
Abdul-Azim Ahmed outlines the diversity within Muslim communities in Wales and laments the lack of nuance in the dominant media narratives.
Taxing bedrooms in Betws
Seb Cooke meets Kay Harris, a south Wales grandmother who has found herself, through circumstances, at the forefront of a campaign to fight the everyday ravages of the Bedroom Tax.
How feminist is the Welsh Assembly? 
Liz Silversmith surveys the facts and asks some difficult questions.
Song of a Potted Plant
George W. G. explores the migrant experience from the inside.
The pragmatist at work
Manon George and Huw Pritchard say recent announcements on the Wales Bill are encouraging.
Charles Burton: The painting's in the pity
Tony Curtis uncovers the Rhondda Boy's unseen war paintings.
Wales, a Paradise for Artists? 
Amid the currents climate of cuts to art funding, Iwan Bala argues that we need to remember the rich history of our visual art.
City Regions- Deal or no Deal? 
Lee Waters & Jess Blair
Turning threats into opportunities
Ieuan Wyn Jones outlines the implications of an English Northern Powerhouse for the north of Wales economy.
Welsh Wizzard… Gentle Giant… Golden Gareth? 
As Wales' footballers prepare for Euro 2016, Dylan Moore goes in search of the superstars who prefigured the world's most expensive player, Gareth Bale.
Bridging Wales' Oxbridge Gap
Lord Paul Murphy talks to Dylan Moore about why Wales has an Oxbridge problem, the Seren priject that aims to support Wales' brightest- and how we might eventually tempt those graduates back.
Oxbridge: A confidence trick? 
Rhea Stevens gives a personal reflection on her time at Oxford.
Edwina 
As one of the Assembly's stalwarts- and most divisive figures- retires from office, Rhys David runs the rule over Mrs Hart's record as minister for economy, science and transport.
Kirsty
Dewi Knight provides an insider's profile of the Welsh Liberal Democrats; outsider- insider and survivor, party leader Kirsty Williams.
In Parenthesis: music, mayhem and majesty
David Pountney explains the sense of destiny behind Welsh National Opera's forthcoming adaptation of David Jones' epic poem of the Great War, In Parenthesis. 
Convergence: Wales and the digital promised land
Colin Thomas explores an altered media landscape to find Wales catching up with the present.
Cardiff: A Welsh Barcelona? Massives from Modern Wales
Simon Brooks and Geraint Talfan Davies discuss "the Cardiff effect" , local government reorganisation and the future of the north.
Reviews: 
My Histories & A Life in History
Petticoat Heroes: Gender, Culture and Popular Protest in the Rebecca Riots
The Tradition: A New History of Welsh Act 1400-1990
Seeking God's Kingdom: The Nonconformist Social Gospel in Wales 1906-1939 & Rhys Lewis: Minister of Bethel.
Still with the Music: My Autobiography
The Roots of Rock from Cardiff to Mississippi and Back
Alun, Gweno and Freda
Red Dragons: The Story of Welsh Football
Last Word: Unheard Voices
Dylan Moore