Spring / Summer 2019 #62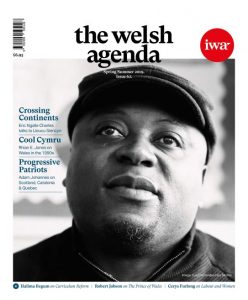 Issue costs:
To download this issue for free please click here.
Previous editions of the welsh agenda are available for free download and to buy here.
If you would like to join the IWA, and receive your members copy of the welsh agenda as soon as it is published, please join us here.

HIGHLIGHTS
Crossing Continents: Eric Ngalle Charles talks to Lleucu Siencyn
Wales in the 1990s: Rhian E. Jones revisits Cool Cymru
Carwyn Jones: Shazia Awan talks to the ex-First Minister
Prince Charles: Robert Jobson on Wales' royal relationship
Food Systems: Katie Palmer leads a series on our food future
Emyr Humphreys at 100: M Wynn Thomas pays tribute

ARTICLES
A language without speakers:  Simon Brooks on the future of Welsh language communities
Progressive Patriots:  Adam Johannes on socialism and nationalism in Europe and beyond
Plenty of fine words:  Laura McAllister assesses Carwyn Jones' nine years as First Minister
Labour's problem with women:  Cerys Furlong on how we level the playing field
The unintended consequences of John Redwood:  Leon Gooberman on Wales and Brexit
Prince Charles – neither here nor there:  Bethan Sayed takes a republican stance
A healthy lifestyle – better than any pill:  Peter Elwood on the Caerphilly study
Common Purposes:  Halima Begum outlines an IWA project looking at curriculum reform
Plenty of lessons:  Keir Bloomer on what Wales can learn from Scotland's education reforms
Can we deliver?  Rhea Stevens reports from an IWA Roundtable on renewable energy targets
Living in the future:  Marc Thomas talks to key actors in Wales' innovation ecosystem
The whoosh effect:  Derek Walker wants more Welsh businesses in the hands of employees
What is Good Help?: Alice Turner outlines new research into 'good' and 'bad' help

CULTURE
A Jolly Good Fellowship:  Dylan Moore recounts a year as Hay Festival's International Fellow
Book reviews
Shards of Light:  Elinor Shepley praises Emyr Humphreys' collection of poetry
Wales: The First and Final Colony:  Gareth Leaman on Adam Price's collected writings
Dear Mona: Letters from a Conscientious Objector:  Aled Eirug on Jonah Jones' correspondence
Dignity:  Rhiannon Lucy Cosslett on Alys Conran's new novel
Labour Country:  Ben Curtis on Daryl Leeworthy's epic new study of South Wales' history
The Opposition to the Great War in Wales, 1914-18:  Craig Owen on Aled Eirug's history
Things That Make the Heart Beat Faster:  Rachel Trezise enjoys João Morais' short stories
Q & A: Activist İlhan Şiş talks to the welsh agenda about why he has been on hunger strike