Spring 2009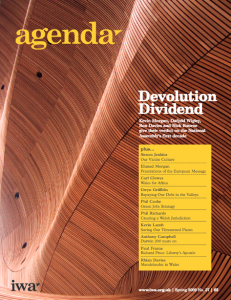 To download this issue for free please click here.
Opinion
Page 4 Victim Culture
Simon Jenkins argues that we should show more confidence in the custodianship of our architectural inheritance.
Outlook
Page 10 Devolution Dividend
Key figures in the 1997 referendum campaign give their verdict on ten years of the National Assembly.
Politics and Policy
Page 19 Funding Brick Wall
Eurfyl ap Gwilym says the prospect of no real increase in Welsh public spending demands a culture shift in Assembly Government priorities.
Page 19 Frustrations of the European Message
Eluned Morgan reflects on 15 years in the European Parliament.
Page 20 Looking to Brussels
Simon Mundy says the June European elections will mark a coming of age.
Page 22 Denbighshire Debacle
Derek Jones on the lessons we should learn from the travails of a Welsh county council.
Page 25 Wales for Africa
Carl Clowes says the Assembly Government's efforts at relieving poverty in the sub-Sahara need a sharper focus.
The Economy
Page 28 Repaying an Outstanding Debt in the Valleys
Gwyn Griffiths describes the extent of the Welsh land reclamation task still to be finished.
Page 31 Green Deal
Phil Cooke traverses the statistical swamp of the Assembly Government's green jobs strategy.
Legal Wales
Page 34 Bypassing the Assembly
Marie Navarro and David Lambert find that new powers are being handed to Wales without scrutiny or debate.
Page 37 Creating a Welsh Jurisdiction
Phil Richards says Wales should take control of her justice system.
Page 40 Law Reform
John Williams makes the case for an independent Law Commission for Wales.
Page 42 Justice in Tongues
Elfyn Llwyd argues that bilingual juries should be appointed where defendants request it.
Environment
Page 45 Ocean Fiefdom
David Symes and Jeremy Phillipson describe how the Assembly Government is centralising control over our inshore waters.
Page 48 Tackling Plant Blindness
Kevin Lamb examines the National Botanic Garden's role in saving threatened Welsh plant species.
Page 51 Turning the Tide
Roger Falconer assesses the environmental impact of the proposed Severn Barrage.
Social Policy
Page 54 Kids Today
Sally Holland finds reasons to be cheerful in a new IWA report on how we are bringing up our children.
Page 55 Trailblazers
Nigel Thomas reports on an evaluation of the Children's Commissioner for Wales.
Culture and Communication
Page 58 National Balancing Act
Simon Roberts is worried that an amalgamation of Trinity Mirror's operation will further isolate north Wales.
Page 60 Surviving the Present
Andrew Green charts a course through an ocean of digital knowledge.
Page 62 Natural Selection
Anthony Campbell explains that Darwin's ideas are as relevant today as when they were published a century and a half ago.
Page 65 Enlightenment Wales
John H Davies describes how Welsh thinkers were at the centre of the 18th Century's cauldron of revolutionary thought.
Page 66 Liberty's Apostle
Paul Frame looks back at the life of Richard Price, a largely forgotten son of Wales.
Page 70 Toothache in Llangollen
Rhian Davies reveals a Welsh coda to Mendelssohn's more famous Hebrides outing.
The Last Word
Page 72 All the way, with the USA
The Last Word by Peter Stead.