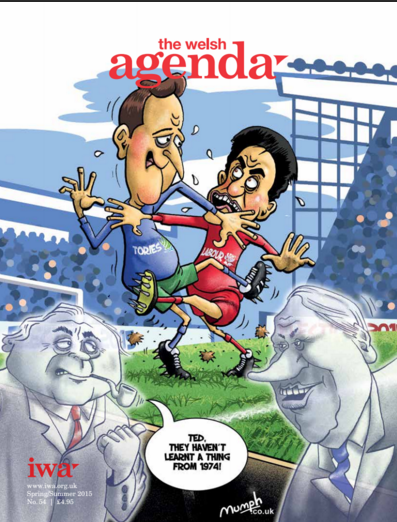 To download this issue for free please click here.
A fork in the road
Mark Drakeford says voters have an important choice to make as the General Election approaches.
The path to recovery
Andrew RT Davies says voters have a clear choice.
A shambles or a new beginning?
Peter Stead says an indecisive General Election could be an opportunity to break out of conventional party politics.
UKIP: Laying the foundations for 2016
Roger Scully says that UKIP will have a big impact on Wales at the General Election despite being unlikely to win any seats.
Have we been here before? Parallels with 1974
Martin Johnes sees similarities between 2015 and 1974.
Is 40 years a short time in politics?
Dafydd Elis-Thomas compares the beginning of his time as a Member of Parliament in 1974 with the forthcoming general election.
City Regions in Wales: progress, or not?
Dr Elizabeth Haywood says we can't shy away from the tough decisions to be made on city regions.
The trouble with bilingual education
Mirain Rhys looks at the issues around Welsh medium education for children where Welsh isn't spoken at home.
Interview: Taking Hints from the Past
In Conversation withHuw Edwards
A polo mint government
Gerry Holtham says Wales needs a plan for its economy.
The Donaldson Review: A watershed or a wash-out?
Louise Harris looks at the changes to come for the education system as the Donaldson Review is published.
Getting to grips with change
Reform and reorganisation have become interchangeable terms in the debate on the future of Welsh public services. The man charged with coming up with recommendations which command crossparty support, Sir Paul Williams, set out his views on the response to his report one year on from its completion at the latest in our IWA Debates series.
A crachach solution?
Paul Griffiths says we shouldn't accept the remedies for public service woes set out by Paul Williams.
"I have a need for art"
Trevor Fishlock profiles Martin Tinney.
The wisdom of the crowd
Tom Bodden reviews the IWA's Constitutional Convention.
The IWA Podcast
The IWA's constitutional convention has been happening on a wide range of platforms including iwaconvention.co.uk, ClickonWales,Twitter and Facebook. We've also been gathering opinions for podcasts on our Audioboom Channel. See some of the best bits below, and visit audioboom.com/channel/iwa to listen.
The St David's Day declaration – Not the last word
The St David's Day announcements could be little more than a footnote for Wales' devolution story,
says Vaughan Roderick.
Solar Power – Are we getting the most out of the sun?
Jon Townend says Wales should be exploiting its solar potential.
The Supreme Court- A threat to devolution
Manon George says a Supreme Court decision to reject a Welsh law does little to clarify the devolution settlement.
The jury is still out on tuition fees policy for Wales
Gareth Evans assesses an IWA debate on the future of tuition fees in Wales.
Help for young people
Liz Andrew says the demand for young people's Mental Health services is exceeding capacity undercut by austerity.
Freedom Writers
Fflur Dafydd explores the advent of a PEN Centre for Wales, and the possibilities for its role in a global community of writers at a critical time for freedom of expression.
We need more than Dr Who
As part of the IWA's Cardiff Media Summit in December, Media Commentator Maggie Brown led an audience discussion with BBC Head of Drama Ben Stephenson about the way Wales is portrayed on screen…
The most cosmopolitan of all Welsh historians
A tribute by Peter Stead to the historian John Davies.
Culture: Reviews
Working-class hero
Andy Bevan
Lessons from history?
Tony Bianchi
Sex, lies and rugby
Lewis Davies
A sympathetic portrait
Francesca Rhydderch
An opportunity missed
Jonathan Glasbrook-Griffiths
Sea, surf and spirit
James Vilares
Education – a report card
Dr Julian Skyrme
Newport Rising
Dylan Moore