Spring 2014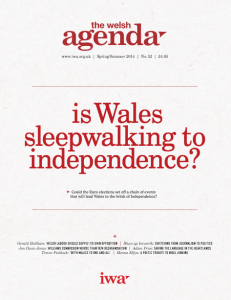 To download this issue for free please click here.
Editorial
All change at the IWA
News
We need to shout louder
Rhys David meets the new Chair of the Institute of Welsh Affairs
Farewell to the ineluctable John O
Peter Stead suspects that he and the Welsh Agenda's departing editor will meet again
Commentary
Welsh Labour should supply its own opposition
Gerald Holtham on why we need to rekindle some excitement in Welsh politics if the National Assembly is to grow
Welsh TV is more than Dr Who
Lee Waters says BBC bosses have made important concessions on the need for more English language Welsh television
Don't rip the heart out of the Coal Exchange
Nerys Lloyd-Pierce bemoans the corporate men who are bent on destroying the Welsh capital's heritage
Changing Union
Opportunistic moments that extend the boundariesof Welsh devolution
John Osmond predicts we'll look back in ten years time and find that events have dictated the pace of constitutional change
Crowdsourcing views on policing and justice
Jess Blair describes an IWA online research initiative aimed at widening the Welsh devolution debate
Social solidarity and the constitution
Michael Keating explains why welfare provision is at the heart of the Scottish independence debate
Features- Cover Article
Wales, sleepwalking to independence?
Lee Waters examines the consequences for Wales ofScottish independence.
Features
Life in the slow lane
Rhun ap Iorwerth finds switching from journalism to politics means adjusting to the oil tanker pace of political change
Council borders shouldn't follow where the crows fly
Jon Owen Jones says the Williams Commission's proposals for new local government boundaries are worse than the 1974 gerrymander
Culture shift needed in delivery of public services
Nerys Evans says the Williams Commission's 62 recommendations must be taken as a whole
Welsh Government should move quickly on city regions
Geraint Talfan Davies argues that Wales has to compete with English cities that are expanding to embrace their hinterlands
Thinking the unthinkable on economy
Sukhdev Johal, John Law and Karel Williams call for a contrarian research centre to devise policies for local and regional experiments
Wales needs a region based on language
Adam Price makes the case for a development authority for western Wales
Build more houses to save Welsh communities
Dafydd Iwan explains why there should now should be a stronger emphasis on Y Fro Gymraeg
Empowering bottom-up locallydriven development
Dave Adamson and Mark Lang report on the regeneration lessons that have emerged from their year long study of Tredegar
Housing should follow transport in south-east Wales
Roger Tanner says a Development Corporation should create a new garden city on the edge of Cardiff
Political pressure to decide Welsh funding fate
Eurfyl ap Gwilym finds that Wales could lose nearly a £1 billion if High Speed Rail in England is regarded as benefiting Wales
Lessons for Wales from North Dakota
Ian Jenkins says there is a strong case for the Welsh Government to establish a state bank
Culture
Fishlock's File
With Malice to one and all
Trevor Fishlock remembers when his typewriter was confiscated and the telex was a teacher of patience
Public poet who made things happen
Peter Finch pays tribute to Nigel Jenkins 1949 – 2014
Marwnad o fath—in memory of Nigel Jenkins
Sequence by Menna Elfyn, translated from the Welsh by the author and Elin ap Hywel
Reviews
Welsh Queen of commerce
Deirdre Beddoe
Testing UK's policy of drift
Aled Eirug
Brains of the coalfield
J. Graham Jones
R.S. was 'ere
Tony Brown
Last Word
Dangers of squandering Britishness
Peter Stead