Winter 2008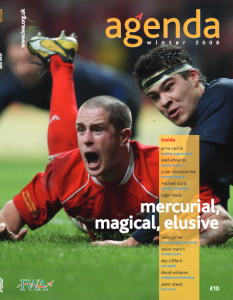 To download this issue for free please click here.
Opinion
Page 4 Mercurial, Magical, Elusive
Welsh Rugby is a brand that can capture the imagination of a global audience says Roger Lewis.
Outlook
Page 10 Coping with the Crunch
Key figures in the Welsh financial world respond to the global financial meltdown.
Page 14 Liberal Democrat leadership contest
Jenny Randerson vs Kirsty Williams.
The Economy
Page 16 Surviving the Crunch
Rhys David and Nick Morris survey how Wales is coping with the economic downturn.
Page 19 Creative Regeneration
Ann Carlile says culture is a bridge to Newport's economic future.
Politics and Policy
Page 21 Idealists and Pragmatists
Peter Stead casts an eye over some prognostications for politics in 21st Century Wales.
Page 23 Opinion Finder
Aled Edwards assesses the role of the all-Wales convention
Page 25 Just Say Yes
Mike German argues that supporters of more powers for the Assembly should start campaigning now.
Page 27 Community Government
Paul Griffiths discusses the progressive ideas underpinning the Labour-Plaid coalition.
Page 29 Devolving Buses
Huw Lewis outlines his proposals for applying a franchise system to bus routes in Wales.
Environment
Page 31 Newport Bypass
Julian Branscombe puts the case against the projected M4 relief road.
Page 33 Light Rail
Neil Anderson advocates a radical alternative to new road projects.
Education
Page 35 Glyndwr University
Michael Scott explains why Wales's newest university has named itself after a 15th century rebel leader.
Page 38 Critical Mass
Huw Beynon outlines a new collaboration that strengthens Welsh social science research.
Science
Page 40 Science Business
John Osmond examines the way science is being put at the centre of the Assembly Government's economic policy.
Page 43 Creatures Great and Small
Penri James makes the case for a Welsh veterinary school at Aberystwyth.
Page 46 Genetic Doublethink
Dafydd Huws argues that a sustainable Welsh agriculture cannot afford to be without GM technology.
Social Policy
Page 49 Wicked Issues
Steve Martin reflects on progress since publication of the Beecham review in July 2006.
Page 53 Vicious Circle
Adrian Roper calls for courageous action to tackle bed blocking in our hospitals.
Page 56 Light in Housing Gloom
Sue Essex reflects on the lessons from her review of affordable housing provision in Wales.
Europe
Page 58 Euro Speak
Des Clifford on how Welsh has followed Catalan into European discourse.
Culture and Communication
Page 61 News Blackout
Ned Thomas reflects on the future of the Welsh press and media.
Page 64 Real Wales
Peter Finch on discovering his country.
Page 66 Northern Icon
Derek Jones introduces the Ruthin craft centre.
Page 66 Life's Diary
John Morgans describes how he reduced five million words to 160,000.
Page 70 Disarming Archbishop
David Williams on the incense, wine and fudge at the heart of Anglican debates over sexuality.
The Last Word
Page 72 Taking Wales with you
by Peter Stead.