Spring/Summer 2020 #64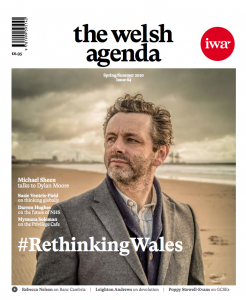 A hard copy of this edition was not published due to the Covid-19 lockdown.
If you would like to join the IWA, and receive the most recent copy of the welsh agenda and all copies published during your membership, please join us here.
Previous editions of the welsh agenda are available for free download and to buy here.
Highlights
Radical Help Michael Sheen talks to Dylan Moore
#Rethinking Wales 27 contributors suggest national priorities
Act local, act global Susie Ventris-Field encourages global concern
From COVID-19 to Senedd '21 Darren Hughes considers the future of Wales' NHS
After GCSEs: My New Reality Poppy Stowell-Evans gives a firsthand account
UBI: time to grasp the nettle? John Ball advocates for universal basic income
Articles
Lockdown: an essay in photographs Glenn Edwards documents isolation in Roath
How to lose a million pounds Peter Elwood says weight loss is the key to a healthier Wales
Closing the gender gap Emma Henwood reports on the ways heart attack affects women
The idea of Britain Simon Brooks on the importance of 'the island' in Welsh-language thought
Helen Antoniazzi Shazia Awan-Scully meets Leanne Wood's former special advisor
The forward march of devolution halted? Leighton Andrews assesses COVID-19's threat
Curriculum for Wales Martin Johnes says inequality is a bigger deal than rows about content
Banc Cambria Rebecca Nelson says the pandemic makes a cooperative bank even more vital
A Balancing Act: infrastructure and environment Kate Attwood on careful considerations
Mountains to Climb Geraint Talfan Davies assesses Welsh Government's international strategy
Collaboration, communities and number crunching Elinor Shepley on Understanding Welsh Places
Turnaround Towns Hannah Ormston on how Cardigan has made the most of its assets
Culture
Meltem Arikan at Elan Valley Filiz Celik meets the Turkish writer in exile at a remote cottage
Time and Tide Angela V. John marks the centenary of Lady Rhondda's influential weekly sheet
Reviews
Godbothering Dylan Moore is enlightened by Rhidian Brook's thoughts for our time
New Model Island Kieron Smith finds Alex Niven's book problematic
Depicting Saint David R M Parry on Martin Crampin's visual tour of how our patron saint appears
Q&A Mymuna Soleman explains the idea behind her Privilege Cafe to Merlin Gable