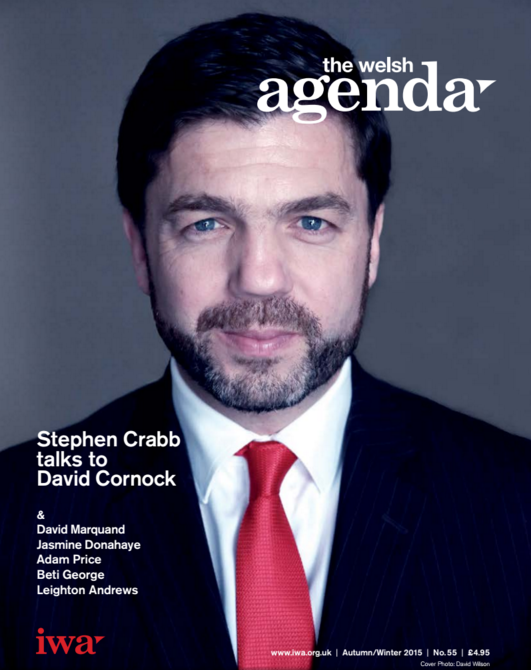 To download this issue for free please click here.
Contents

Crabb's Journey
David Cornock talks to the Welsh Secretary about his route from Pembrokeshire to Parliament, his view on the word "Principality" and what the future may hold.
Jez we will? 
Roger Scully considers what the recent polling might tell us about "the Corbyn effect" on politics in Wales.
Public service broadcasting-who needs it now? 
As the IWA launches its Wales Media Audit at an event in Cardiff on November 11th, Glyn Mathias considers where broadcasting in Wales may be heading.
A "National" Health Service?
Shane Doheny looks at the different paths being followed by the NHS in England and Wales.
Bigger isn't always better
Simon Parker argues for "small" not to be forgotten within the "big" of local government organisation.
Dealing with Dementia
Beti George gave this year's IWA Eisteddfod Lecture, Taclo Dementia: Allwn ni ddim ffordio peidio- Tackling Dementia: we can't afford not to; here she outlines the challenges from her perspective as her husband's carer.
IWA Energy Roundtable
In June the IWA convened a roundtable to discuss our proposal to make Wales a net exporter of renewable energy. The seminar, sponsored by RWE Innology UK, brought together leading figures from politics, academia and industry: Tom Bodden reports.
Competitiveness and policy autonomy: What can Wales learn from the Basque Country
James Wilson outlines what Wales could learn from one of Europe's success stories.
The Centre-Periphery Game
David Anderson wonders how long Wales will be content at the periphery of BBC arts and culture coverage.
The makeup of the next Assembly
Gareth Hughes profiles the seats to watch at the 2016 Assembly elections.
The manifesto Makers
Behind closed doors, it's the busiest time of the political year; manifesto makers are meeting to decide on policy proposals and parties are putting together their election strategies. Liz Silversmith gives an insight.
The One-And-A-Half-Party state
Adam Price gives a pre-election rallying cry that reverberates far beyone the confines of his own party.
A New Union Mentality
Leighton Andrews makes an impassioned plea for a constitutional convention.
Return of the Native
David Marquand revisits his Welsh roots and celebrates having come home to an unsettled political community.
Putting the patient experience first
Jess Blair outlines the findings of the IWA's Let's talk cancer project.
Can Wales get it's "fair share" of research funding?
Peter W Halligan
Student Finance: time for a rethink?
Ken Richards challenges the anomalies, inconsistencies and costliness of the student finance system and outlines areas for potential reform.
Zombie Nation: Wales Resuscitated, By Samuel Taylor Coleridge
Dylan Moore meets classical singer and facilitator Richard Parry, and catches a glimpse of a society that could yet be.
The Bigger Picture: Lessons for the Early Years
Mary Powell-Chandler and Chris Taylor look beyond Donaldson for solutions to the early years attainment gap.
A Justice for Wales
Paul Silk makes the case for a Welsh Justice on the Supreme Court.
A colonial fantasy
Jasmine Donahaye examines nineteenth-century plans to establish a Welsh colony in Palestine.
The trouble with civil society in Wales
Rebecca Rumbul calls for greater distance between government in Wales and the third sector.
The South American Connection
Jon Gower looks back on another year of cultural commemoration.
Nudging people out of their cars
Jane Lorimer outlines the success of a programme providing people with transport choices.
Good Food: A quiet revolution 
Kevin Morgan makes the case for Wales to actively embrace the good food movement.
Culture Section Review
Local lads, distant vistas
Toby Thacker
A labour of love
Dylan Moore
An unstated rebuke
Aled Eirug
Gifts indeed
Susie Wild
Short stories showcase
Lewis Davies
An accomplished debut
John Lavin
Last word
#RefugeesWelcome
Dylan Moore