Summer 2006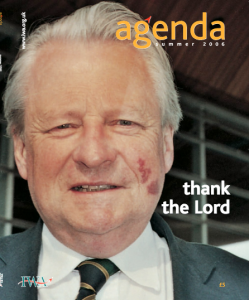 To download this issue for free please click here.
Opinion
Page 4 – Celebrating citizenship
Neil Evans makes a plea for a museum of political culture which, he says, should be located in Merthyr.
News
Page 8 – News
Politics and Policy
Page 10 – Life After Rhodri
Lee Waters wonders whether the First Minister may be retiring sooner than planned.
Page 13 – Thank the Lord
Laura McAllister delves behind the mask of the Presiding Officer.
Page 16 – Second Constitution
Dafydd Elis-Thomas explains the significance of the Government of Wales Bill as it reached its final stages at Westminster.
Page 19 – Short termism
Eurfyl ap Gwilym calls for an Assembly Finance Committee to keep a sharper eye on spending patterns.
Page 22 – When I'm sixty four
Madoc Batcup argues that UK pensions policy works against Wales because of our relatively low GDP.
Page 26 – Too difficult?
Sarah Stone challenges many of the assumptions around charging for home care in Wales.
Page 28 – Tide turning
Iwan Ball queries whether political will is now flowing in favour of the Severn Barrage.
The Economy
Page 32 – Officers and gentlemen
Chris Bryant explains why St Athan is the best site for a new Defence Training Academy.
Page 34 – Buses and trains
Stuart Cole says the new Transport (Wales) Act provides an opportunity to develop a joined-up strategy.
Page 36 – Bridging silos
Richard Essex traces the emergence of the Regeneration Skills Collective.
Science
Page 37 – Science academy
John Tucker and David Evans make the case for a new Welsh institution.
Page 42 – Demystification
Peter Trevitt describes a new Welsh programme for the public understanding of science.
Page 45 – Touching base
Paul Brain and Dominic Carmichael provide an example of how the young can be engaged with science.
Social Policy
Page 47 – Pathway out of Poverty
Jane Davidson outlines a new programme to help young people who leave school with few qualifications.
Page 50 – Children in need
Ian Butler confronts the challenges presented by 'looked after' young people in Wales.
Page 53 – Health gain
Lyndon Miles reminds us that reorganisations of NHS Wales have rarely been successful.
Page 57 – People Power
Nicola Maxwell reports on a review of how Communities First is engaging with the grassroots.
Culture and Communication
Page 59 – Beyond frontiers
Sion Jobbins reports on a campaign to launch dotCYM into cyberspace.
Page 62 – Brand Identity
Matthew Talfan explains how he uncovered the basic Welsh dragon.
Page 64 – Media hub
Roger Lewis explains the thinking behind the new investment in ITV Wales at Culverhouse Cross.
Page 66 – Homage versus History
Colin Thomas recounts his journey of discovery through filming the Spanish Civil War.
Page 70 – Public realm
Huw Meredydd Owen emphasises the importance of place in architecture emerging across north Wales.
The Last Word
Page 72 – The Last Word
by Peter Stead