Chisomo Phiri is calling on the Welsh Government to revisit its provisions to tackle period poverty.
As a young woman, I know all too well the stigma attached to menstruation. I've grown up and been through the education system in the last few years, and heard the way people talk – or refuse to talk – about periods.
The stigma attached to menstruation is incredibly damaging, both to individual women and girls, and to us all as a society. It is this irrational fear, this othering of women, which has contributed to the shocking scale of period poverty in this country.
What is period poverty?
Period poverty is commonly defined as the inability to afford sanitary products, and having a lack of knowledge or understanding of menstruation.
Women – particularly young women – who can't afford the basic sanitary products they need feel too embarrassed to seek help. They think there's nowhere to turn and that their period poverty is inevitable.
They feel ashamed of their periods. Although more than half the population has them, periods are seen by many as dirty and unhygienic. They're thought of as needing to be hidden.
Some women and girls have no option but to improvise sanitary products. I've heard of young women in Wales who have had to use socks and kitchen roll instead of pads and tampons.
Other women and girls have had to use the same tampon or pad for longer than they should, because they can't afford to buy more. This puts their health – indeed, their lives – in extraordinary danger.
How widespread is period poverty?
Young girls, embarrassed and afraid of leaking, miss school when they're on their period. In fact, research by Plan International UK has found that 49% of girls in the UK have missed an entire day of school because of their period.
The same research found that one in seven girls in the UK has struggled to afford sanitary products, while one in ten has been totally unable to afford sanitary products at one time or another.
Of course, period poverty affects older women too, particularly those on low incomes, those living in relative economic deprivation, and those from underprivileged and oppressed backgrounds.
What we've also found, talking to our members across Wales, is that in education at least, period poverty can be experienced even in families and communities that don't otherwise live in poverty.
I've spoken to one woman in particular who told me how she grew up in a 'normal family'. She had two parents and siblings, and never went without in terms of food or heating.
When her brother went to university, her parents wanted to help him out as much as they could, which meant that a significant strain was put on the family finances, and they just couldn't afford to buy her the basic sanitary products she needed.
What has our research found?
We commissioned YouGov to undertake polling for us in summer 2018. We asked: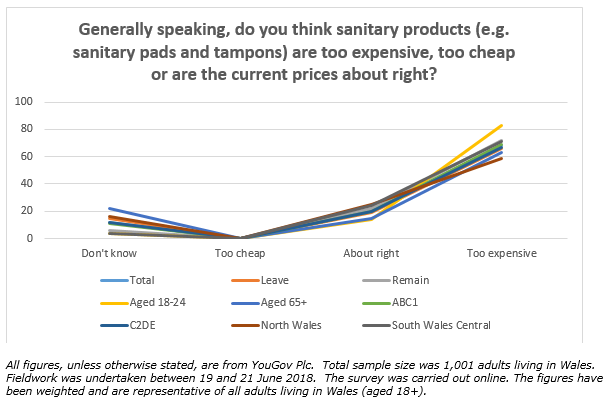 Let's look at what we found in a bit more detail.
First of all, absolutely no respondents thought sanitary products were too cheap. Statistically, it is remarkable to have zero respondents in a survey like this. This speaks volumes.
We also see that the experiences of women across Wales are largely universal, regardless of age, political views, location, and socioeconomic status. In today's polarised world, one thing women most certainly agree on is that pads and tampons are too expensive.
The numbers for the age 18-24 category are also remarkable. 83% of women in this category believed that pads and tampons are too expensive. What's especially noteworthy here is that across all age ranges, the figure doesn't drop below 63%.
Indeed, across all categories, including voting in the 2017 general election and the EU referendum, age, socioeconomic status, and region of Wales, those who believed sanitary products are too expensive were in the majority in every single category.
What do we want to see happen?
Today we're launching our #EndPeriodPoverty campaign. We're working with our member students' unions right across Wales to draw attention to the scourge of period poverty.
Over the next two weeks, you will hopefully see lots of social media posts and videos explaining what period poverty is, why it's such a problem, and what we can do to put an end to it once and for all.
Remember to join in the conversation using #EndPeriodPoverty and #RhoiDiweddArDlodirMisglwyf.
We're calling on the Welsh Government to revisit its provisions to tackle period poverty. We simply don't believe the £1 million allocated between 2018 and 2020 is sufficient to properly address the scale of this problem.
This money is aimed at those in the most underprivileged communities, and includes both capital and revenue funding. While some use has started to be made of the funding, our rough figures suggest up to 60,000 women and girls in education in Wales have experienced period poverty at one time or another.
£1 million doesn't go anywhere near far enough to helping them all stay out of period poverty and stay in education. Compared to the £5.2 million invested by the Scottish Government, the need for a sustained and strategic investment here in Wales is clear.
We're also asking that the new curriculum teaches about menstruation in a much more honest way. Periods aren't dirty, unhygienic, or shameful. We need to start talking about them like the perfectly natural things they are. It's also important that all school pupils – boys and girls – learn about periods.
And today, we're also saying that all those of us in Wales who benefit from a platform should start using our influence to amplify women's voices, ask women about their experiences, listen to their answers, and work with them to take action.
So politicians, business people, those in the media, those in education, representatives of special interests like me, and many more people besides, need to be leaders and set an example in changing the way the whole of our society thinks and speaks about periods.
Until now, we've given ourselves collective permission to brush period poverty under the carpet. That can't go on.
Period poverty is not inevitable. Let's end it.
All articles published on Click on Wales are subject to IWA's disclaimer.