Two decades on, Rhian E. Jones revisits 'Cool Cymru' to consider the role of cultural production in shaping the Welsh political agenda
This article was originally published in the welsh agenda: issue 62
2019 will see some significant anniversaries for Welsh institutions both pop and political. Among those turning fifty this year are Manic Street Preachers' Nicky Wire and James Dean Bradfield, as well as actor and activist Michael Sheen, Cerys Matthews, and Super Furry Animals' Dafydd Ieuan. Two decades on from the Welsh Assembly's establishment, meanwhile, pop and politics come together again for February's 'Yes is More' gig, at which artists from SFA's Cian Ciarán to Charlotte Church raise the prospect of Wales' full independence from the UK.
It's been a strange and surprising two decades in many ways. In 1998, twelve-year-old prodigy Charlotte Church had just released her debut Voice of an Angel. By 2017, she had become a pop diva and left-wing firebrand calling for Jeremy Corbyn's election as Prime Minister. For the Manic Street Preachers, the same twenty years has taken their music from incendiary beginnings to settled maturity. Not quite twenty years ago, the band's 'Manic Millennium' gig on New Year's Eve 1999 seemed also to mark the peak of 'Cool Cymru'. As the country emerged from the socially and economically destructive shadow of Tory rule, the advent of a New Labour government and a newly-devolved Assembly seemed to have imbued Wales with a new cultural confidence and political potential, seemingly offering a brand new future as well as the familiar backward-looking, directionless angst.
What's happened since? Given the current political chaos that swirls in and beyond the UK, Wales' internal politics can look contrastingly placid – but perhaps it's more accurate to call it stagnant. Despite arguments for the Assembly's effectiveness in cutting unemployment and infant mortality, plus the subsequent introduction of free prescriptions and free travel for pensioners and the carrier bag charge, its legislative tinkering has failed to live up to devolution's sweeping promises. Public dissatisfaction with the Assembly as the 'Bay bubble', Cardiff-centric, remote and powerless, is frequently expressed, and the official rhetoric of inclusivity and engagement contrasts markedly with low levels of political enthusiasm and participation. Early Assembly elections threatened to shake things up, indicating that Plaid Cymru had successfully found a platform that could challenge Labour's dominance in South Wales – but it's debatable how much of this was a protest vote at the stagnancy and complacency of Labour in office, rather than representing any more positive desire for or faith in Welsh independence. Late last year, changes of leadership for both Labour and Plaid Cymru elicited almost no attention from the British press, but also seemed to barely make a splash in Wales itself.
Art often plays a bigger role than politics does in cultural expression – not least in Wales, where music in particular has been a significant channel for the preservation of language and expression of identity. It is arguable that as a stateless and impoverished nation, with few options for asserting itself politically or economically, Wales has historically been inclined to place greater emphasis on culture, both civic and creative. This would explain the emotional investment placed in sporting victories – from triumphs over England on the 1890s rugby pitch to the giant-killing exploits of Merthyr FC – where shades of David vs Goliath indicate the cultural tendency to characterise Welsh identity as one of immense spirit outweighing small stature.
Cool Cymru was a similar instance of the Welsh intertwining of culture and national identity, but it occurred at a historical juncture – New Labour's 'Cool Britannia' and devolution – which allowed it to gain greater traction outside Wales than previous examples. But cultural buoyancy, if supported by nothing more substantial than hot air, can only give so much before its inevitable deflating and sinking. Since the Assembly opened, there has been little to assuage the structural social and economic damage of the 1980s, with grimly predictable results: the closure of factories and steelworks, uneven development of regeneration, depopulation of rural and post-industrial areas, high youth unemployment and limited prospects. We are a long way from the shiny late 90s.
The vacuous boosterism often attached to Cool Cymru by Welsh politicians and the tourist industry, and the varying quality of the movement's bands, need not detract from the earnest enthusiasm and entertainment it provided. In cultural terms the 90s and Wales were relatively good to each other, with Welsh musicians and actors achieving national and international acclaim, especially when compared to the desultory and dilapidated 80s when the figureheads of Cool Cymru had mostly come of age – a fact perhaps accounting for much of their political outlook. Cool Cymru could occasionally look like an attempt to wipe the 1980s from the cultural and political map: the Stereophonics' 1998 gig at Cardiff Castle, to a live audience of 10,000 people, was the first rock concert held there since Queen's performance in 1976. The following year, Max Boyce and Tom Jones performed at the pre-match show before Wales's Five Nations victory against England – the event seeming to herald a return to not only erstwhile rugby glory-days but also the pop-cultural success of 70s Welsh artists, particularly given the phenomenal success of Jones's retro-kitsch album Reload which also featured Cerys Matthews, James Dean Bradfield and the Stereophonics (the only usual suspects missing were Shirley Bassey and the Morriston Orpheus Choir).
But perhaps more significantly, 90s cultural producers also successfully asserted non-traditional ways of being Welsh. Films like 1997's Twin Town, the pseudo-geezer cult of Howard Marks, or the bucolic psychedelia of Super Furry Animals and Gorky's Zygotic Mynci, all offered alternatives to clichéd choirs-and-coalmines representations of Wales. The Manics, despite their initial dismissal of all nationalisms, went on in the later 90s to evince a particular Welsh identity that transcended Labourist Wales's traditional prioritising of class over region, but which also complicated the kind of Welsh nationalism that had always rejected places like the Valleys as 'not Welsh enough'. Cool Cymru, fuelled though it was by commercial concerns, seemed to reflect a willingness to consider inclusive and accessible ideas of Welsh identity which neither rested solely on language, nor excluded it in favour of class.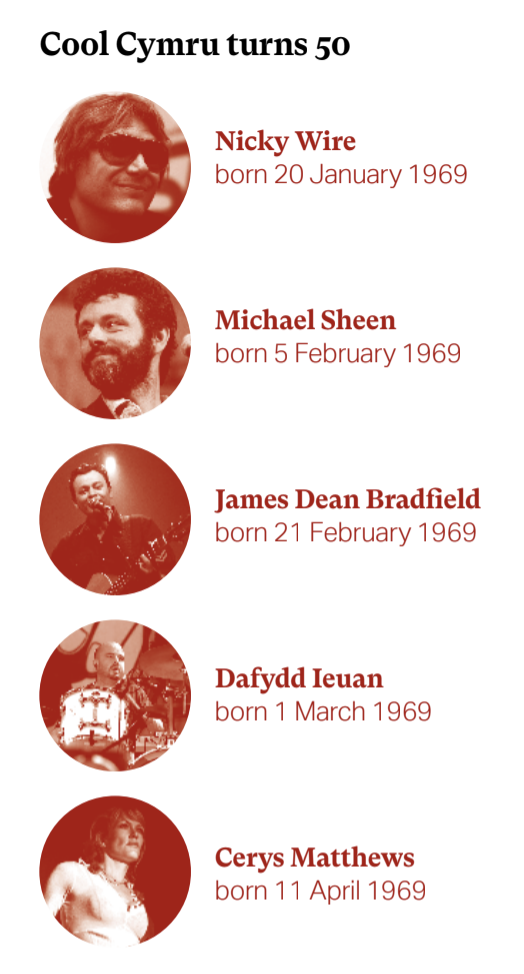 These nuances illuminate Welsh identity as a combination of disparate elements, usually in tension with each other. Wales is far more heterogeneous culturally than is often assumed, and individuals find themselves dealing with dual or overlapping identities – Welsh as well as British, but also other identities both international and intersectional, based on degrees of language, class, ethnicity and race. Problematising Welsh identity is an ongoing and necessary process: contrary to many popular impressions, 'Welsh' is large and can contain multitudes. Cool Cymru both asserted this and presented a broad, if shallow, national identity to which varying constituencies could subscribe.
Given the overt and implicit politicisation of the Welsh language since the days of the 'Welsh Not', Cool Cymru's linguistic component was particularly significant. The upsurge of nationalist feeling in Wales from the 1960s onward occurred against a wider backdrop of general social unrest and indeed anti-colonial liberation struggles. While it may have concentrated on the lack of political influence signified by horrors like the drowning of Tryweryn, a decision taken by Westminster against the votes of Welsh MPs of all parties, it was accompanied by and intertwined with a cultural upsurge in Welsh-language music, from protest-folk singers like Huw Jones to early-80s post-punk icons Datblygu. These campaigns promoted the language as the carrier of a unique cultural complex, with its decline in the country's agrarian 'heartlands' carrying an associated risk of cultural decline and disappearance. Such high stakes generated accordingly deep investment by activists; the establishment of a Welsh-language television station came about after a concerted campaign that included a hunger strike by Plaid MP Gwynfor Evans. In 1998, the Manics' refusal to perform at the Senedd's opening due to the presence of the Queen was a residual reminder of the sharper controversy around the 1969 investiture of Prince Charles, nationalist opposition to which culminated in an attempted bombing by Mudiad Amddiffyn Cymru.
The post-devolution growth in Welsh language learning, the extended offering of Welsh at GCSE, and public-sector requirements for bilingual skills, provided a marked contrast to historical trajectories tending toward official abandoning of the language. While none of this legislation did much to give the Welsh language an appeal beyond Wales or diminish the social prestige-value of English, Cool Cymru's crossover success of bands who had formed in previous Welsh-language scenes managed to do more. The title track of Catatonia's 1998 album International Velvet – a bullish breakthrough record light-years away from the understated indie offerings of their debut – was entirely in Welsh aside from the unsteadily euphoric chorus 'Every day when I wake up I thank the Lord I'm Welsh'. Performed as part of the 1999 Rugby World Cup opening ceremony, the song seemed briefly to be adopted as an unofficial national anthem, although – as with the chorus of the Manics' 'Design For Life' – the line could be sung with as much irony as earnestness. The spectacular success of Catatonia and Super Furry Animals, plus the Manics' born-again flag-waving, meant that both Welsh language and Welsh identity were less dismissed or derided in the UK media than had been the case even a few years earlier with the Manics' initial music-press outings.
We might have looked about to take flight in the 90s, but the dragon's wings have remained clipped, with an accompanying sense of social and political stifling and frustration. In cultural terms, Welsh people may have seemed more visible, but in regrettably stereotypical or exploitative ways, notably MTV's predictably execrable The Valleys. Even cosy shows like Gavin and Stacey or Stella, despite their success in establishing non-traditional images of Welshness on a British stage and beyond, have also been critiqued for their sentimental or one-dimensional portrayal of Welsh life, demonstrating that identities well-received outside the country are often viewed from within as stereotypical or simplistic. This situation is hardly helped by Wales' lack of an independent national broadcaster. Cultural developments, meanwhile, are often directed by top-down quangocracies rather than grassroots projects, and viable conditions for vibrant cultural production are increasingly few: even in cash-rich Cardiff, the independent venues which provided a launchpad for Cool Cymru are now threatened by gentrification and rising rents, while the Valleys continue to contend with a ravaged economy and lack of civic and cultural amenities, and austerity forces councils across Wales to cut spending on essential services. Cultural representation, however heartwarming, is no salve for a material lack of economic prospects and financial security, and no substitute for effective democratic representation.
At Cool Cymru's height Super Furry Animals, despite their artistic and linguistic militancy, resisted the Welsh establishment's attempts to co-opt their success, deriding the concept of their records being released with a Welsh flag on the cover. But as Cian Ciarán's comments ahead of this year's Yes is More gig demonstrate, SFA nonetheless gave solid support to a deeper and distinctly Welsh identity, one which draws on a history of radical politics and grassroots activism from the Merthyr Rising to Chelsea Manning. This radicalism was not always apparent within Cool Cymru, which often partook of the same complacent hedonism that characterised Cool Britannia as a whole. The volatile shifting sands of contemporary politics provide a very different backdrop, as the prospect of Brexit has triggered more urgent calls for Wales to reshape, or at least defend itself from Brexit's worst possibilities, through greater self-determination. Welsh cultural players, as ever, can be as useful and influential in these debates as politicians – usually more so. But any potential future for an independent Wales will require political input and commitment to social and economic investment; it cannot live on cultural cool alone. 
All articles published on Click on Wales are subject to IWA's disclaimer