Wales must continue its historic solidarity and do everything it can to stop Turkey's attempted destruction of the Kurds, writes Harry Waveney

Wales is probably not the first place people think of when they imagine supporters of the Kurdish people, but there is considerable precedent.
Earlier this year, during a historic hunger strike campaign in which thousands of Kurds took part, Wales became the first nation in the world to pass a motion through its parliament in favour of the campaign. This was thanks to Imam Sis, a Newport-based Kurd who was on vitamin-assisted hunger strike for an incredible 161 days.
But Wales' solidarity goes back further than that. I have been told on a number of occasions by veteran activists from the Kurdish freedom movement that Plaid Cymru in particular have been singing the praises of the Kurds for decades.
The UK-wide Peace In Kurdistan campaign, for example, which in its list of patrons proudly displays alongside names you would expect against an international solidarity campaign, such as Noam Chomsky and Jeremy Corbyn, the names of heavyweights of Welsh nationalist politics such as Dafydd Iwan and Hywel Williams. The late Paul Flynn even makes an appearance.
A friend tells me she recalls a large banner at an Eisteddfod a decade ago with the words "Save Hasankeyf" writ large, referring to the town in southeast Turkey / northern Kurdistan which has recently begun to be flooded by a controversial dam project. Turkey's Tryweryn, one might call it.
This Welsh-Kurdish connection loomed large over the hunger strike campaign with a sizeable proportion of the Senedd – from John Griffiths to Leanne Wood – visiting Imam in the Kurdish community centre in Newport (where there is a large Cofiwch Dryweryn mural painted out back). It is this connection that is once again being simultaneously strengthened and put to the test by the latest crisis in the tragic saga that is the history of the Kurds.
Turkey's latest invasion of North and East Syria was given de facto approval following Donald Trump's snap decision to withdraw most of the US' forces from Syria, a decision so sudden that it even caught Turkey's president, Recep Tayyip Erdoğan, off-guard. Events are moving so fast that a description of the situation would be very quickly out of date.
Many people with a knowledge of the region and Turkey's history of persecuting the Kurds – who are numerous in northern Syria, a constituent region of the stateless nation of Kurdistan – have predicted what we have already begun to see: massive population displacement, civilian deaths (including journalists), and a resurgence of ISIS who have been given a new lease of life by the conflict.
Erdoğan's goal in North and East Syria is ethnic cleansing and a continuation of the Turkish Republic's insatiable quest to attempt to forget there were ever Kurds in region, as Turkey tried to do to the Armenians in the 20th century.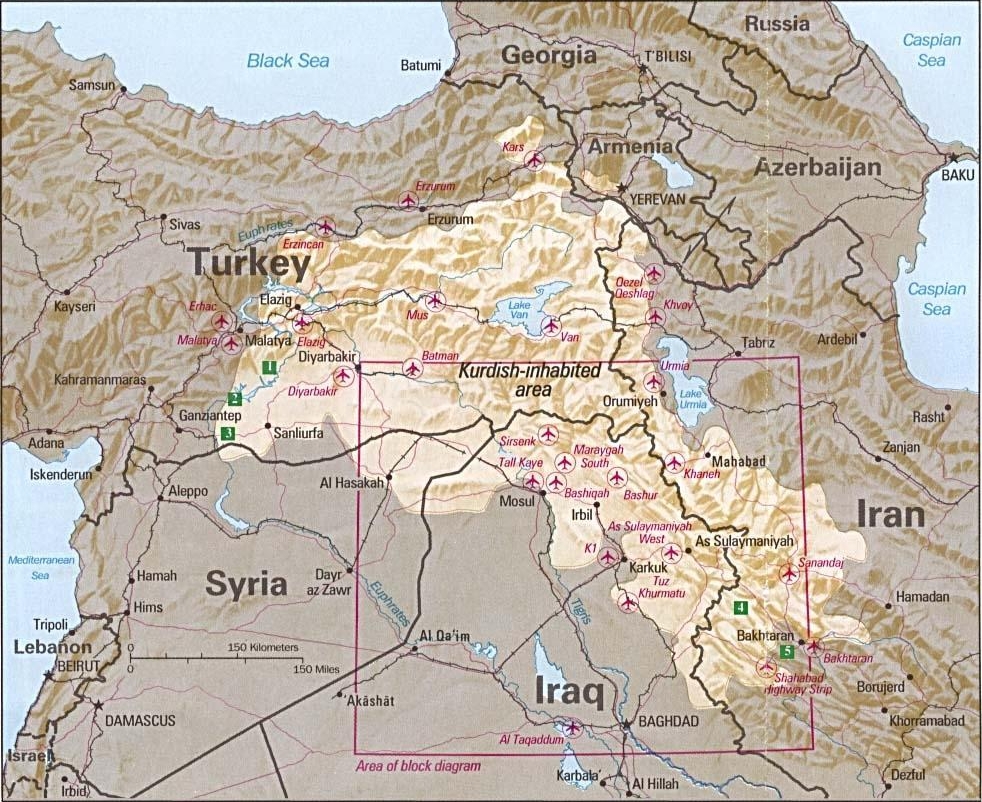 The Kurdish-led Syrian Democratic Forces (SDF) have been forced to withdraw from guarding captured ISIS members to instead defend the society they have been building for the past seven years. ISIS members are already escaping from the prison camps where they had been held by the SDF, aided – intentionally or unintentionally, who knows – by Turkish airstrikes.
The Kurdish-led coalition has been forced to work with that other despot who sits on their borders to the south, Bashar al-Assad, and Russia's Vladimir Putin, another enemy of democracy, is likely to loom large over the conflict. But they have no choice. The SDF's commander in chief stated plainly, "if we have to choose between compromises and the genocide of our people, we will surely choose life for our people."
On Tuesday the UK suspended the granting of arms export licenses to Turkey, pending a review. This is a welcome move but no where near far enough. It does not appear to alter the condition of already existing deals or withdraw maintenance of existing systems. The UK did not budge in 2018 after Turkey's massacre at Afrin, a majority Kurdish town in northwest Syria, and its latest move seems intended only to pander to a shift in discourse. In the face of domestic pressure, even from close allies, Trump has similarly yielded with his own version of sanctions but they have also been widely decried as not going far enough.
This invasion throws the future of the democratic, feminist society in North and East Syria into uncertainty. Since around 2012 an incredible democratic experiment has been taking place in the territory now referred to with the unwieldy but very diplomatic name of the Autonomous Administration of North and East Syria.
Inspired by the writings of imprisoned leader of the Kurdistan Workers' Party (PKK), Abdullah Öcalan, and decades of struggle within the Kurdish freedom movement – in particular, the Kurdish women's movement – the people of North and East Syria have, in the vacuum of the Syrian civil war, instituted a radical program of community focused, direct democracy with an emphasis on the liberation of women, "the oldest colonised group".
For many of us active in the Kurdish freedom movement, Kurdish or not, it is this vision of a better society as well as Turkey's crimes which motivate us to stand with our Kurdish friends. Not only to help our friends but that we may learn from them. There is a lot they can teach us.
Wales has little to no power over foreign affairs. Mainly, we can attempt to pressure the UK government into more effective action: harsher sanctions on Turkey, facilitating a no fly zone, pressure Turkey via the EU, UN, and NATO (perhaps calling for Turkey's expulsion from the latter), deny intelligence support to Turkey, support the SDF, etc.
Wales has a measure of control over its economy and Wales is not an outsider in the global arms trade which Turkey relies upon for its invasion. The UK's largest arms company and the world's fourth largest arms producer, BAE Systems, has a presence near Newport, for example. I am sure Ken Skates and Lee Waters could concoct some means to pressure BAE and other similar companies with ties to Turkey to cease any trade with Erdoğan's regime.
Maybe Welsh Labour could attempt to prove its internationalist stripes beyond rhetoric and pursue a policy of active hostility to all arms companies active in Wales with the intention of booting them out forever, refusing to let our nation be complicit in an industry which profits from death and has as some of its prime customers despotic regimes from across the world. What a Wales to live in that would be!
In recent days the same voices from the Senedd who came out in support of Imam Sis have come out against the invasion. Eluned Morgan recently sent a letter on behalf of the Welsh Government to Dominic Raab, expressing concern regarding the invasion. Wales' continued support of the Kurdish people should be celebrated. However it should not be seen as a destination at which we have already arrived but, rather, a foundation for further action.
Now so more than ever the Kurds and their allies need pragmatic and material international support. The existence of the inspirational society in North and East Syria, which should serve as an inspiration to all of us who wish we lived in a more just and beautiful world, is at stake. The very existence of the Kurds is at stake. The world must do more and Wales can play its own part, if only we think big enough. Words are great but deeds are better.
There is an old Kurdish proverb that has been doing the rounds again, particularly during darker moments where hope is harder to locate: The Kurds have no friends but the mountains. We must prove this wrong. We must remember that solidarity is not something you say. It is something you do.
All articles published on Click on Wales are subject to IWA's disclaimer.