Before lockdown, Tom Cheesman and Filiz Celik met with Memet Ali Alabora at Volcano Theatre in Swansea, after his performance of the one-man play Meleketimden Insan Manazaralari – Human Landscapes from My Country, written by Nazim Hikmet.
Memet Ali Alabora is a household name in Turkey after starring in two TV series, several films and theatre plays, and producing and presenting a satirical news show criticising mainstream Turkish media outlets. 
He has lived in Wales for seven years, learning Welsh, co-founding BeAware Productions and producing, directing and acting in theatre shows and TV in English, Welsh and Turkish. His new show in Turkish, Memleketimden Insan Manzaralari (Human Landscapes from My Country), had a sell-out first performance in Cardiff on 14 February. The second performance in Bertolt Brecht's hometown, Augsburg, also sold out. After the third performance, in Swansea, on the 21 February, he talked with us and with the audience.
Memleketimden Insan Manzaralari is a novel in verse written by Nazim Hikmet (1902–1963) over several years from 1939, while he was serving a thirteen-year sentence as a political prisoner, because of his Communist views. The book was first published only in 1960. The English translation by Randy Blasing and Mutlu Konuk Blasing was published by W.W. Norton in 2008. The description emphasises how Hikmet, who wrote many screenplays, 'uses cinematic techniques to tell the story of the emergence of secular, modern Turkey by focusing on the always-entertaining stories of sundry characters from all walks of life.' 
Each of the book's sixty characters is on a different psychological journey in the new Republic of Turkey, which itself is struggling to become the imagined country that is modern Turkey. The book is widely regarded as Hikmet's masterpiece and as the greatest work in Turkish of the twentieth century.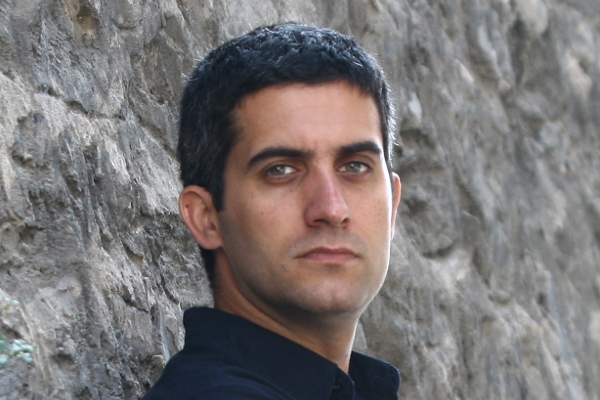 How did Memet Ali decide to put a Turkish show on in Wales?
I had no choice but to do this show, and Wales is where I live. But the production is designed for touring. I will perform it in all major European cities, which will add more layers to it. The target audience is those who appreciate Nazim's poetry: mostly the left-leaning diaspora from Turkey. They will be coming to see a work by a Turkish poet who died in exile, performed by an actor who lives in exile. The text recounts the stories of people from Turkey eighty years ago, and the aesthetic pleasure the audience will experience from the performance will hopefully mark a memorable point in their own journeys. We are in the process of subtitling the entire show in English and German to further connect with the audience.
Wales' problems are my problems now and by extension that I am involved in contributing to efforts to solve these problems too. 
This is not your first show in Turkish in Wales: you previously directed Y Brain/Kargalar, a performance in Turkish and Welsh. You manage to bring people together in languages: those who can speak those languages and those who do not.  Is this an important motivation?
Language divides and connects. In contemporary theatre, the script is only a small part of the whole experience, and the language used is, in a way, accidental. Hikmet is part of the Turkish language, even though, or maybe because what his work expresses goes far beyond any one language. It is a challenge to find ways to connect with audiences when they do not understand the script. But theatre is all about challenge.
What was it like to work with an English-speaking director, Philip Mackenzie, on this Turkish play?
Philip also worked with us producing the play Y Brain/Kargalar (written by Meltem Arikan). The challenge was  to produce a theatrical experience, a spectacle from Memleketimden Insan Manzaralari, not a reading of Hikmet's text. Philip has added many extra layers to the production which go beyond the language, beyond the words I speak. Of course he had the translation to work with, but he added layers of interpretation and experience, through visual effects, lighting, sound effects. Ace McCarron created an amazing visual world with his extraordinary lighting design, Phillip created the sound world with Murat Çelikkol, and Cihan Yılmaz implemented the sound design masterfully. ME Design created a great poster. And Akın Olgun was not only the producer, but he also worked almost like a dramaturg.   
Of course Phillip and I worked together on my physical performance – which is exhausting by the way. I have never been so exhausted as an actor.
Why was it important for you at this phase of your life to connect with Nazim?
People of my generation still have this strong tradition of reciting his poetry from memory, whenever people got together to socialise, to celebrate, or commiserate, or just to pass the time. Whenever we drink a glass of rakı, we recite his poems. I grew up sitting at tables where my dad and his friends would eat, drink and recite poetry. I grew up hearing Nazim's verses all the time. Everybody knows them. I first memorised a poem by Nazim when I was ten years old. His poetry is part of Turkish life, at least a certain part of Turkish society.
Producing a play using Nazım Hikmet's poetry has always been in my mind. Akın had been pushing me to do so over the last couple of years. But it comes with lots of baggage. First, too many plays were made in this manner; then there was the trap of falling into clichés. One night, around a rakı table we spontaneously decided to make the first book of Memleketimden İnsan Manzaraları into a play. Now I realise that it was not all spontaneous, it was the collapse of my resistance and the result of the culmination of years of thought put into the idea. After starting to work on the play, I realised how crucial it was to produce such a piece at this time of my life.
I grew up sitting at tables where my dad and his friends would eat, drink and recite poetry… I first memorised a poem by Nazim when I was ten years old.
The audience finds your performance in Memleketimden Insan Manzaralari captivating. The tension peaks in places where you seem to be integrated with the characters in the verses. One member of the audience commented that you could have done the easier thing of reciting the poetry, but you chose to play it!  How was it to play a whole verse novel?
Certainly, it is physically and mentally exhausting. But a recitation is not the same thing as a performance, it is not theatre. I am an actor, which means inhabiting characters. Still, it is not always clear, even to me, who I am performing when I'm acting in this piece of theatre. Sometimes perhaps I am Nazım. Sometimes I am a narrator, created by him and distinct from him. Sometimes, for a while I am one of the characters. And sometimes I am myself. These layers cannot be separated either for the audience or for me.
Nazim Hikmet's Marxist politics very much influenced his poetry. His poetry depicts pictures of working class people: their challenges, difficulties, hopes and dreams.  How do you relate his work to the current context?
The relevance of Nazim Hikmet's work is disputed today of course, especially by people on the Right, who have always hated him – that's why he spent so much of his life in prison and in exile. Many would like to believe that his Communist convictions are no longer relevant today. But the Marxist perspective of Hikmet, as of Brecht, for example, is just as important as ever. The criticism of exploitation, of injustice, of hypocrisy, of cruelty, is just as necessary as ever. The idea that the aesthetic is in the service of social justice does not have to mean crude leftist propaganda. Instead it means that art tries to pose questions to the audience, invites them to join in a discussion about what works and what does not work in society, especially for the weakest in society. In addition to this, besides the content of the poems, the form he created is a step towards a Marxisit aesthetic. While working on the text I have realised that he is trying to explore a Marxist 'form'.
Memet Ali, most Turkish people know you from your TV drama series, your films and your satirical TV shows. But you also set up a union for artists and Garajistanbul, the first venue in Istanbul built solely for contemporary, innovative arts.
As a theatre maker, I am very much interested in exploring the limits of theatre in each project. For many years, I have dealt with the notion that theatre isn't necessarily a spectacle for the eyes and ears – as its etymology suggests – but could become an experience where all parties – the audience and the performers – 'play' together. 
This idea has always been a driving force in all my work. It was also a core concept to my masters' thesis 'Theatre in Turkey Through Turkish Modernisation'. I tried to examine the underlying factors that caused the lack of contemporary theatre movements in Turkey. 
This was the start of a quest where I sought a different kind of theatre; a theatre where the performers and the audience could 'play' together. I was then one of the five founders of garajistanbul where I worked as a board member, communications director, member of the artistic team and performer, for three years; garajistanbul was founded in 2007 in the heart of Istanbul as an arts co-operative 'to introduce contemporary performing arts into everyday-life, to give visibility to the existing work nationally and internationally and to create a space where artists could stand and perform together.'
The venue was transformed from a garage, redesigned as an empty space where it was possible to reimagine and redesign for every new work.  It was the first venue in Istanbul to present contemporary dance continuously in its programme. During my time in garajistanbul, I worked with leading artists and companies in contemporary European theatre and dance, including productions and co-productions in Netherlands, Switzerland, Germany, Austria, Estonia, Belgium and Portugal. 
Innovative. Informed. Independent.
Your support can help us make Wales better.
Your focus seems to always include current issues and you are quite creative in findings ways to address them artistically. You created a series of events called Chapter Readings! In bi-monthly events you worked with and hosted guests involved in wide-range of topics from environment to Welsh national movement. All of these topics were articulated through literary discussions, poetry, music and theatrical plays. 
You appear to be very much embedded yourself into the fabric of Welsh life. Not only do you work with themes that represent  life in Wales you also  learned the Welsh language very quickly and learned about Welsh history and culture to a degree to make multi-layered analysis and enter into debates from a very informed standpoint.  I cannot help but like to ask you about how easy or difficult this adaptation was?
First of all I would like to make it clear that I haven't 'learnt' Welsh, I am still a 'learner'. This is a massive discussion – when one learns a language, when is one still a learner – which we often make with Aran Jones, the creator of the great learning method SaySomethinginWelsh. I will not go into that, but suffice to say that I would still not be able to answer all these questions in Welsh. 
I was born and raised in Istanbul. For many years I identified myself first as an Istanbulite, until I left Turkey for political reasons in 2013 and made Wales my new home. I started to live somewhere other than Istanbul at the age of 36. 
I have realised in fact how flexible my sense of belonging is after living in Wales. 'Leaving' and 'relocating' gave me a sense of perspective, a 'distant' view which enabled me to contemplate my 'identity' and 'sense of belonging'. I have realised that 'identity' is a construct and 'sense of belonging' is a feeling. I have almost created a new 'identity' for myself in Wales. Perhaps it is a coping mechanism. I have learned a lot about the history of Wales, the people and the language. And now I feel I am part of this society. Wales' problems are my problems now and by extension that I am involved in contributing to efforts to solve these problems too. 
I have to say that this adaptation was not difficult. We were producing a parody news show before I moved to Wales. In one writer's meeting the creator of the show said 'we are like tourists who know a lot about Turkey'. That was a great expression voicing our estrangement from our own country. 
Over the last couple of years before I left Turkey there were a lot of moments where I felt like a 'stranger'. I can honestly say that I have never felt like a 'stranger' in Wales .
All articles published on the welsh agenda are subject to IWA's disclaimer.