In Afallen's first White Paper, David Clubb advocates a digital strategy for Wales informed by Free and Open Source Software (FOSS).
Digital infrastructure and services underpin much of our modern existence. In work and leisure, with family and friends, we inhabit – to an ever-greater extent – a digital world. This world, much like the 'real' world, is characterised by huge disparities in access and opportunities.
Many digital opportunities are jealously guarded by global corporations that create walled gardens within which we communicate, share, and create huge wealth for others.
However, if we scratched just a tiny bit below the surface, we would see that there are myriad opportunities available to almost everyone, if we could only understand how to take advantage of them.
In Afallen's first White Paper, published at today's inaugural meeting of the Senedd Cross-Party Group on Digital Rights and Democracy, we set out why Wales must take advantage, not just of the digital opportunities through adopting different technologies, but in the fundamentals that underpin the digital world.
Free and Open Source Software (FOSS) underpins the majority of global digital infrastructure, from the WordPress platform that underpins nearly half of global websites, to Apache and Nginx servers carrying more than half of global web servers, to the mushrooming sector of the Internet of Things.
The economic benefits are huge; a study recently commissioned by the European Commission estimated a return of €4 for every Euro invested into FOSS. That's partly why the EU has a dedicated open source strategy, and why officials view FOSS as the future for the EU.
However, there are a whole host of reasons for supporting FOSS, aside from the economic. These include environmental sustainability; equality of access; and better educational and career outcomes. 
Another reason, specific to Wales, is that FOSS is strongly aligned with the Future Generations Goals and Ways of Working. By my reckoning, a FOSS strategy would support no fewer than five of the Goals.
But the biggest reason for wanting to champion FOSS is in the field of education. Imagine if learners of all ages in Wales were educated not just in using digital tools; but also steeped in an understanding of the very concepts that will make up the digital tools of the future. We could create a generation of users, producers, hackers and shapers that understand the fundamentals of code, and have the curiousity and the skills necessary to engage, modify and improve on that which has gone before.
It might seem a tall order; but remember how a Russian cyber-attack first paralysed Estonia, a country of 1.3 million people, and then propelled it to become a global centre of expertise on cyber-security.
If Estonia can do it, our devolved education system means that we can do the same for FOSS in Wales.
So what are the next steps for us? In the White Paper I suggest three initial approaches to help embed FOSS within the policy and education landscape in Wales.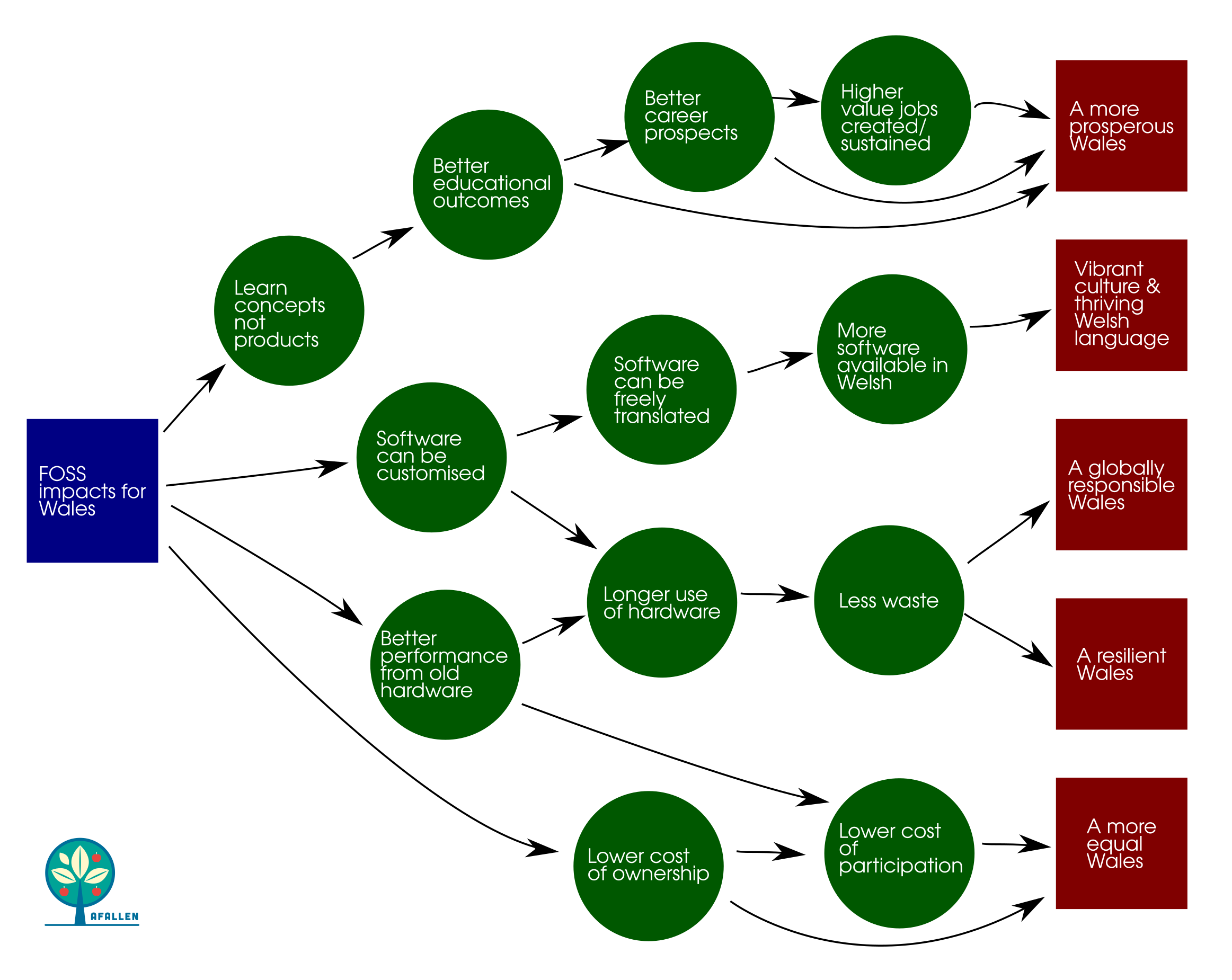 Firstly, our digital strategy needs to explicitly recognise the value in FOSS as a distinct component of 'digital' overall. The first anniversary of Wales' digital strategy is nearly upon us; what better time to reflect on the growing body of evidence, and the policy goals of our nearest economic trading partners, than to incorporate FOSS within the main policy statement for the sector?
Secondly the Curriculum for Wales should specify FOSS as a component within digital competency, helping pave the way for educators to introduce the concepts and practises of the sector within our learning centres.
Finally, we must make good use of infrastructure which already exists and is helping to spread good practice in digital across the public sector. The Centre for Digital Public Services could help public sector bodies pilot, and then potentially adopt, FOSS-based ways of doing things that may help with the delivery of a whole host of public goods and services.
Embracing FOSS will enable the citizens of Wales to not only participate in a rapidly-developing global digital economy with new skills, expertise and confidence; but also to help lift others by contributing to the sum total of human knowledge, freely gifted to all. 
---
All articles published on the welsh agenda are subject to IWA's disclaimer.