Empowering Welsh communities to shape their towns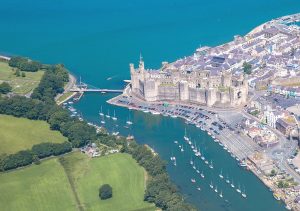 To create positive change, innovate and get policy decisions right for Wales, community groups, planners and policy makers need reliable information about Welsh places. The Understanding Welsh Places project is creating a simple and intuitive website to provide intelligence about individual towns and communities to anyone interested in their future.
Users of the website won't need a background in statistics or complicated IT knowledge. By presenting relevant data through a simple, adaptable user-interface, Understanding Welsh Places will give people the tools to foster more resilient communities and improve wellbeing in Welsh towns.
The information that will feature on the website is still being decided, but is likely to include data, maps and diagrams about employment, commuting, education, retail, tourism, housing, the environment, cultural activities and languages. Community groups will also be able to contribute material. A town audit toolkit will guide them through the process of gathering information and uploading a report to the website.
Understanding Welsh Places also aims to encourage collaboration between towns across Wales. The website will enable users to compare places and discover which towns are most like their own, creating opportunities for new conversations and sharing best practice.
Why are we interested in towns?
A significant proportion of people in Wales live in towns. Too often, however, town communities are overlooked by public policy. While targeted funding exists for city regions and rural development, there is nothing specific to towns. There is also a lack of data about towns to inform policy development and evidence existing good practice.
The Institute of Welsh Affairs has been commissioned by Carnegie UK Trust to work with others to help address these policy and information gaps and to support the development of vibrant, innovative and empowered town communities. The Understanding Welsh Places project is also inspired by the success of the Carnegie funded Understanding Scottish Places website.
What we're doing
Understanding Welsh Places is a collaborative project. We are working with a cross-sector group of interested people to shape the content and design of the website. These partners come from a range of backgrounds, including place-making, geographical and statistical data, evidence-based policy-making, public engagement and community work.
Of course, we are also working with target users of the Understanding Welsh Places website to make sure it meets their needs. An initial version of the site will be launched in spring 2019 following user testing. We will continue to adapt, update and add to the resource in years to come to reflect feedback from people who use it and changes in the information available about Welsh towns.
Our progress
Understanding Welsh Places Project Officer Elinor Shepley joined the IWA in April 2018. Elinor will be with us until March 2020.
As of summer 2018, we have established the Understanding Welsh Places cross-sector stakeholder group, which includes representatives from Data Cymru, the Welsh Government's Regeneration Team, the Federation of Small Businesses, WCVA, One Voice Wales, Monmouthshire County Council, Carnegie and the Centre for Local Economic Strategies, as well as a private regeneration consultant, a practising architect and contacts from the Understanding Scottish Places project. We have drafted an initial specification for the website's content and design, and aim to go to tender in the autumn. Plans for focus groups with potential users of the site are also underway.
Get involved
For more information on the project, contact Elinor Shepley
Become a member of the IWA today and help fund important projects that are shaping Wales' future. Join now from just £2.50 a month


The Institute of Welsh Affairs gratefully acknowledges funding support from the Carnegie UK Trust.
The development of the Understanding Welsh Places website itself is funded by both CUKT and the Welsh Government.
While you're here, we've got something to ask you: will you join us?
We're working every day to bring the right people together and generate the ideas to make Wales a world-leading force.
We're independent of government and political parties. We provide a much-needed space for open, transparent debate about the ideas that can make Wales better.
To continue to do this, we need people like you to join us.
Join us today and you'll be supporting vital work that's making our country better than ever.