Winter 2007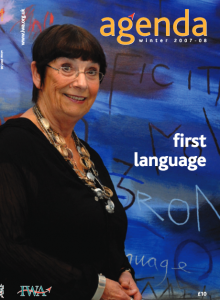 To download this issue for free please click here.
Opinion
Page 4 – Beyond symbolism
Richard Brunstrom explains why incomers like him should be required to learn Welsh.
News
Page 8 – News
Politics and Policy
Page 10 – Cowbridge Woman
Gareth Hughes unpicks the current debate inside Welsh Labour.
Page 12 – Battle of the blogs
Vaughan Roderick unravels the coalition talks.
Page 14 – Progressive consensus
John Osmond examines the new coalition's policy commitments.
Page 16 – Igniting Change
Laura McAllister looks at the prospects for a Welsh Convention.
Page 19 – Reconciling the Budget
Jeremy Colman explains how the 2006 Wales Act ensures the Assembly Government is held to account for its spending.
Page 22 – Welsh Law
Keith Patchett explores the consequences of establishing a distinctive jurisdiction for Wales.
Social Policy
Page 25 – Living Wage
Sam Rex argues that the Assembly Government should set the pace on tackling poverty wage levels.
Page 27 – Debt
Malcolm Hurlston assesses the rise of personal indebtedness and what can be done about it.
Page 29 – The Welsh way
Paul Griffiths advocates networking between organisations to deliver public services.
Page 32 – Beyond Boundaries
Colin Everett says the pace of collaborative public service reform is stepping up.
Page 33 – Strategy and Tactics
Scott Greer reviews the record of NHS Wales policy-making since 1999.
Page 35 – Stock Transfer
Nick Bennett says Housing Associations are the mechanism for levering much-needed investment into our poorest communities.
The Economy
Page 38 – Spending crunch
Eurfyl ap Gwilym analyses the impact of the 2007 comprehensive spending review.
Page 41 – Job shake-out
Max Munday highlights the continued importance of manufacturing for the Welsh economy.
Page 44 – Revolution in the air
Penny Evans surveys challenges facing the Welsh aerospace industry.
Page 47 – Farming Futures
Gareth Wyn Jones puts a new report on Welsh agriculture under the spotlight.
Environment
Page 49 – Severn Up
Peter Davies outlines the tough conditions the Government should meet in developing a Severn Barrage.
Page 51 – Barrage debate
Morgan Parry argues that the barrage is unsustainable.
Page 54 – Future meets the past
Haf Roberts on how new technology is answering a preservation problem at St Fagans.
Europe
Page 57 – Statutes of autonomy
Anwen Elias analyses the importance of the new Catalan Statute of Autonomy for the future of the Spanish state.
Page 60 – Basque lessons
Mikel Zalbide says Wales can learn from Basque language teaching.
Culture and Communication
Page 62 – Talismans of affinity
Gaynor Kavanagh welcomes a fresh eye on Wales.
Page 65 – First language
Margot Morgan celebrates the work of contemporary artist Mary Lloyd Jones.
Page 67 – Welsh News
Rhodri Talfan Davies reports that although demand for Welsh broadcasting remains high, supply remains a problem.
Page 70 – Converged world
As S4C celebrates its 25th birthday Elan Clos Stephens looks at its future.
The Last Word
Page 72 – The Last Word
Love and Marriage by Peter Stead