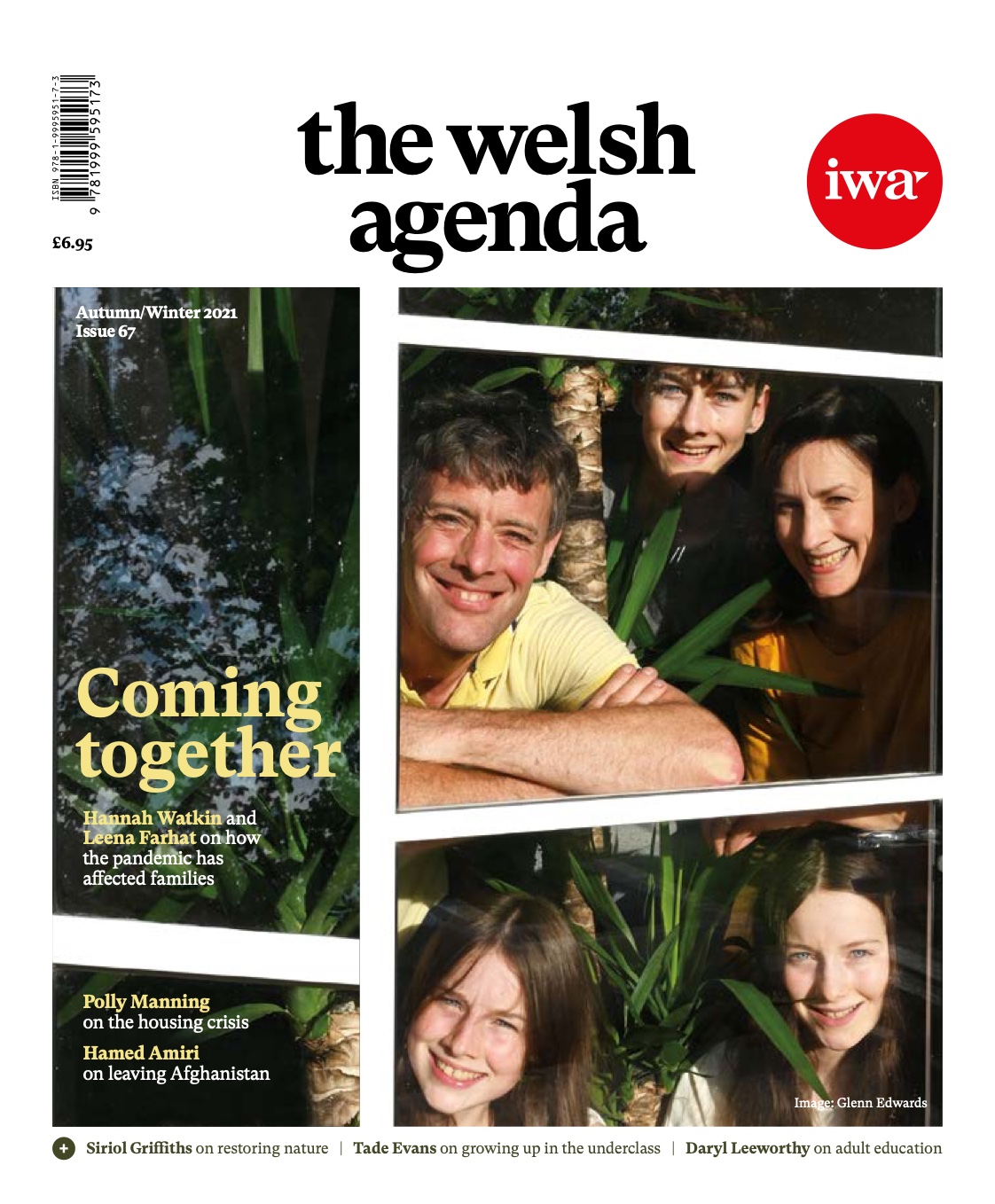 Issue Costs
Download a free digital copy of this issue.
If you would like to join the IWA, and receive the most recent copy of the welsh agenda and all copies published during your membership, please join us here.
This edition is also available in good bookshops in Wales.
Previous editions of the welsh agenda are available for free download and to buy here.
You can read an editorial from chief editor Dylan Moore here.
Highlights
Growing up in the underclass Tade Evans on the challenges of being poor
Is Wales for sale? Polly Manning predicts a bleak future if we can't grasp the housing nettle
Has the pandemic helped bridge generational divides? Leena Sarah Farhat and Hannah Watkin ask two families
Opposing Welsh Labour Theo Davies-Lewis talks opposition with Nick Bourne, Leanne Wood and Peter Black
Disinformation: is Wales at greater risk? Professor Martin Innes says the Senedd must act to protect our media and politics
The Boy With Two Hearts Hamed Amiri talks to Merlin Gable about his new play
Articles
Can we 'poverty-proof' the school day? Ellie Harwood says we need to listen better to children
What might a 'national conversation' look like? Anwen Elias, Matt Jarvis, Noreen Blanuet and Mike Corcoran on how we talk about constitutional futures
The Ballymurphy Precedent Gwion Owain on film and a forgotten chapter of the Troubles
From Rewilding to Restoration Siriol Griffiths explores the way we talk about environmental interventions
Fighting Flooding Sir David Henshaw encourages collective responsibility
Getting Started in Teaching Hannah Watkin explores the effect of the pandemic
Suicide Prevention and Future Generations Sarah Stone advocates a preventative approach
Levelling-up global solidarity Peter Frederick Gilbey says Wales needs to do better on international development
The irrefutable weakness of federalism John Ball says UK federalism would never work
How do we respond to the Afghan crisis as a Nation of Sanctuary? Mark Seymour advocates action