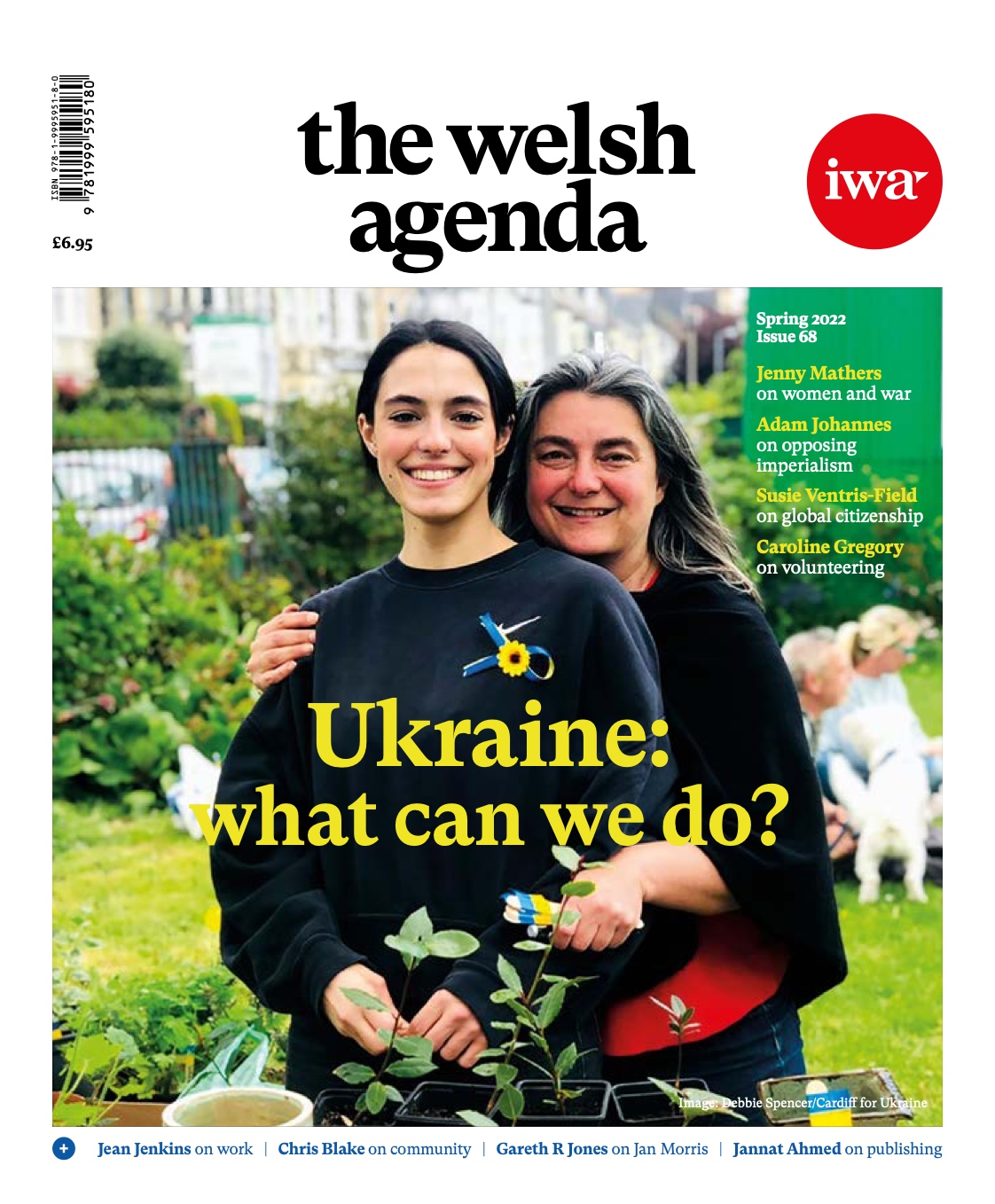 Issue costs:
£6.95 for a digital copy (pdf via email)
£8.95 for a hard copy (includes postage & packaging)
If you would like to join the IWA, and receive the most recent copy of the welsh agenda and all copies published during your membership, please join us here.
This edition is also available in bookshops.
Previous editions of the welsh agenda are available for free download and to buy here.
Highlights
The Cost of Survival Polly Manning on Wales' poverty crisis
Authoring a Life Gareth R. Jones trawls the Jan Morris archive
We really need to talk about work Jean Jenkins kickstarts the conversation
Land and Community Chris Blake makes the case for local control
Whose Voices, Which Land? Grace Quantock on the new nature writing
Articles
Petrol on the flames Adam Johannes asks how we can oppose the war in Ukraine
Ukraine: how to respond? Susie Ventris-Field on our role as global citizens
Women and the war Jenny Mathers on Ukraine's feminine resistance
Diversifying volunteering Caroline Gregory explains why refugees don't need old clothes
A trade union revival? Joe Allen and Nisreen Mansour on a global trend
Workers and the Climate Crisis Shavanah Taj on climate justice and fairness for workers
Blinded by hubris Gareth Evans says Curriculum for Wales still faces major challenges
Bringing Wales to the world and the world to Wales Kirsty Williams on Taith
How to plant 300 million trees Gerry Holtham and Karel Williams on how to reach net zero
Trees and Tipping Points Richard Edwards questions the contribution of trees to targets
Leading the green energy transition Helen K. Thomas on RWE
Tales of a Changing Landscape Cam Elizabeth on Treherbert's 'Skyline' project
Who owns Wales? Sioned Haf asks a taboo question
Culture
What myths will carry us forward? Merlin Gable on landscape and identity
Poetry's place in the climate crisis Hywel Griffiths explores a creative relationship
The pandemic and precarity Marlen Komorowski and Steffan Donnelly asses Covid's impact on freelancers
Brittle With Relics Lee Waters enjoys Richard King's sweeping oral history
Welsh (Plural) Marine Furet assesses nineteen essays on Wales' future
Gorwelion, Shared Horizons Zoe Brigley hails as a 'barometer' a collection of climate poems
A470: Poems for the Road/Cerddi'r Ffordd Dylan Moore takes to the highway
The Dossier Yasmin Begum hails Michael O'Brien's 'raw' documenting of miscarriages of justice
Q&A Jannat Ahmed talks about a cash injection for Lucent Dreaming