Spring 2008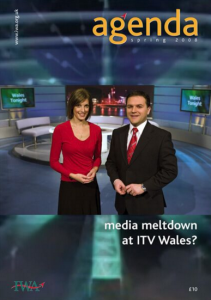 To download this issue for free please click here.
Opinion
Page 4 – Spine for the Dragon
John Osmond examines the case for upgrading north-south road links.
News
Page 8- News
Culture and Communication
Page 10 – Information Gap
Richard Wyn Jones calls for a media commission to examine Welsh communications and democracy.
Page 12 – Shrinking Coverage
Geraint Talfan Davies foregrounds an imminent debate on the future of Welsh broadcasting.
Page 14 – Converged World
Elin Haf Gruffydd Jones on connections between the Welsh language press and webcasting.
Politics and Policy
Page 16 – Murphy's Law
Alan Trench looks at the crowded in-tray of the new Secretary of State for Wales.
Page 18 – Facing Reality
Eurfyl ap Gwilym says London decisions have a perverse impact on the Assembly's funding options.
Page 21 – Smouldering Bonfire
Nick Morris reflects on the reverberations on the WDA's demise two years ago.
Page 23 – Random Politics
Gary Hicks says, like the poor, the lottery will always be with us.
The Economy
Page 26 – Kick Start
Richard Livsey addresses the challenge of creating innovative, indigenous enterprises.
Page 29 – Local Trading
John Ball makes the case for establishing a Welsh stock exchange.
Social Policy
Page 32 – Re-balancing the health budget
Malcolm Prowle looks at the case for more private sector funding in the NHS.
Page 34 – Berlin Wall
Lyndon Miles on the ongoing effort to bridge the health and social services divide.
Page 37 – Congenital Tribalism
Gethin Williams probes the past in search of lessons for the future of higher education in Wales.
Page 40 – Gwynedd's Furore
Alwyn Evans offers advice on primary school amalgamation.
Page 43 – Sion Cwilt
Gareth Ioan on a successful campaign to amalgamate some small rural schools.
Page 45 – Missing Targets
Anne Crowley and Stephen Davies chart progress in eradicating child poverty in Wales.
Page 48 – Social Entrepreneurs
Gareth Bickerton describes a unique fund aimed at promoting off-beat initiatives.
Environment
Page 50 – Climate Change Challenge
Einir Young puts the Assembly Government's sustainable development aspirations under the microscope.
Page 53 – Supergrass
Phil Cooke describes how a Welsh food innovation could help curb global warming.
Page 56 – On yer bike
Lee Waters on changing our travel habits.
Europe
Page 59 – Self-determination
Anwen Elias surveys the Basque quest for greater autonomy within Spain.
Page 61 – Breizh touch
Andrew Lincoln explores the paradoxes facing the Breton movement for autonomy within the French unitary state.
Culture and Communication
Page 65 – Lie of the land
David Meredith celebrates the life of a famous artist.
Page 68 – House party
Rhian Davies previews the 75th anniversary Gregynog Festival.
Page 70 – Emerging Drama
Roger Owen says a successful national theatre will need a civic identity with which to engage.
The Last Word
Page 72 – Grand Slams all Round
by Peter Stead