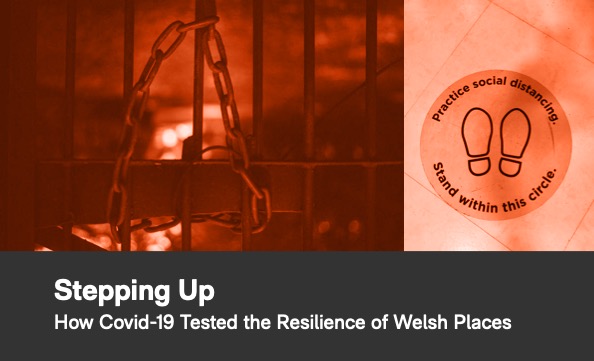 Since 2018, the IWA has convened a consortium of experts and, together, we have been developing the Understanding Welsh Places (UWP) online tool with the aim to make data available, accessible, and usable by residents of Welsh towns and communities. 
Co-written with Welsh consultancy firm The means, and funded by the Carnegie UK Trust, our new report, Stepping Up: How Covid-19 Tested the Resilience of Welsh Places, draws on original research and the Understanding Welsh Places online tool to explore how Welsh places responded to Covid-19.
We listened to stories from communities around Wales to understand how residents used local facilities and assets during the crisis, and to learn about Welsh places' preparedness to respond to an event of this scale. 
In this report, we make recommendations about how the Welsh Government and local authorities can invest in both facilities and planning to be better prepared for future crises. 
The Covid-19 pandemic has tested the ability of Welsh places to respond in an emergency, but our research gives reasons to be optimistic about their capacity to bounce back from a crisis. While an overwhelming majority of people who took part in the research agreed that the pandemic had significantly disrupted their daily lives, 94% also felt that their community had been resilient. Our new report shows what lessons can be drawn from the last two years to help decision makers anticipate future such events.  
The report makes a number of simple yet key recommendations:
Understand local assets, and fill the gaps

Make a plan to get people helping quickly

Develop local networks to get the message out.
More broadly, this report advocates for continued investment in the community assets which proved to be a precious buttress against some of the worst effects of the pandemic: the parks where we walked with our friends, the community halls where we accessed information and urgent services such as vaccination and food banks, and the worship places where communities could receive support. While their short-term economic yield may be less than that of private high rise buildings, it is they that constitute the fabric that allowed communities to respond and step up to the challenges of the pandemic and that make up the glue that held Welsh places together.
Read our full report, watch the launch event video, or listen to its podcast version.
The IWA and our UWP partners have previously published a Welsh Places Charter, which you can read here.  
Innovative. Informed. Independent.
Your support can help us make Wales better.