Spring 2006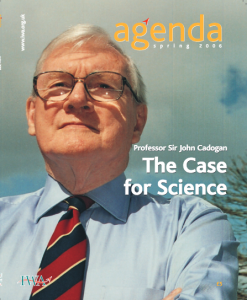 To download this issue for free please click here.
Opinion
Page 4 – A pier with too few supports
Professor Sir John Cadogan argues that the Assembly Government should base its science policy on scientific rather than economic principles.
News
Page 8 – News
Politics and Policy
Page 10 – Poles Apart
Jonathan Adams recommends how Cardiff Bay can be connected with the city centre.
Page 13 – Barnett Squeeze
Eurfyl ap Gwilym estimates that Wales has been denied more than £1 billion by the Treasury over the past five years.
Page 17 – £77m merger
Rhobert Lewis discusses the arguments for an all-Wales police force.
Page 20 – Nation builder
Richard Brunstrom says an all-Wales force should be part of the devolution process.
Page 22 – North Wales voice needed
Dylan Jones-Evans questions the centralisation of power in Cardiff Bay.
Page 25 – Making politics breathe
Ferdinand Mount says everything in Britain has been modernised except its politics.
The Economy
Page 28 – Safe haven
Gillian Bristow asks whether enough is being done to involve the local community in the LNG development in Pembrokeshire.
Page 31 – Government business
James Foreman-Peck argues that economic policy should address a worrying private sector deficit.
Page 34 – Carbon cutting
Morgan Parry argues that the Assembly Government's new economic development strategy needs a radically different approach.
Page 38 – Footing the bill
Brian Morgan says the Assembly Government should produce a Welsh model for PFI.
Page 41 – Cherished Heartland
Peter Davies relates how the Prince of Wales' charities are engaging with the problems of the rural hinterland.
Social Policy
Page 43 – A £3 billion opportunity
Tamsin Stirling looks at the IWA's new report on the Future of Social Housing in Wales.
Page 45 – Below the threshold
James Stewart introduces a major new study on poverty and social exclusion in Wales.
Page 48 – Educating for social justice
David Egan declares we cannot go on tolerating the waste that results from low levels of educational achievement at 16.
Page 50 – To those that have
Mark Drakeford argues that health policy should focus on equality of outcome.
Europe
Page 52 – Not just money
Andy Klom says Wales should look beyond trade and funding in its engagement with the EU.
Page 54 – Crossing borders
David Hughes underlines the importance of cultural projects in promoting European cohesion.
Environment
Page 57 – Shadow boxing
Gordon James argues that the Assembly needs greater powers over energy policy if it is to lead the way on Climate Change.
Page 62 – Nantgwynant
Ruth Williams, John Pritchard and Neil Caldwell advocate investing in the environment.
Culture and Communication
Page 64 – Governing culture
Geraint Talfan Davies says the arts funding review is a chance to get away from policy-making on the hoof.
Page 66 – Daffodil meets the big apple
Peter Stead joins in with Wales Week in New York.
Page 68 – Welsh cinema
Steve Blandford finds that two recent films open up new possibilities for identity in 21st century Wales.
Page 70 – Ystradgynlais epiphany
Nigel Jenkins praises a new assessment of the artist Josef Herman.
The Last Word
Page 72 – The Last Word
by Peter Stead