Laura McAllister considers what we know, think we know and don't know about the forthcoming European elections
In just over a week, we go to the polls to elect four members of the European Parliament. Had anything about the timing for triggering Article 50 made sense, the UK should now have left the European Union. These are elections no one expected and practically no one wanted bar Nigel Farage, given the soaring profile of his brand new Brexit Party (but he'd never admit that, of course). Understandably, political parties had done no planning and the coffers were depleted after a frantic few years of elections; there were no candidates in place, many sitting MEPs unceremoniously kicked out of a job by Brexit were already metaphorically on the beach. To compound it, there can seldom have been so toxic and unstable a political period, with the two main parties horribly divided, and their team captains undermined by an erosion of respect and loyalty from their respective team mates.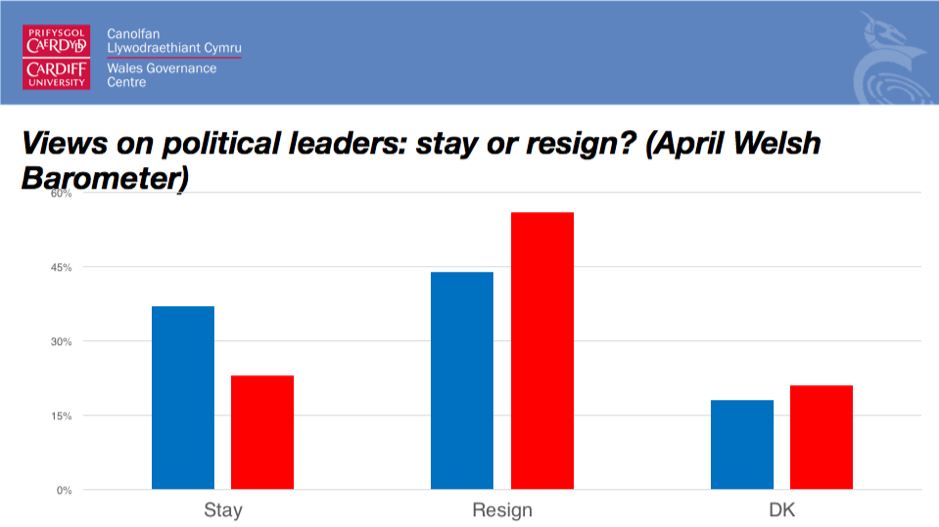 These are the 9th set of direct EU-wide elections with all 28 members voting between Thursday 23rd and Sunday 26th May. They will elect 751 MEPs. "Perverse" is a term that's been applied to the elections both by our EU partners and by many within the UK, given the 2016 referendum vote. But happen they have to because, as the saying goes, we are in until we are out. "Humiliating" is another adjective often used, one more very public reminder of how disastrously the whole Brexit process has played out but then again, humiliation must be a familiar sensation for Prime Minister May.
Last week, as we do with all elections, my colleagues at Cardiff University's Wales Governance Centre , Professor Roger Awan-Scully, Jac Larner and I held a seminar to communicate what we know, what we think we know, and what we don't know about these elections. Clearly, academics prefer being on surer terrain when we discuss matters electoral but, a bit like the Danish football team who rose from their sun beds to win the 1992 European Championships, we never pass up the opportunity to dcomment on elections.
A few facts first: the UK elects 73 MEPs through a closed list, proportional system which means voters have one vote. That one vote is for a political party not a candidate, which are ordered in preferential order by the party, not the voter. Seats are allocated via the D'Hondt formula which traditionally favours the party that gets the largest share of the votes cast.
Given we should have left by now, the UK's seats had already been redistributed to the other 27 members. That process was halted once Article 50 was extended. The allocation of seats to each member state is based on the principle of "degressive proportionality"with population size taken into account, but smaller states still electing more MEPs than is exactly proportional. There is no precise formula and the number of MEPs are debated as part of treaty negotiations, which means there can be no change without the unanimous consent of all 28 members.
European elections, in that now old-fashioned sounding political science term, are "second order" elections. This means that the campaign is often not about the democratic tier to which politicians are being elected and these elections usually gain little attention from either media or public. This time it is very different. These are European elections very firmly focused on Europe, which in itself is unusual. But even this statement requires some unpicking; obviously Brexit is the only game in town but, in many respects, Brexit is not just about Europe; it is becoming more a UK domestic political issue with international implications.
So, let's discuss what we DO know. First, after some uncertainty, the elections will happen. In March, when Theresa May returned from her latest negotiations, she'd hoped that a deal would be struck before the deadline to take part in these elections. But the ticking clock ran out of time to get any agreement (which doesn't exist) through the Commons with the support it needs (and doesn't have). Still, May still hopes Parliament will ratify the Withdrawal Agreement Bill before MEPs take their seats in July.
We know something about how many votes it will take to win a seat. 15% of the vote share was what it took last time, therefore to win two of the four Welsh seats, the party that comes first would need to win over double the vote share of the party coming 4th. Last time, in the heady pre-referendum days, and just before David Cameron won a narrow 2015 election majority, UKIP topped the poll with over a quarter of the vote and 24 seats. UKIP even came within a whisker (half a percentage point) of beating Labour in Wales and ending Labour's remarkable and continuous hegemony here.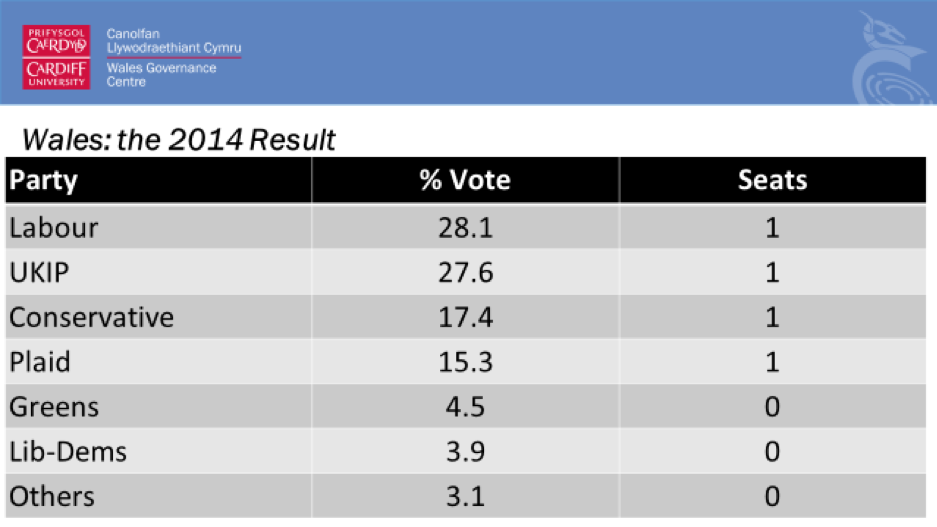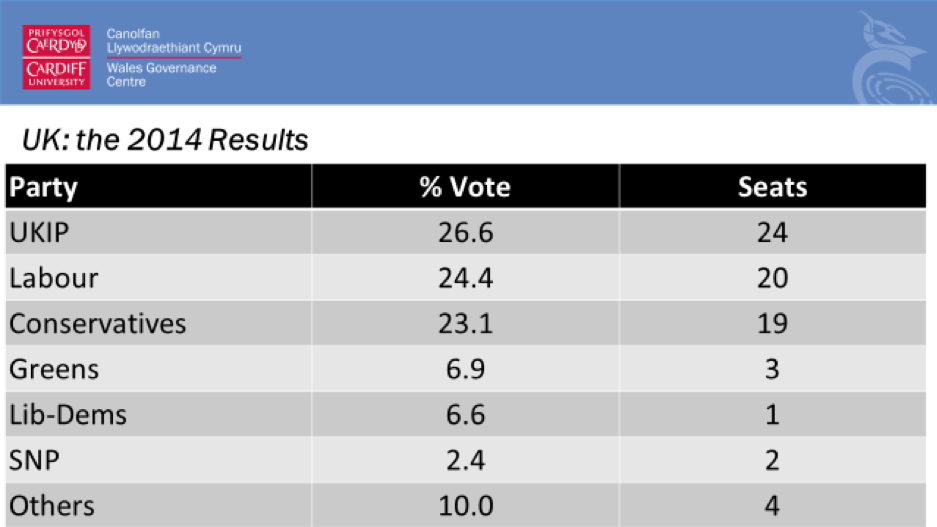 Evidently, these elections resemble more a referendum than a normal election. It feels like a re-run of the 2016 referendum, but set against higher frustration and greater political distrust, and with even more division, bile and anger (and that's just amongst politicians!).
We know that political identities are now less about party, having polarised into the simple binary of Remain and Leave. We also know we are in a uniquely unpredictable and fluid political time.
So, on to what we THINK we know: the two major parties should be very fearful about their prospects, in Wales and across the UK. 2019 feels a long way from the General Election of two years ago when Labour and the Conservatives swept up over 80% of all votes cast. That election looks more and more an outlier now as it feels like voters are more confident about shedding their usual party preference.
Thanks to my colleague, Professor Awan-Scully, we will have more Wales polling intelligence early next week, but we can speculate for now.
The Conservatives look particularly vulnerable for two reasons: firstly, its voters are known to be more likely to abstain; secondly, we know that a substantial proportion of Conservative voters in 2017 had a history of voting for other, more Eurosceptic parties. They have obvious alternatives this time too.
We also know a fair bit about the public's views on how Brexit has been handled – badly!; who they blame for the Brexit shenanigans (May and MPs!); their views on leading politicians (not good!) and their views on Remain and Leave (some shift towards Remain but not much!).
Also, second order elections do not normally lend themselves to active campaigning and there's been little this time for sure. That is, except for the Brexit party and that has been less door step and more US-style, which should reminds us where Farage has been honing his campaigning skills. It's no surprise that the Brexit Party's campaign is a mix of strategic, but simple, social media appeals and large sports stadia rallies with its star performer as the main attraction.
We also know that clarity of definition is everything in politics, especially at times like these. It is hard to envisage an election more suited to the Brexit Party, a party with no other policies and set up to put the fear of God into MPs (as Farage charmingly put it).
So, on to what we DON'T know.
Turnout in European elections has always been significantly lower than in General Elections, as it has for Assembly elections in Wales. In 2014, turnout across the UK was 35%, steady from the previous elections in 2009 and slightly lower than the EU average of 40%. This time we know that "campaigning" – such as it is – is coloured by fatigue, frustration and fury making it difficult to predict whether this will increase motivation to vote (and amongst who-Leavers, Remainers or both), or whether the public mood will mean a "plague on all your houses" attitude. The elections have also exposed a fundamental tension between traditional understandings of the value of an election campaign. Normally, campaigns don't change outcomes or minds, they are usually to "get out" known party supporters. With little real campaigning and intensely divided parties, it is hard to see how they will ensure their supporters get to the polling stations and even then, whether they will stick with the party!
Given the political terrain is unusually crowded in Wales, with eight parties contesting the elections, and with limited Wales-only polling, it has been hard to gauge the likely performance of the two new kids on the block (Brexit Party and Change UK). The Remain side has no single focus so, whilst the Brexit Party would appear to have outmuscled UKIP relatively easily, success for Remain-supporting parties will depend on tactical choices region by region. Moreover, turnout will likely affect each side differently.
Then there is the impact of this on the more established parties in Wales. Four of the parties have new Welsh leaders for whom this is their first, nation-wide electoral test. We will be watching to see who might emerge with enhanced standing and a mood of positivity less than two years before of the Assembly elections. It matters most for Mark Drakeford and for Adam Price. Welsh Labour has dominated Wales for nearly a century, winning the highest share of votes in every general election contest since 1922. The new First Minister would hate  this dominance to erode just six months into his watch.
How well will unashamedly Remain Plaid do under its new leader, Adam Price? There are stirrings at least of a more grown-up, less pejorative conversation on independence which might or might not help Plaid this time.
Finally, and fairly obviously, these elections have enormous implications for a range of individuals, parties and processes. For Theresa May and her Conservative Government, will they hasten her departure, a leadership election, a Cabinet walkout, the collapse of government, a general election? Take your pick.
Will they signal the end of the road for Labour ambivalence? Will the Lib-Dems recover and what might be its future relationship with Change UK?
If the main Remain parties do poorly, what scale setback is that for a second vote? If they do well, it will surely add legitimacy to the calls for another say for the people, especially given those supporting Brexit have regularly claimed the last election saw people support parties committed to Brexit. The same must surely apply to this set of results therefore?
Will Brexit Party success be seen as a vote for a hard Brexit? Does it make leaving with No Deal more likely?
Lastly, where will all this play out and in what state will it leave our politics? It is hard to imagine in a better place. Lewis Goodall, Sky News's political correspondent talks about a new Brexit alliance (in England at least) of mass and elite: "…the conditions are ripe and the stage is set for the biggest backlash imaginable. Britain in 2019 is a petri dish of populism." For some of the other EU nations, this populism has been channelled in the direction of both left and right. In the UK, it has been almost exclusively on the right and it is hard to see anything other than an acceleration of this once next week's votes are counted.
All articles published on Click on Wales are subject to IWA's disclaimer.