The Welsh education system is not preparing children for the world of tomorrow. Getting rid of GCSEs and a new education tax should just be the beginning of our reforms, writes Professor Calvin Jones
My God there's a lot of stuff happening. The world is entering climate and ecological breakdown. Child poverty and homelessness are at endemic levels, and various other canaries in the societal coalmine have already dropped dead. As I write (but possibly not as you read) we have a deal with the European Union, albeit for a 'hard' Brexit that will profoundly affect the Welsh economy. Phew!
These urgent and important issues make it difficult to give full attention to those just as important, but perhaps a little less obviously urgent. Amongst these are the critical skills and capacities that our children will need as they grow up in a world deeply changed by the demographic, ecological and social pressures that we see today, as well as by the apparently unstoppable disruption of our lives wrought by digital technology. 
In Wales though we have a problem. A new school curriculum is arriving in 2022, and the effective delivery of this curriculum will be necessary to give our kids the start in life they need.
We are, unfortunately, a long way from where we need to be in ensuring the new curriculum is a success. Our school system will have seen a 9% fall in per-pupil spending in the decade by 2021 and Estyn, the school inspectorate, have reported that a third of all Welsh schools do not have a coordinated approach to literacy development and a third of primary schools in Wales do not teach ICT or numeracy well. 
Now is our only chance, probably for a generation, to get schooling right. My white paper, developed with the Future Generations Commissioner for Wales, suggests that there is enough intelligence available on what works in education to guide discussion about how we make tomorrow's citizens better able to flourish in their future workplaces and society. In a future Wales that, through the Well-being of Future Generations Act, we have sketched in some detail.
The full set of conclusions and recommendations are now available for interested readers, but there are a few overarching themes that I think are critical. 
The first concerns appropriate qualifications and assessment. I personally struggle to see much value in GCSEs. This is not necessarily in terms of the content and skills they develop, which are often useful (the WJEC GCSE in History is a perfect training for a world of fake news) but rather in the idea of a public, standardised exam which gives pupils a 'grade', based mostly on their ability to demonstrate good memory retention and process skills (via handwriting. Handwriting!), which is comparable across all pupils in Wales (and only Wales), but with no indication of how that grade has been achieved. 
None of this will be important in the workplace of 2040 where creativity and artistry, complex and reactive problem solving and personal skills, will be about the only things not automatable. And are we really happy with a system where only around 35% of pupils from impoverished backgrounds do well compared to 65% of their less-poor peers? Which tempts headteachers to 'off-roll' less academic (and disproportionately BAME) pupils, or direct them to (often poor quality) vocational paths so the school can crow about 'BEST EVER GCSE RESULTS!' in the hope of attracting choosier parents?
Providing a new set of qualifications which are pupil-centred, varied in assessment methods, and based on narrative rather than scores will help employers, FE colleges and even parents understand much better what our children are good at, where they need more help, what they like and what they are like.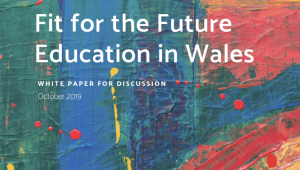 We might also take the opportunity to assess not knowledge of geography or physics, but rather skills and competency in placemaking, caregiving and carbon-cutting. We could build new, bespoke-Welsh professions to tackle the issues of today and tomorrow, not reinforce the old structures of yesterday. What we do know is that if we really want to change the way teachers teach, changing assessment is a sure-fire way.
Secondly, the launch of the new curriculum has to be the opportunity to make learning not just a national mission, but a national activity. We should not expect teachers and assistants to deliver alone. The education system of Wales should be buzzing with volunteers; entrepreneurs talking risk, gap-year students charging through woods, Citizens Cymru talking society, gamer-geeks playing, hacktivists coding and ancestry buffs explain local history in the churchyards. And kids should be learning about the economy of Wales on Whitesands beach, at the Ynni Ogwen community hydro and (maybe) at Airbus in Broughton. 
The teaching profession needs more formal help, with dedicated literacy, numeracy and digital professionals for every primary and secondary school in Wales. We cannot expect every (no offence, I am one) fifty-something teacher to be able to adequately explain the dangers of social media to 14 year olds who have grown up in a completely different world, or throw away the skills and enthusiasm of otherwise wonderful and engaged future primary school teachers because they really, really can't do maths.  
Thirdly, the thorny issue of resource. We cannot deliver excellent education on a shoestring. At an absolute minimum we need to inflate per-pupil spending back to where it was in 2011 – and then guarantee this will continue. Back of an envelope suggests this is at minimum £200m per annum (probably more), or about 1.5% of the Welsh Government block grant. 
I believe the best way to achieve this is a new education levy, hypothecated to insulate it from the budget decisions of strapped local authorities who might prefer more visible or immediate projects, and shouldered across the households and businesses of Wales via, for example, income taxes, a new land tax and business rates. Moreover, given the urgency of the need to prepare ahead of curriculum roll out, I would suggest borrowing now, to the full extent of our public sector ability, to put this investment in train ahead of constructing new tax approaches.
Any business or person who would object to such an investment in our children might be directed to think about the state of the world we are leaving them.
So read the report and let me know what you think – and don't think this needs to be left to the experts – I'm certainly not one. All this probably sounds radical, dangerous and a bit uncertain to many of you. But we live in a radical, dangerous and uncertain world; a world that we need to prepare our children for. 
There is much in my white paper to argue about; both myself and Sophie Howe (Future Generations Commissioner for Wales) will be delighted if it engages a wider range of voices in the debate about how we prepare our children for their lives – lives that will need to be chock-full of quality, diverse and place-based learning from beginning to end if they are to be rich, rewarding and successful. 
'Qualified for the Future: What should qualifications for the next generation look like?'  is a joint IWA and Qualification Wales event that will discuss the future of education in Wales. This is the first phase of consultations looking at how qualifications should complement the new curriculum. Tickets are free but limited.
All articles published on Click on Wales are subject to IWA's disclaimer.