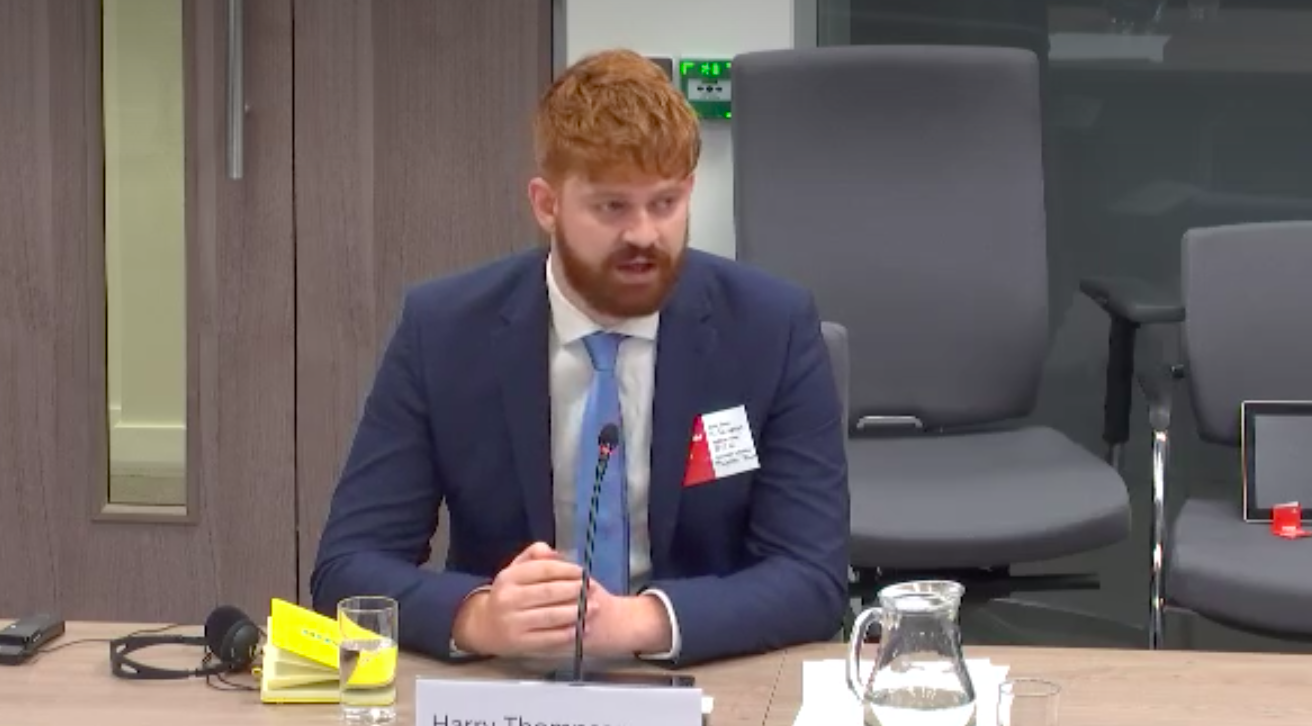 The IWA has played a key role in shaping the conversation on the rights of communities in Wales, following the release of our report Our Land: Communities and Land Use, which argued Welsh communities were the least empowered in the UK.
On 7 July, the IWA's Economic Policy Lead Harry Thompson gave evidence to the Senedd Local Government and Housing Committee on community access to local assets alongside Casey Edwards, Community-led Housing Advisor at Cwmpas.
Harry Thompson argued that communities should be empowered to reshape their areas through being granted control over their local assets, giving the example of community-owned housing as a means to remedy the lack of affordable housing in some areas in Wales.
Notably, Cwmpas's recommendations on community assets and rights and the IWA's aligned on many levels. Harry Thompson reiterated the IWA's call for a Community Empowerment Bill. His key points included:
The necessity to establish a functional register for community assets

alongside statutory duties covering the assets listed on that register. Harry stressed the importance of keeping track of what became of those assets following a wave of community asset sales across Wales as a result of the austerity era. 

Tailored support to community groups wishing to acquire local assets

, both before and after the acquisition process, so as to ensure that community groups don't flounder after accessing assets and can manage them in a sustainable way. This support needs to rely on a consistent process for the transfer of assets, which Harry stressed was currently non-existent on a legal basis in Wales for both public and privately owned assets.

Funding is an essential tool

alongside empowering communities and providing them with adequate support, and must be as simple as possible for communities to access. As Harry noted, current systems leave communities competing against other private buyers who may have deep pockets and an established legal identity, with communities hoping to buy an asset having to establish themselves legally and secure funding.

Welsh Government should adopt a social value policy that applies to public bodies

, making it explicit that they can dispose of assets for less-than-best-price if it contributes towards social value. Although this is currently the case, our research uncovered many organisations feeling nervous about the auditing implications of acting in this way.

Welsh Government needs to legislate to secure community rights to access private sector assets

, for which no process currently exists in Wales to avoid the loss of beloved community buildings and landmarks – despite legal rights in this area for communities in Scotland and England.
You can watch the full session here. A full transcript of the session is available online. 
Our work for a strong, confident democracy in Wales would not be possible without the support of our members. If you'd like to help our research, donate today.