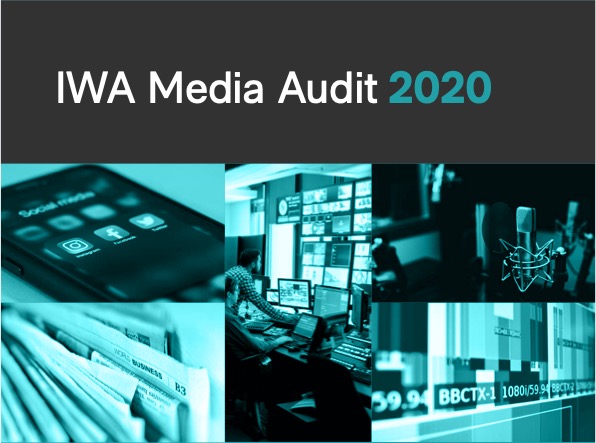 The IWA's 2020 Media Audit follows two similar pieces of research conducted in 2008 and 2015. It provides a detailed overview of all media provision in Wales, including television, radio, press and news, and digital media and the internet.
Generously funded by the University of South Wales, this report was researched and written on behalf of the IWA by Dr Marlen Komorowski between October 2019 and April 2020. The bulk of the research, data analysis and stakeholder interviews therefore took place prior to the advent of Covid-19. 
The resultant research should be read as a snapshot of the media landscape at a specific point in time. It provides a useful point of reference to compare the situation of the media offer in 2015 and now. 
Our Media Priorities for the Next Senedd, published before the May 2021 elections, build on this research, as well as on our 2021 Media Summit. 
The 2020 audit paints a nuanced portrait of the pressures and opportunities that have shaped the production of media in and about Wales. In the last few years, the Welsh media landscape has undergone profound changes and conversations about its devolution have been underway. In 2018, Ofcom also announced it was stopping the future extension of the local television transmission network. In October 2019, the Culture, Welsh Language and Communications Committee opened a consultation on the issue of the devolution of broadcasting. At the beginning of 2020 the Welsh Government launched Creative Wales, a new agency intended to support film, television, digital, gaming, and music in Wales. 
The audit also found that – as of the latest data in April 2020:
In 2018, people in Wales spent an average of 3 hours 33 minutes per day watching broadcast television (or 213.5 minutes). That was a total of ten minutes less per day in comparison to 2017 (the last time viewing numbers increased slightly was from 2011-2012).

BBC Cymru Wales' and ITV Wales' combined spend on programming for Wales increased by 13% from 2017 to £33.6m in 2018. In real terms, spending by the BBC rose by 16% to £27.3m in 2018, the highest level since 2009.

Channel 4 had increased the commissioning of content production in Wales' independent production sector. In total twelve independent companies were commissioned by Channel 4 in 2018.83

Studios and shooting locations in Wales increasingly attract high-budget international projects. In addition, so-called 'green shooting',87 which includes environmentally friendly and sustainable production of TV and film has gained momentum in recent years. There are a number of companies, services and research expertise focused on environmental sustainability and new ways of working in Wales.

Consumption practices have changed. For example, live radio was still the most popular audio activity in Wales. In 2018, 77% of time listening to audio content in Wales was spent on live radio. However, an increasing amount of time was spent on listening to live radio on other devices than typical (digital and analogue) radio sets including laptops, tablets, mobile, etc. 5% of time was spent on such devices in Wales in order to listen to live radio in 2019 (in contrast to 72% on radio sets in total).201

Looking at the most used news sources among printed newspapers in Wales (based on a survey from 2018-2019), UK daily newspapers dominate. Except for the South Wales Echo and the Western Mail, only UK-wide daily (and Sunday) newspapers feature as print sources of news for people in Wales. The trend identified in the 2008 IWA Media Audit and since then confirmed in the 2015 Audit has been progressing steadily: print circulations of Welsh newspapers have continued to drop sharply, either at similar margins compared to the time between 2013 and 2015 or even at increasingly greater rates of decline.

While there are no daily or weekly Welsh-language all-Wales or supra-regional newspapers, the hyperlocal newspaper market for Welsh-language newspapers seems to thrive.

In 2018, social media was the second most used platform for news in Wales (45%) and is used more frequently than any other type of internet news source. This was a steady increase from 33% in 2017 and 29% in 2016, compared to data from a St David's Day Poll by the BBC. The most used news source among social media applications in 2018 was Facebook with two in five adults in Wales using the platform as a source for news
You can find our full audit for 2020 here.
Discussions and debates that drive Wales forward.
Join Wales' leading independent think tank.