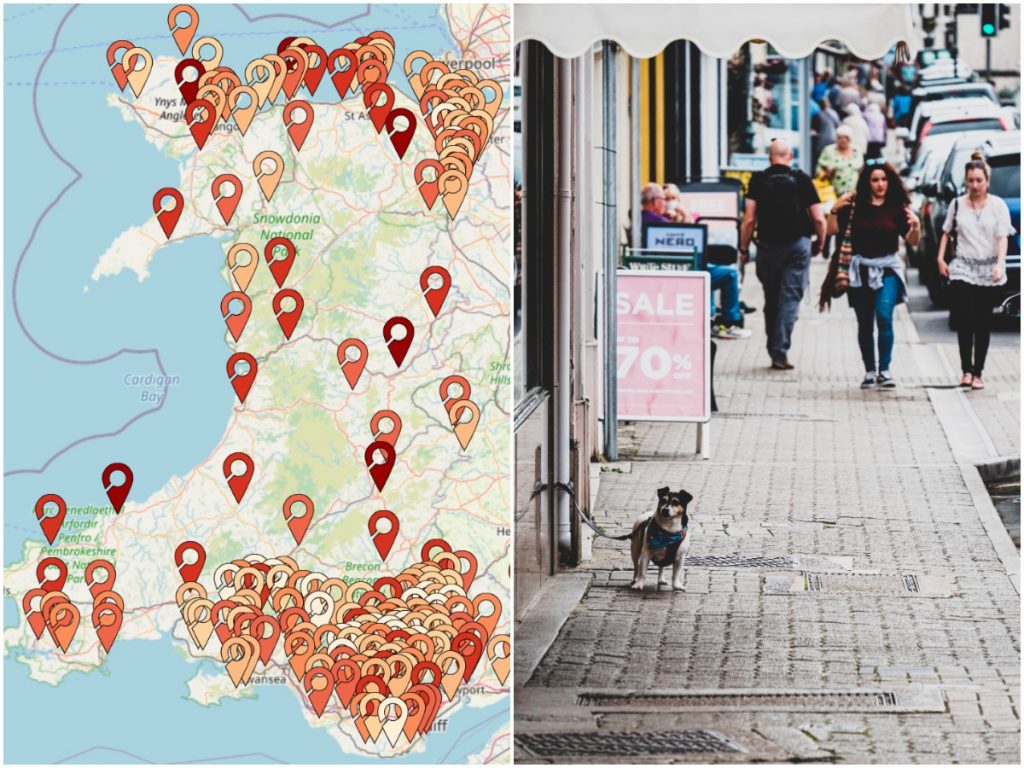 Understanding Welsh Places Festival took place online via Zoom between 10 and 12 November 2020.
This was a series of online events supporting and inspiring local communities, decision-makers, planners and policy-makers to make positive changes to the places where they live and work and the role that the Understanding Welsh Places website can play. 
---
Day 1 – Understanding the Data of Your Place 
Tuesday, 10 November, 10am – 12pm
To kick off the Understanding Welsh Places Festival, our data expert Prof. Scott Orford acted as our guide through the Understanding Welsh Places website. He explained the data, analysis, how the website can work for you, and provided a detailed update on the new data coming to the site. 
We also heard from Delyth Jones on how Carmarthenshire town and community councils have used the site to enact positive changes in their communities. 
---
Day 2 – Shaping the Future of Our Towns and Communities
Wednesday, 11 November, 10am – 12pm
The Covid-19 pandemic has highlighted the importance of where we live, where we get our food, and where we access our local services. For better or worse, the pandemic has meant most of us are getting to know our immediate surroundings better than we may have before.
We may be noticing for the first time how much we have on our doorstep, or noticing what our places are missing. We discussed how we can use this insight to shape the future of our towns and communities. 
Speakers:
Chris Blake – The Green Valleys
Russell Greenslade – Swansea BID
Elin Hywel – Cwmni Bro Ffestiniog
Peter Williams – The Means
We were also joined by Matt Baker, Strategic Director of the Midsteeple Quarter in Dumfries, who shared his learning about community and town development.
Midsteeple Quarter is a community benefit society breathing new life into Dumfries town centre by redeveloping empty High Street properties to create a new neighbourhood with a mix of uses built on principles of local prosperity and well-being.
Useful resources:
Dolan Project
Project skyline
FSB – The Future of Towns in Wales report
Cadwyn Ogwen Project
Communities Creating Homes
Carnegie UK Trust – Power and Making Change Happen report
IWA – Re-energising Wales report 
---
Day 3 – Telling the Story of Your Place 
Thursday, 12 November, 10am – 12pm
On the final day of the Understanding Welsh Places Festival we looked within Wales to places that have taken time to understand their uniqueness and individuality in order to help their places thrive. 
Firstly, we learnt about the work of Cllr. Clive Davies, Mayor of Cardigan Town. 
Cardigan is on the coast of West Wales, it is quite a rural place, yet over the past few years Cardigan has become an example of a town making the most of its assets, Clive walks us through how they have managed to create a place that is responsive to the community's needs. You can find Cllr. Clive Davies' presentation here. 
Secondly, we heard from Treorchy's Adrian Emmett.
Treorchy has been on a big journey over the past few years and were crowned the champion high street of Great Britain. Adrian, who is the landlord of The Lion pub and the chair of the Chamber of Trade, walked us through how they got there. 
You can access the other presentations from the workshops here: 
Other useful resources: