Marking clean air day, Steve Brooks outlines how a new approach to planning can promote healthier towns
Air pollution: it is an issue that has been described by Public Health Wales as "an urgent public health crisis" and in 2017 the Royal College of Physicians estimated that 1,300 people a year die prematurely in Wales from breathing polluted air. Legal action brought about by Client Earth against the UK government and Welsh government has forced ministers and officials to urgently revise plans to bring down illegal levels of air pollution.
The starting point for any plan to tackle air pollution has to be transport. Transport emissions, essentially motor vehicles, are the single biggest contributor to air pollution.  Our over-reliance on the car for short journeys isn't just choking our town streets – it's choking our lungs too. The prevailing wind in urban planning for decades has been to encourage car use.  This needs to change. And whilst Welsh Government is making progress at a national level with policies like Planning Policy Wales 10 – which aims to place sustainable development and placemaking at the heart of the planning system – people can often be left scratching their heads when trying to imagine in real terms what Wales would look like if we did things differently.
Removing traffic has proven to be one of the most effective tools local governments have to improve air quality in their urban centres. Pontevedra, northern Spain, serves as a model of the local transformation that removing traffic can bring. The city removed traffic from its 300,000 square metre city centre in 1999, bringing myriad economic, social and health benefits to its residents. As a result of the reduction in car use, the city has achieved a 70% drop in CO2 emissions. In Copenhagen, they have invested in public transport as well as making it safer and more accessible for people to walk and cycle more. This has led to a huge reduction of people using their car to get around for short journeys. Over 50% of city centre trips are already made by bike, and 96% of citizens are able to walk to parks or beaches in less than 15 minutes.
If we take a look at Cardiff over the years we have seen the city centre transformed with the introduction of pedestrianisation of Queen Street in 1974, and Mill Lane in the 1990s.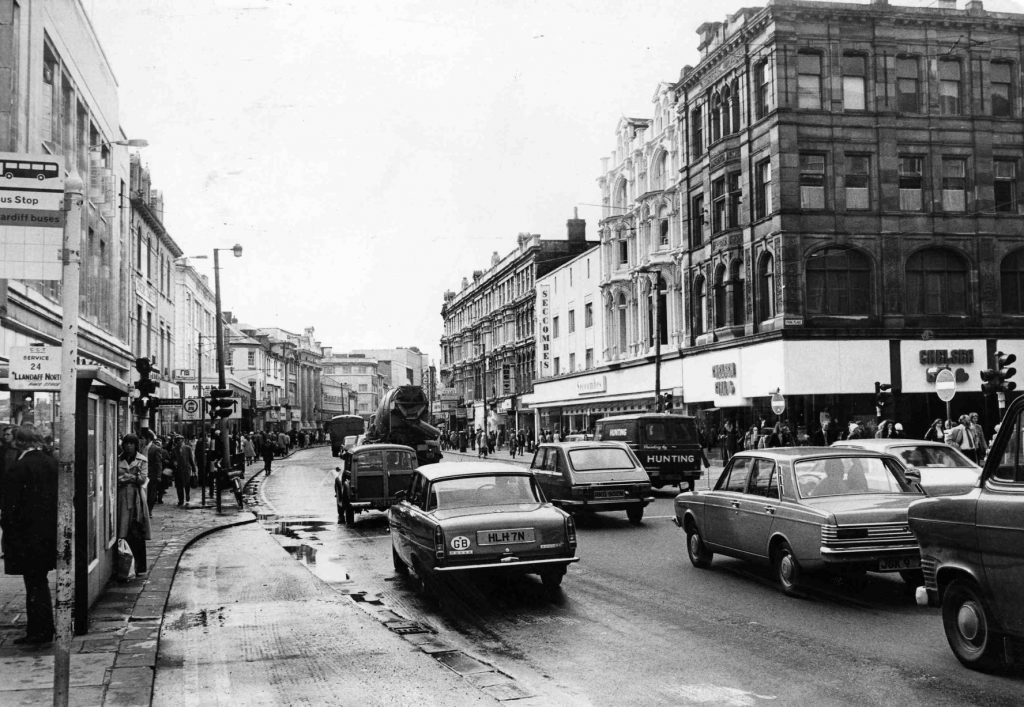 Queen Street, Cardiff, 1975 © Sustrans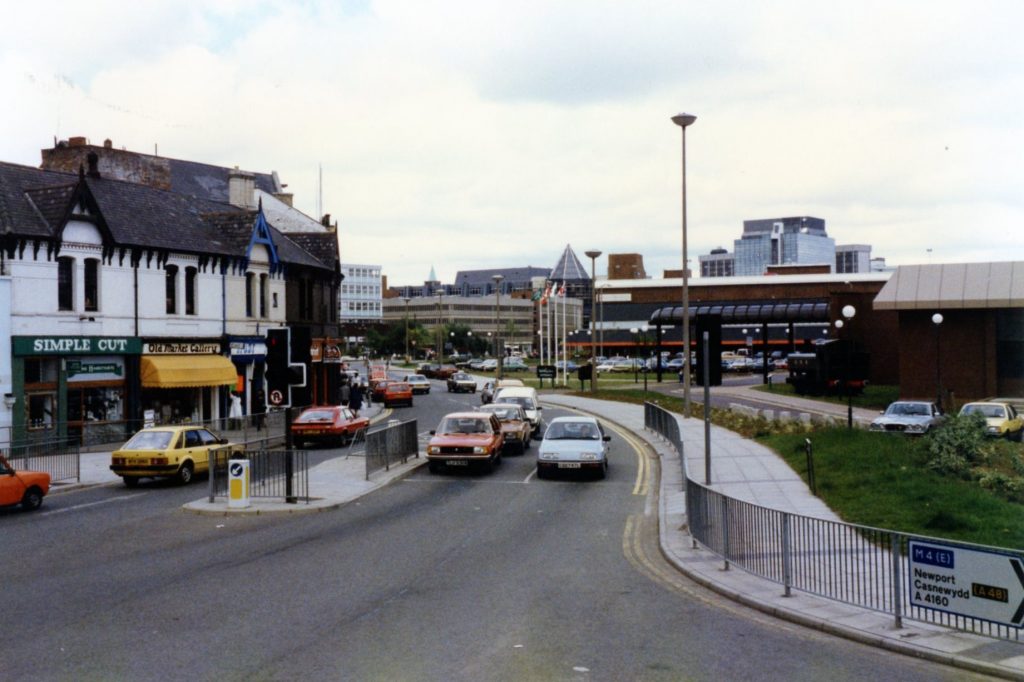 Mill Lane, Cardiff, 1980 ©  Sustrans
However, since then we have seen little action on the further removal of private vehicles from our capital city. If we take Castle Street for example. Many people who come to visit Cardiff come to see the castle and enjoy its grounds. It is one of the city's oldest and most iconic locations, yet the impact of traffic and severance is drastic.  The same can be said for traffic on Westgate Street. Despite the stadium being a landmark, activity in the city centre stops at High Street, and Westgate Street is predominantly an arterial route for vehicles. Removing vehicles from these locations would connect the castle and stadium to the city centre, improve the commercial viability of local shops, and create a space for people to stop and enjoy, as well as dramatically reducing air pollution in an area which is currently breaking legal limits.
This isn't an idea which has been pulled out of a hat, this model has been tried and tested in Bristol where traffic has been removed from a number of key locations within the city. This has resulted in the creation of some of the most popular, iconic places within the city, most notably College Green and Queen's Square which have been transformed from busy roads to green spaces where people can stop, relax, and enjoy the area.
Planning our town and city centres to thrive in this way would not only improve air quality but go a long way to preventing the loss of community that we are seeing across Wales as high streets begin to struggle against the backdrop of large out of town supermarkets and shopping centres. Research by Transport for London showed that improvements to make it easier and safer to walk and cycle in London's town centres and high streets led to an increase in retail space being filled as well as an increase in people spending in their local shops.
We also need to think about the way in which we plan new developments. The places we live have a huge influence on the way we travel. As our population grows and our towns and cities expand, we need to think about the way in which we design our communities. Currently new developments are being built in the wrong places. They are often poorly connected, miles away from jobs, public transport or local shops, and offer up huge amounts of space to road access and parking. In order to clean up our air and help people make more sustainable transport choices we need dense well-connected housing, with good walking and cycling infrastructure and access to public transport. Housing needs to be close to jobs, local amenities and green space, and offer areas for people to enjoy and children to play.
This sort of development is already popular on the continent, but we can even look to the UK for inspiration. In 2000 Edinburgh developed 120 housing association flats, which have easy access to pedestrian and cycle routes, and in place of car parking spaces are soft landscaping which are home to ponds, plants and trees. On average only 25% of people living there own a car. There are a lot of projects out there that we can learn from, but it is up to us here in Wales to shape what this could look like.
Welsh Government has shown leadership on this issue. The new version of Planning Policy Wales is a step in the right direction when it comes to changing the way we plan our environments, and it is encouraging to see the planning minister, Lesley Griffiths AM, talk boldly about the importance of placemaking in our planning system. The announcement that Welsh Government will commit to a 95% reduction in greenhouse gas emissions by 2050 and go further with an ambition to reach net-zero, is a clear message that Wales is serious about reducing its carbon footprint.
Welcome, progressive policy must be matched with proper investment and a genuine change in the way things work on the ground.  The real test will be the extent to which our towns and cities look physically different in 5-10 years time. If there's no change between the 'before' and 'after' pictures we shouldn't be surprised if the air pollution public crisis only continues to spiral.
Photo by Tim Foster on Unsplash
All articles published on Click on Wales are subject to IWA's disclaimer