Adam Fletcher explains how the new school curriculum can make Wales a nation of lifesavers – and why change needs to start now.
Health and wellbeing will be a core area of learning in the new Welsh curriculum, and future generations of young people in Wales could all leave school with lifesaving skills for the first time. Through the new curriculum, Wales can become a world leader in out-of-hospital cardiac arrest survival and address current inequalities by ensuring everyone learns about CPR and defibrillators, regardless of where they live or what school they attend.
However, we can't just wait for the new curriculum in 2022. The Welsh Ambulance Service attends around 2,800 out-of-hospital cardiac arrests each year where resuscitation is attempted, but less than 1 in 10 people survive, which is lower than in many other countries. We must start to prepare for curriculum change now by making it easy for schools to teach lifesaving skills to a high standard, as well as innovating beyond schools to spark lifesaving changes in every community in Wales.
Making lifesaving CPR skills universal
A cardiac arrest is the ultimate medical emergency. The heart has stopped beating and blood with oxygen and nutrients is no longer being pumped around the body or to the brain. With every minute that passes without CPR and defibrillation the chance of survival drops by up to 10%. The chance of survival drops to almost zero if a bystander doesn't intervene and start CPR, because CPR keeps blood flowing to the brain. This buys time until a public access defibrillator can be found and used when appropriate or until an ambulance arrives.
Research has shown that about one in five adults have witnessed someone collapse who needed immediate CPR. A cardiac arrest can happen at any age and anywhere, but the most common place we need lifesaving CPR is at home, for a family member or friend, where there often won't be a defibrillator nearby. For example, last year in rural Powys, pub landlord Simon Mason, performed CPR for more than 45 minutes in his neighbour's house to save his life while waiting for emergency services to arrive.
Unfortunately many people don't have the confidence and skills to perform CPR – that's why less than 1 in 10 people survive an out-of-hospital cardiac arrest in the UK. Simon Mason learnt CPR in the cadets and had the confidence to put this into practice to save his neighbour, but most people don't. We urgently need to improve bystander CPR to improve survival in Wales.
In countries where CPR is learnt universally in schools, such as Denmark and Norway, bystander CPR occurs more often and survival rates as high as 25% have been reported – around three times higher than in the UK. More than 5,000 additional lives could be saved in the UK each year if we achieved survival rates as high. CPR will be added to the English secondary school curriculum from September 2020, and nearly every Scottish local authority has now committed to teaching CPR in their secondary schools. There is strong public support for this. A 2017 YouGov poll found 89% of UK adults believe CPR should be taught in all schools.
New curriculum, new opportunities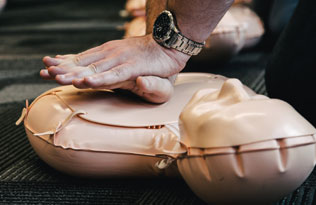 The principles that underpin the new curriculum in Wales make it possible to embed learning and practising CPR and other lifesaving skills into all students' schooling, while still allowing teachers the freedom to choose how and when and in what lessons they learn these skills. The foundational principle of the new curriculum is to equip young people for life, and learning lifesaving skills in every school in Wales is one way that this principle can be put into practice from the start.
BHF Cymru has already seen growing support from schools. In Wales, 85% of secondary schools already have BHF Call Push Rescue kits enabling them to teach lifesaving CPR skills flexibly using free bilingual training videos and lesson plans. Since 2014, more than 100,000 secondary school students in Wales have learnt CPR this way, but the evidence is unequivocal: CPR needs to be learnt universally to significantly improve survival rates and to avoid inequalities between communities by ensuring there are lifesavers in every street and every workplace.
Welsh Government's latest out-of-hospital cardiac arrest plan already emphasises the need for all schools to provide opportunities for young people to learn lifesaving skills, and it's new Save a Life Cymru partnership will ensure all schools are ready to embed CPR into the new curriculum in 2022. This partnership brings together all Wales' lifesaving charities, including BHF, St John Cymru, the British Red Cross, Welsh Hearts and Cariad, and will develop consistent standards for CPR and defibrillator training activities to make sure no schools or communities are left behind.
The Welsh Ambulance Service Trust is already adopting and supporting powerful lifesaving campaigns and innovations to support schools and help young people cascade their learning into communities. Campaigns such as #Defibuary and Restart a Heart Day are both powerful initiatives. The Welsh Ambulance Service is also leading the way by adopting new innovations, such as GoodSAM, to help grow a network of community first responders and connect them to emergency situations more quickly, and the National Defibrillator Network, a new partnership between the BHF, Microsoft and UK ambulance services to map defibrillators and enable emergency call-handlers to direct the public to the nearest one.
Making Wales a nation of lifesavers
Denmark made CPR training mandatory in schools in 2005 and survival rates have tripled in the last few years. The new curriculum means that Wales can now make this change too. An hour a year of lifesaving skills, delivered universally, could save hundreds of lives in Wales every year.  The new First Minister has long championed the principle of Health in All Policies and including lifesaving CPR on the new education curriculum would be an excellent example of this principle in action, but we can't wait until then to teach more people lifesaving skills across Wales and change is already underway. Every child has the right to learn lifesaving skills at school and know how to respond in the ultimate emergency.
All articles published on Click on Wales are subject to IWA's disclaimer.