30% of Wales's terrestrial mammal species are on the verge of extinction. We risk losing Welsh nature if our response to the climate crisis doesn't include supporting biodiversity, argues Jessica McQuade.
We are lucky enough to live in country globally renowned for its beautiful scenery and spectacular landscapes. From the mountains of Snowdonia and the Brecon Beacons, down to the numerous wooded valleys to the estuaries and sea, Wales is host to a great variety of ecosystems.   
But when you look closer you start to see how little wildlife is actually left in this landscape. Sadly, nearly 50% of people Wales say they have seen nature decline in their lifetime. This is because Welsh nature is in crisis.   
The 2019 State of Nature report found that 1 in 6 species are at risk of extinction. Since rigorous scientific monitoring began on an already depleted landscape in the 1970s, of the 3,902 species assessed in Wales, 73 have gone. Birds like turtle doves and corn buntings are now lost from Wales. 
Wales's terrestrial mammals also fare badly with over 30% of species at risk of disappearing altogether. Iconic species like red squirrels and water voles, which were once widespread in Wales, are now restricted to a few sites and under real threat of extinction.
This is a crisis that is global. The recent IPBES report published in 2019 showed how the evidence is unequivocal. It also demonstrated how biodiversity is not only important in its own right, but essential for current and future generations as it provides our life support system. It supplies us with food, fibre, water, energy and medicines. It regulates climate: water quality: pollution; flooding and storm surges.  
These benefits are known as 'ecosystem services' and our need for them is increasing as the impacts of climate change are being felt. The resilience of our ecosystems depends on biodiversity; biodiversity loss therefore diminishes the capacity of ecosystems to provide a stable and sustainable supply of these services for us. 
There is growing evidence on how nature also supports our physical and mental health, improves community cohesion and can help address some of the inequalities faced by being in poverty. Nature also provides huge opportunities for employment and economic activity. For example, wildlife and outdoor activity tourism to Wales is a growing market already providing many jobs, particularly important in rural economies. 
If we use the lens of the Wellbeing of Future Generations Act, achieving a 'Resilient Wales' means creating "A nation which maintains and enhances a biodiverse natural environment with healthy functioning ecosystems". We know that without this foundation, many of the ambitions for Wales identified in other wellbeing goals are just not achievable.  
So bluntly, because nature is in crisis – so is our future.  
As Sir David Attenborough so eloquently said in Davos 2019:  
 "We have to recognise that every breath of air we take, every mouthful of food we take, comes from the natural world. And if we damage the natural world, we damage ourselves. We are one coherent ecosystem. It's not just a question of beauty, or interest, or wonder – the essential ingredient of human life is a healthy planet. We are in danger of wrecking that. We are destroying the natural world, and with it ourselves." 
The growing body of evidence shows biodiversity is being destroyed by human activities at a rate unprecedented in human history. As set out in the State of Nature reports, key pressures affecting biodiversity in Wales result from: 
agricultural intensification 

climate change 

urbanisation 

pollution 

hydrological changes 

invasive non-native species 

commercial woodland management 
A significant and arguably the first challenge we face in addressing biodiversity loss is the awareness of this crisis and the urgency of responding to it.  
The recognition afforded the climate crisis by the public and politicians is critical and welcome – climate change is a great threat to people and nature. But the reality is that our climate is only one facet of our living, interconnected, self-regulating ecosystem. The twin crises of climate change and biodiversity loss must be addressed in tandem.  
WWF's report Climate, Nature and our 1.5°C Future, connects the findings from four major recent scientific reports by the Intergovernmental Panel on Climate Change (IPCC) and the Intergovernmental Panel on Biodiversity and Ecosystem Services (IPBES). Between them, these reports highlight the climate and biodiversity crises are strongly interlinked and will need to be tackled together.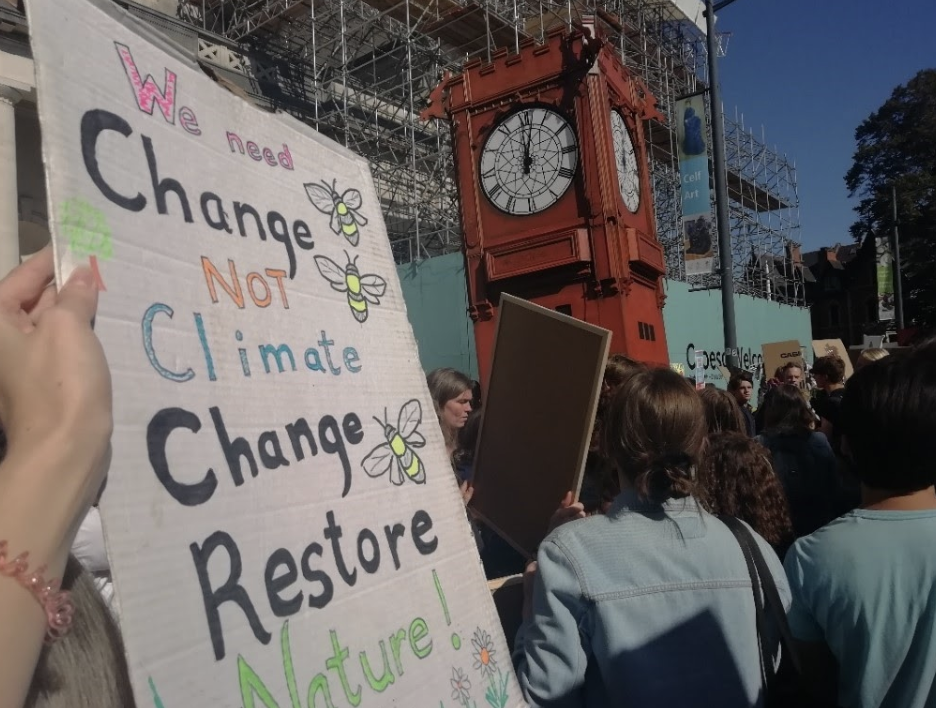 Natural Resources Wales' recently launched State of Natural Resources Interim Report also headlines with 'Climate and biodiversity: two interconnected challenges'.  
Indeed, tackling the climate crisis in isolation risks putting nature under additional pressure, for example, developing renewables or planting trees in ways and in locations that damage ecosystem resilience (as discussed in this earlier blog by Mike Wilkinson).  
On the flip side, nature is a critical ally in the fight against climate change. Evidence shows that restoring healthy national ecosystems can help to mitigate emissions by taking carbon out of the atmosphere, as well as helping human and other species adapt to climate impacts.  
Wales must therefore stop under-utilising nature-based solutions to both reduce emissions and adapt to the climate impacts. Significantly increasing investment in these solutions will also contribute to protection and restoration of nature in Wales – which will in turn help tackle the decline in biodiversity. We must restore our heathlands, native woodlands and upland moors, alongside coastal habitats such as salt marshes, kelp and seagrass beds. 
To fully halt the loss and restore nature so it is able to supply services to Wales we need to not only use nature based solutions to tackle climate change, we need to tackle the other drivers of the loss, not just climate change. This includes reductions in pollution, addressing impacts of agriculture intensification and urbanisations without a space for nature. 
WWF Cymru, RSPB Cymru, Wildlife Trust Wales and Woodland Trust Wales are therefore calling for public bodies in Wales to declare a climate AND nature emergency, and urgently take an integrated approach to decarbonisation, adaptation and nature restoration. This will help public bodies ensure they are achieving the aims of the Wellbeing of Future Generations Act, protecting and improving livelihoods for generations to come.  
At a time when we need nature the most, we are destroying it faster than ever. As Greta Thunberg said: 'It is that simple. We need to protect, restore and fund'. 
Featured picture © Lewis Jefferies / WWF-UK
Woodland Trust Wales, RSPB Cymru and Wildlife Trust Wales have also contributed to the blog.
All articles published on Click on Wales are subject to IWA's disclaimer.